Planning a vacation in 2018?
Keep in the mind the 2018 Free Entrance Days in the National Parks!
On the following days in 2018, all National Park Service sites that charge an entrance fee will offer free admission to everyone.
Mark your calendar for these entrance fee–free dates in 2018:
January 15: Martin Luther King Jr. Day
April 21: First day of National Park Week
September 22: National Public Lands Day
November 11: Veterans Day
Find one of the 400 National Parks here!
Every Kid in A Park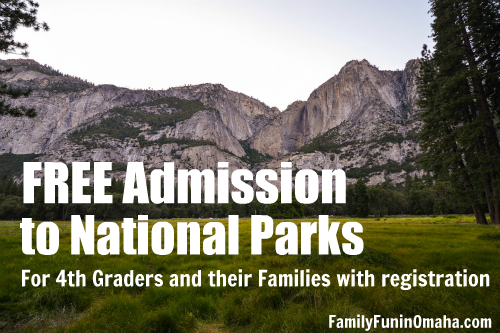 Do you have a Fourth grader this year?
The Every Kid in a Park program provides all 4th grade students and their families with FREE admission to National Parks and other federal lands and waters for an entire year!
What a wonderful way to explore beautiful nature and get outdoors with your family!
More Helpful Resources:
Join our growing community of Email Subscribers and keep updated on the FUN EVENTS THIS WEEKEND plus more Omaha fun and Sign up for our Free Email Newsletter!