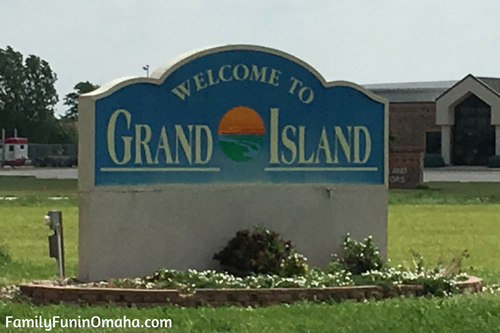 A couple years ago, we were looking to go on a Weekend Road Trip close to Omaha. With Grand Island a little less than 2.5 hours from Omaha via I-80, it was a perfect destination to explore with kids!
Special thanks to Visit Grand Island for partnering with us by providing passes and hotel accommodations for our visit.
Stuhr Living History Museum

The Stuhr Museum of the Prairie Pioneer invites visitors to immerse themselves in a Living History Experience. The mission of Stuhr Museum is to "preserve and portray the inspiring era of the pioneer townbuilder who settled the first communities in Nebraska."
Take a walk through Railroad Town and explore life as it was in 1897. Visit with costumed historians who are in the homes and businesses in town engaging in the activities of their day, ready to answer questions and help visitors understand life in the 19th century.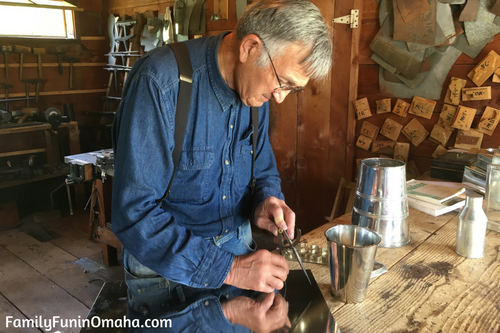 One of our favorite stops was the Tinsmith Shop. A very skilled tinsmith shared how he made each item in the shop inviting the kids to help him with various steps. As a retired schoolteacher, he was excellent in helping the kids learn while also sharing interesting facts about life in 1897.
It was fascinating to watch the authentic old tools being used and how creative and skilled they were in making various cups, lunch buckets, and more. He also helped my kids make a bit of tinsel for the Christmas tree.
In the Mercantile Shop, visitors can browse a variety of items and candies. This young man engaged my kids in a fun popular game in one of the houses!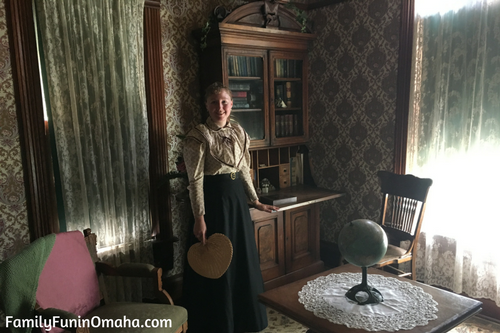 Visitors can walk through several homes full of authentic furniture and decorations, including bedrooms, children's toys, kitchenwares, a dumbwaiter, and more, with historians eager to help answer any questions visitors have.
My kids were fascinated with the Fire Station!
The Stuhr Museum has over 60 historic and recreated structures, including this Post Office, Blacksmith Shop, Bank, Telephone Exchange, and Silver Dollar Cafe – perfect for lunch or a refreshing drink.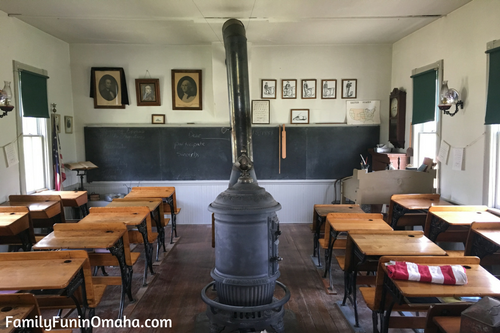 After Railroad Town, follow the circular drive to the Rural Schoolhouse and Church, 1893 Farmstead, Taylor Ranch, and Pawnee Earth Lodge. The Visitors Center is in a beautiful building – they were preparing for a wedding while we were there!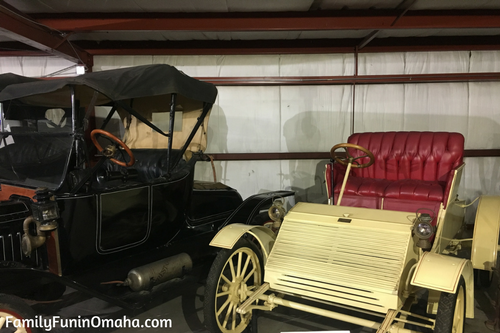 Be sure to stop by the Antique Farm Machinery and Auto Exhibit! It is FULL of unique cars and farm machinery and equipment. Kids will enjoy following the signs just for them helping explain fun facts.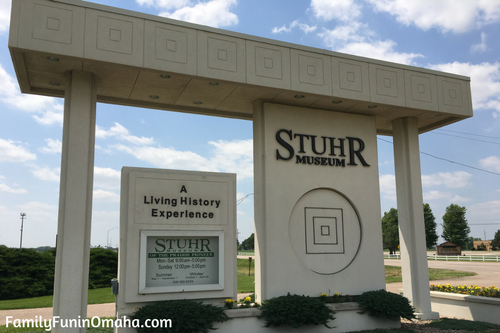 I remember going to the Stuhr Museum when I was younger, walking along the boardwalks and exploring Railroad Town. It was fun to share this experience now with my children!
Special events take place year round including the 4th of July celebration, Christmas Past & Present event, Memorial Day event, Cowboy Night, Prairie Princess Party and others.
Island Oasis Waterpark
We love Waterparks and Grand Island's Island Oasis Water Park is a perfect place to cool off on a warm summer day!
With a variety of waterslides, amazing lazy river (one of the best we have experienced!), and wave pool, it was a day full of fun!
Read more about our visit to Island Oasis Water Park here!
More Fun Sites to Explore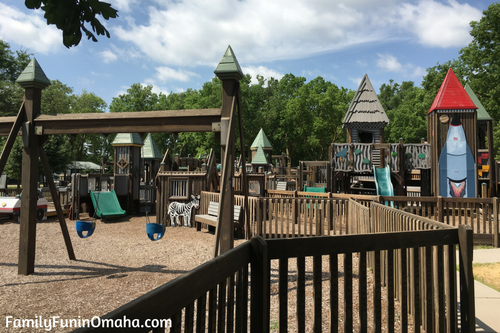 Stolley Park is a beautiful park in the middle of the city. Kids will love Kids Kingdom castle-like park, and can take a train ride on Stolley Park Railroad.
Mormon Island State Recreation Area offers swimming, camping, fishing, and picnic areas.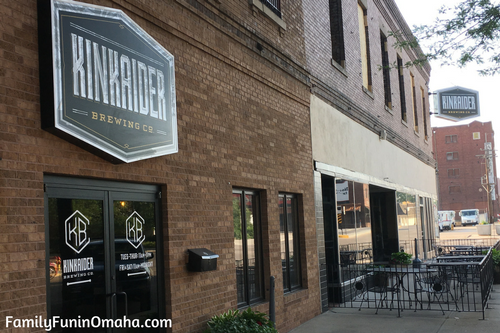 A fun restaurant that recently opened in Grand Island, Kinkaider Brewing Co. offers delicious food, a fun atmosphere, and extensive beer choices in the Railside Area in downtown Grand Island.
Holiday Inn Express & Suites
Special thanks to Visit Grand Island for providing lodging during our visit at the Holiday Inn Express & Suites.
With an indoor pool and free delicious breakfast (and yummy cinnamon rolls!), the centrally located Holiday Inn Express & Suites offers a wonderful family-friendly stay.
Upon check-in, we were given a free box of Thanks-A-Lot Girl Scout Cookies! What a treat, and an example of how Holiday Inn Express goes above and beyond to make sure their guests feel welcome.
The cozy lobby welcomes guests upon their arrival.
Comfortable beds and a clean room provided a great rest after a busy day.
Both kids and adults loved the pool!
Fun Stops Along the Road Trip from Omaha
We love the Nebraska Passport Program! It is like a scavenger hunt across our beautiful state showcasing attractions, shops, plazas, and more.
There are several Passport stops between Omaha and Grand Island (including the Stuhr Museum!), with a few more if you want to venture on to Kearney.
The Hastings Museum was a nice surprise offering 3 levels of exhibits with several interactive activities for kids. It is the largest municipal museum between Chicago and Denver, featuring a planetarium and the history of Kool-Aid, the famous soft drink invented in Hastings.
Additionally, with our Omaha Children's Museum Membership, we were granted FREE Admission to both the Hastings Museum and the Edgerton Explorit Center (below) with their Reciprocal Membership Program (as of June 2017. See list of currrent participating museums here).
The Edgerton Explorit Center, located in Aurora, NE, offers a variety of hands-on learning experiences for kids of all ages.
Special Events in Grand Island
Grand Island provides an excellent destination to view the Sandhill Crane Migration every Spring.
The Nebraska State Fair is held annually in August at Fonner Park in Grand Island.
Be sure to stop by Visit Grand Island to help plan your next trip to this fun city!
Disclosure: Special thanks to Visit Grand Island for providing hotel accommodations, and passes to the Stuhr Museum and Island Oasis Waterpark for our visit. All thoughts and opinions are my own.