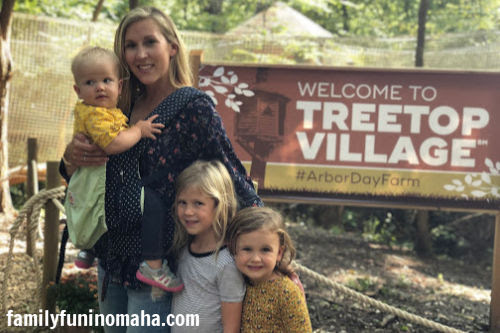 This post was sponsored by the Arbor Day Foundation. One of our contributors, Joanna, recently visited Arbor Day Farm and Lied Lodge with her family!
Looking for a quick family getaway?
Just an hour drive from Omaha, Arbor Day Farm in Nebraska City offers one-of-a-kind experiences to keep the entire family entertained! The NEW Treetop Village opened this fall and is worth the trip itself, but you'll also want to make sure you check out the Nature Explore Classrooms, the Discovery Ride, and the unique shopping and dining options available onsite. Click here to book your own family getaway today!
Many thanks to Arbor Day Farm who is a Featured Listing in our Omaha Area Pumpkin Patch Guide and Omaha Area Apple Orchard Guide.
Get a glimpse of all of the Family Fun you can have at Arbor Day Farm here!
Arbor Day Farm's Tree Adventure kept my kids busy for hours! They loved building, climbing, and making music in the Nature Explore Classroom. This area is fun and accessible to kids of all ages, so it will definitely be a crowd pleaser for any family!
The Tree Adventure has lots of little "extras" to keep kids engaged. Mine loved following the tracks on the ground, guessing which animal they belonged to, and then checking the signs to see if they were correct. Make sure you keep your eyes peeled because there are also several stops along the path with fun play equipment like a slide and zip-line!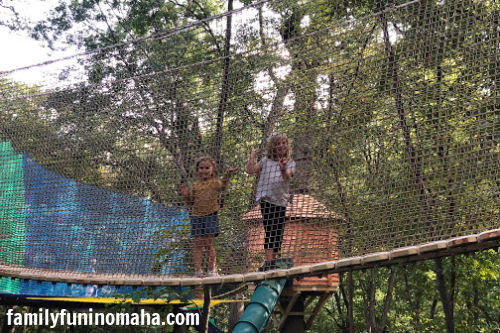 Treetop Village was at the top of our bucket list, and it did not disappoint! Our entire family loved scaling the various kinds of rope bridges and checking out each of the eleven treehouses. Book now to check out Treetop Village for yourself!
I think we all agreed that the WonderNet (think GIANT trampoline) was a highlight of the weekend! I'm not sure our kids have ever seen their parents jump like that before!
Just remember to wear closed-toed shoes! Also know that if you exit the course via slide or platform, you will need to start over at the beginning. On a busy day, this could mean waiting in line again.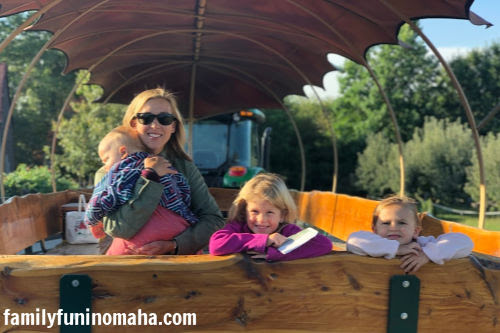 The Discovery Ride was one of my personal favorites! It was very interesting to hear about the history of the property and J. Sterling Morton while taking a wagon ride through the beautiful Arbor Day Farm forest. It was also a great opportunity to rest our legs for a bit and grab a quick snack (some delicious apples of course)!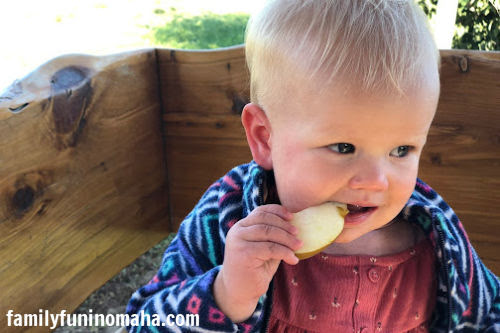 Speaking of apples, we couldn't turn down a chance to head into the orchard and pick a bag for ourselves. We nabbed a hayrack ride out to the rows with the ripest apples and found some beauties!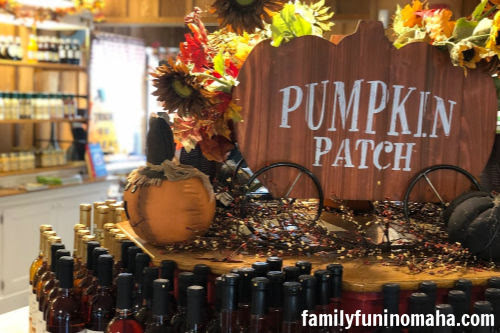 Apple House Market was the most adorable (and tastiest) stop of our weekend. We ate an amazing BBQ lunch at Porter's and grabbed some chocolate dipped caramel apples and wine as gifts for some family back home.
After adventuring through the trees, we were ready to relax and unwind at the gorgeous Lied Lodge and Conference Center. The nature-inspired hotel is an easy walk from Arbor Day Farm and offers the most spectacular views of the property. My kids were most impressed with the delicious breakfast buffet at Timbers and the Olympic-sized indoor pool!
Lied Lodge and Arbor Day Farm were a perfect pair for a fun family getaway! Start planning your trip today!