Our 2023 Omaha Area Pumpkin Patch Guide is here!
Discover 16 of the Best Pumpkin Patches near Omaha, and find where you can pick pumpkins, explore corn mazes, and go on hayrides near you! Find an Interactive Map of Pumpkin Patches and Apple Orchards here!
→ Looking to go apple picking? Find the Best Apple Orchards near the Omaha Area here!
2023 FALL FAMILY FUN GUIDE
See Full Screen here (perfect for mobile!)
Omaha Area Pumpkin Patches
*PLEASE NOTE: Some farms may not be offering U-pick this year. It is recommended to visit the farm's website and Facebook page or call ahead before visiting.
Browse through our Pumpkin Patch guide and Search by Type of Activities offered among the Featured Listings!
[Special thanks to our sponsors who partnered with us to bring you this guide. If you would like to feature your Pumpkin Patch, please contact us here.]
Other Pumpkin Patches and Information for 2023
Nelson Produce Farm
12102 S. 180th St., Gretna, NE
Aug 19th – Oct. 29th
– Sunflower Festival: Aug. 19 – Sept 4th
– Truck & Tractor Days Festival: Sept. 16th & 17th
– Fall Festival: Oct. 14th & 15th
– Barnyard Boo Night: Oct 27th
– Dog Day: Oct 28th
Skinny Bones Pumpkin Patch
3935 NE-133, Blair, NE 68008
Sept. 8- Oct. 31

Bellevue Berry & Pumpkin Ranch
11001 S. 48th St. Papillion, NE
Sept. 16 – Oct. 31

Bloom Where You're Planted Farm
911 108th St., Avoca, NE 68307
Sept. 23 – Oct. 31 (Closed on Wednesdays and Thursdays)

Camp Fontanelle' Split Oak Hollow
9677 County Road 3, Nickerson, NE 68044
Sept. 18 – Oct. 33

Grandpa's Pumpkin Farm
116 Street F32, Panama, IA 51562
Sept. 23rd – Oct 29th (Saturday and Sunday Only)

Harvest Moon Pumpkin Patch
1098 County Road N, Oakland, NE
Opening Date: Sept. 17th

Pioneer Trail Orchard and Pumpkin Patch
21534 Chestnut Rd., Council Bluffs, IA 51503
No longer running a pumpkin patch but they are offering pick your own apples & pumpkins

Pumpkin Hill Farms
28817 Westgate Rd., Neola, IA 51559
Closed in 2022, TBD 2023

Roca Berry Farm
16531 S. 38th St., Roca, NE 68430
Sept. 16th

Union Orchard
2405 S. Hwy. 75, Union, NE 68455
TBA for 2023

Vala's Pumpkin Patch and Apple Orchard
12102 S. 180th St., Gretna, NE
Sept. 2 – Oct. 31st
– Cider & Sunflower Festival: Sept. 2 – 17
– Bluegrass & BBQ Festival: Sept. 22 – Oct 8
– Pumpkin Harvest Festival: Oct. 13 – 29
– Thanksgiving Market: Nov 21st & 22nd

Welch's Pumpkin Patch
17676 Sunnydale Rd., Council Bluffs, IA 51503
Smaller pumpkin patch with a large variety of pumpkins and gourds.
Sept 9th
​
---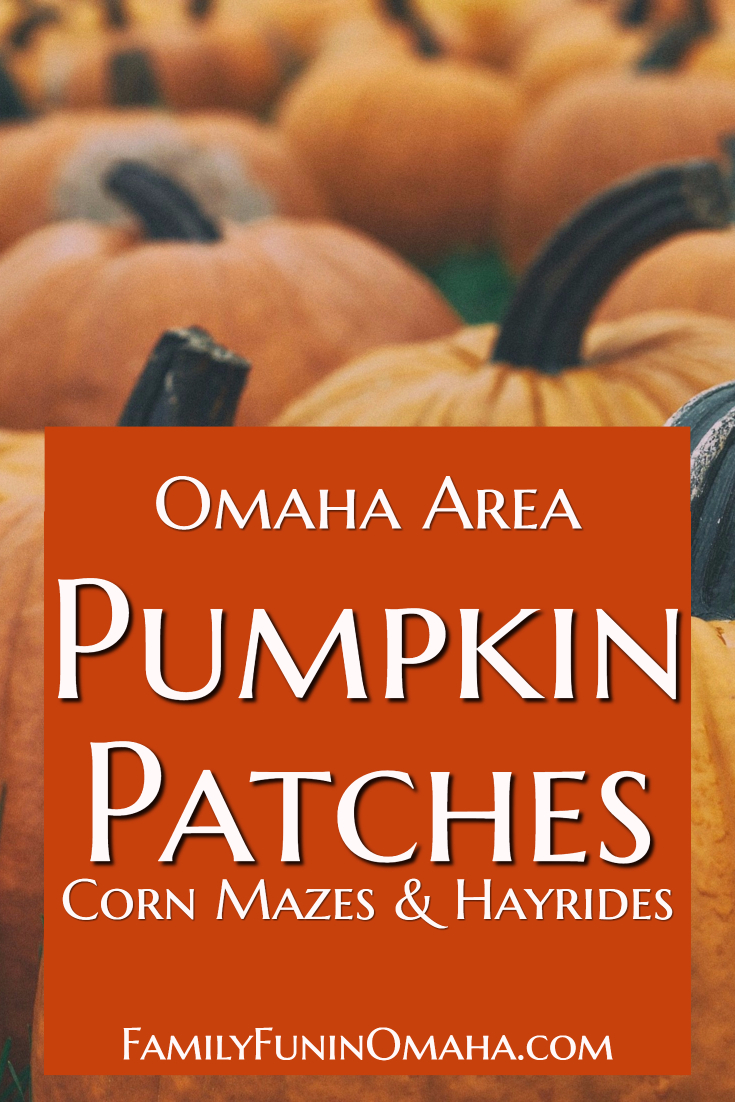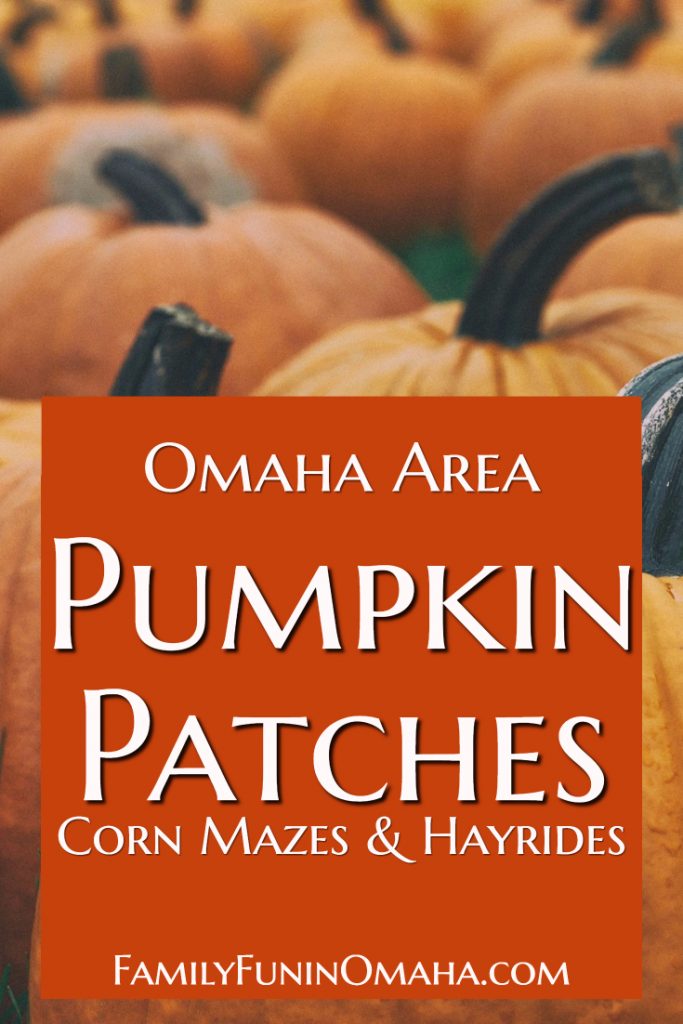 Join our growing community and keep updated on Omaha family-friendly events and activities and Sign up for our Free Email Newsletter!