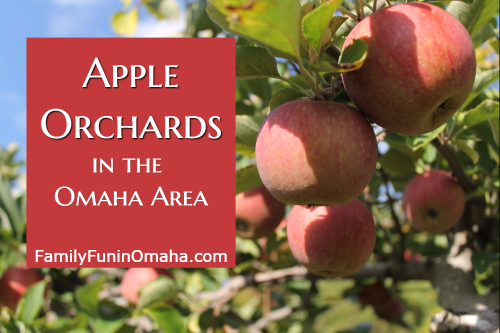 Apple picking in Omaha is a favorite Fall tradition. Choose from a variety of apple orchards in the Omaha Area and find the best places to pick apples near you! Some of the apple orchards only offer apple picking, while others have fall festivals with many other activities in addition to pick your own apples.
[Local Businesses: To add or upgrade your listing, please email us to get started!]
Join our growing community and keep updated on Omaha family-friendly events and activities and Sign up for our Free Email Newsletter!
*Note: It is recommended to visit the farm's website and Facebook page, or call ahead to check when apple varieties are ripe for picking. Some farms charge admission in addition to cost of apples.
Omaha Area Apple Orchards
Arbor Day Farm
2611 Arbor Avenue, Nebraska City, NE
With more than 260 acres, Arbor Day Farm is top spot for fall fun. Enjoy u-pick apples, hay rack rides, a corn maze, pumpkin patch (with giant pumpkins), caramel apples, fresh-pressed cider, & more.
3 Bee Farms
14922 535th Street, Griswold, IA
Pick your own apples, playground, hayrides, and homemade goods.
Ditmars Orchard and Vineyard
19475 225th Street, Council Bluffs, IA
U-pick apples, special events, tractor ride, corn maze, and playground.
Kimmel Orchard & Vineyard
5995 G Rd, Nebraska City, NE
U-Pick, special events, homemade goods, nature trail, and playground.
Martin's Hillside Orchard
2024 Ashland Road, Ceresco, NE
U-Pick, kids activities, hayride, homemade goods.
Small's Fruit Farm
1844 194th St., Mondamin, Iowa
Pick your own apples and some produce available in store only.
Super Bee Orchard
4571 Highway 75, Fort Calhoun, NE
Apple Fest Saturday, September 15th 1:00-5:30 p.m.
Trees, Shrubs & More
3803 Cornhusker Road, Bellevue, NE
Please call ahead to confirm availability for apple picking.
Union Orchard
2405 South Highway 75, Union, NE
U-Pick apples, and some available in-store. Special events.
Vala's Pumpkin Patch
12102 S 180th Street, Gretna, NE
Pick-Your-Own Apples: Each day the orchard offers different varieties available for picking.
---
Find More FALL Fun: