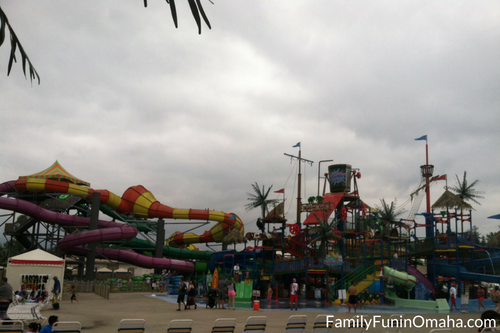 Looking for a fun trip from Omaha? Adventureland offers an extensive waterpark and a variety of rides, with several for the little ones. Find discounts to Adventureland below!
Join our growing community and keep updated on Omaha family-friendly events and activities and Sign up for our Free Email Newsletter!
Please Note: These promotions and ticket availability can change at any time. It is always a good idea to check for updates before visiting. 
2018 Adventureland Discounts
EMS Workers, Firefighters, and Police Officers can visit Adventureland Park July 3, 4, or 5, 2018, free of charge with proper identification (see here for details on identification). Discount tickets can be purchased for family members.
Show your AAA card at the front gate prior to buying a ticket and receive a $2 discount. Discount not valid for off-season/special events.
Simply show your military ID at the front gate and you can buy up to 6 tickets at $35 each.
From the Adventureland website – Coupons are usually available at Iowa HyVee, Taco John's and Casey's. These coupons are subject to supply availability.
When making a purchase online, enter the coupon code during the checkout process. (Current 2018 coupon code: HV2018TX)
When making a purchase at the front gate you may present either the physical coupon(s) OR the digital image of the coupon on your smart phone prior to completing your purchase.
Note: Please verify ticket availability before visiting. 
Stop by Veridian Credit Union to purchase tickets for $38/each (cash). You do not have to be a member to purchase the tickets.
Note: Please verify participation and ticket availability before visiting. 
Adventureland tickets are available for $38 all summer long at DMMCU. This is a discount of $7 for regular tickets and $3 for youth and senior tickets. Tickets are available in their lobby Monday-Friday during regular business hours. If you are not a member of DMMCU, you can buy tickets, but cash is the only payment method available.
Your Local Bank or Credit Union
Members can receive discounted tickets to Adventureland. The following have posted their promotions online.
You may purchase second day tickets prior to entering the park on your first day. Be sure to show your first day's tickets at the ticket booth before surrendering them to enter the park.
You must purchase these tickets prior to entering the park on your first days visit. Second day tickets are valid only the next consecutive day. Second day tickets can be purchased at the front gate for $25.00 per person for all ages 4 and older.
Second day tickets are fully refundable if you decide not to visit the park the following day. Second day tickets can also be purchased on our website in advance as a package with first day tickets.
If you plan to visit several times during a season, consider a Season Pass. Season pass holders get free parking, a full refund on water park tubes, as well as discounts in the park and at the Adventureland Inn. You can see a full list here.
Find More Fun:
2018 Omaha Summer Fun Guides