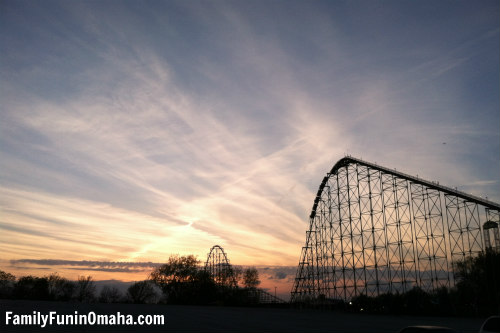 Find Worlds of Fun and Oceans of Fun Discounts in Kansas City, that offers a full day of excitement for the whole family!
Read more about 5 Reasons to visit Oceans of Fun and Tips for Visiting Worlds of Fun with Kids!
Join our growing community and keep updated on Omaha family-friendly events and activities and Sign up for our Free Email Newsletter!
Please Note: These promotions and ticket availability can change at any time. It is always a good idea to check for updates before visiting. Also note that some of the links below are affiliate links. Meaning, your price does not change, but I may receive a small commission if you make a purchase.
2021 Worlds of Fun Discounts
The Worlds of Fun Pre-K Pass grants complimentary admission to children ages 3 to 5 years old for the entire 2021 season. Register online by July 5, 2021 before going to the park. Bring your child to the park to activate their pass any public operating day through September 6, 2021. Your child must be present and proof of age (original or copy of birth certificate or travel passport) will be required.
Worlds of Fun is pleased to offer a Military Discount off the Front Gate admission price to military members and their families.
Your Local Bank or Credit Union
Members can receive discounted tickets to Worlds of Fun. The following have posted their promotions online. (Note: Please verify participation and ticket availability before visiting.)
Worlds of Fun occasionally offers discounted tickets if you purchase them online.
Find More Fun:
Omaha Summer Fun Guides