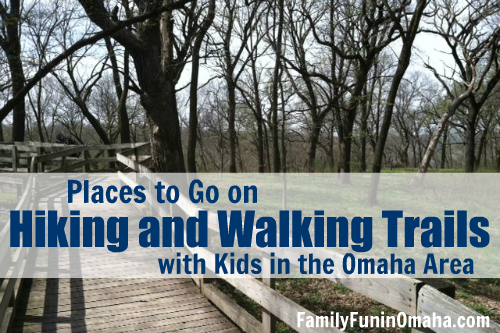 Enjoy many hiking and walking trails in the Omaha Area with kids!
Keep updated on the latest Omaha fun and Sign up for our Free Email Newsletter!
Location: 1434 316th Lane, Missouri Valley, IA
Cost: Daily entrance fees are $3.00 per vehicle.
Visit DeSoto's Visitor Center, Auto tour route, Hiking trails, Steamboat Bertrand Discovery Site.
Note: DeSoto National Wildlife Refuge limits access to some of the refuge roads during the fall and spring waterfowl migration season. This includes the south entrance gate, as well as the south and east side of the loop road. This limited access is in effect each year from October 15-April 14.
Location: 28500 West Park Hwy, Ashland, NE
Cost: Park Entry Permit is required (currently $6/day, $30/annual)
Families can visit the aquatic center and indoor playground, explore the park's hiking and biking trails, climb the observation tower and enjoy sledding and ice skating during the Winter months.
Location: 1199 Bellevue Blvd N, Bellevue
Cost: $7.50-$9.50. Free for children under age 2. Memberships available.
Trails, boardwalk, children's play areas, special programming and classes throughout year. (Pictured above)
Location: 3701 S. 10th Street, Omaha
Cost: $9.95 – $19.95. Memberships available.
One of our favorite Omaha treasures, the Zoo provides many walking areas to view the animals and a playground.
Location: 11809 Old Maple Rd., Omaha
Cost: Free. Donations welcome.
Heron Haven is a spring-fed wetland sanctuary with trails and special programming throughout year, including family-friendly 2nd Saturday events.
Location: 27792 Ski Hill Loop, Honey Creek, IA
Cost: Park Admission: $2.00 per vehicle per day or $10.00 annual permit
Picturesque area full of hiking trails, an observation tower, Visitors Center, and fun special events.
Location: 3033 Hummel Park Rd., Omaha
Cost: Free. Special programs throughout year (some have small charge).
Hiking trails, Gaga pit, Frisbee / Disc Golf course, Hummel Hike Club, special programs throughout year.
Location: 100 Bancroft St.
Cost: $5-$10; Children younger than six years of age: no admission fee. Memberships available.
Stroll around the beautiful Botanical Gardens with paved walking paths. See a model train railroad, indoor Conservatory, Visitor Center, and many themed garden areas.
Location: 19790 Hwy 31, Gretna, NE 68028
Cost: Free
The two short trails on each side of the bridge connect to Highway 31 on the north and Highway 66 on the south, providing a scenic view of the Platte River
Location: 108th & Blondo
Cost: Free
The OPPD arboretum is an outdoor education area where you can walk along paved pathways.
Location: 14421 346th St., Louisville, NE
Cost: Park Entry Permit is required (currently $6/day, $30/annual)
Enjoy the park's picturesque waterfall, scenic hiking and biking trails, and two observation towers that allow those who climb to the top a spectacular view of both the Platte River and Eugene T. Mahoney State Park, which is just across the river.
Recreation Areas
Location: 15810 Hwy 50, Louisville, NE
Cost: Park Entry Permit is required (currently $6/day, $30/annual)
Families can explore a geologic display, feed fish in cool water trout ponds, tour the Aksarben Aquarium and enjoy a picnic on the bluffs.
Location: 16406 N. 292 Street, Ashland
Cost: $5.59-$7.50, Free for Children 2 and under.
Open end of March through October. See website for dates.
There are over two miles of hiking trails throughout Wildlife Safari Park. Hike through Wolf Canyon or head over to the lake, visitors are sure to find a trail for all level of hikers to enjoy.
More Popular Walking Locations:
Do you have a favorite to add? Please contact us and we will add it to the list!
Other Helpful Resources: