One of our favorite places to hike near Omaha is definitely Hitchcock Nature Center!
With the beautiful scenery, variety of difficulty in hikes, and close proximity to Omaha, it is a favorite to visit!
It is recommended to pick up a trail map to help plan your visit!
Park Admission: Daily charge per vehicle, payable with exact change or check at the gate.
Located in Honey Creek, IA, it is short drive from Omaha.

Find out more about Hitchcock Nature Center here!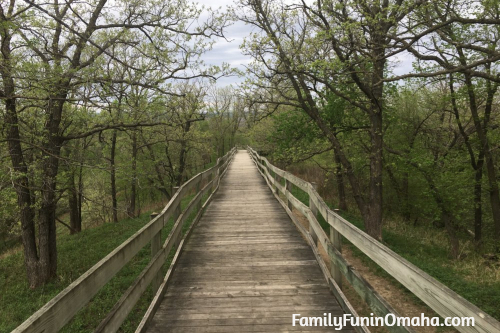 Families with young children will love the Boardwalk on Hawk Ridge Trail.
The scenery is spectacular along the ridge!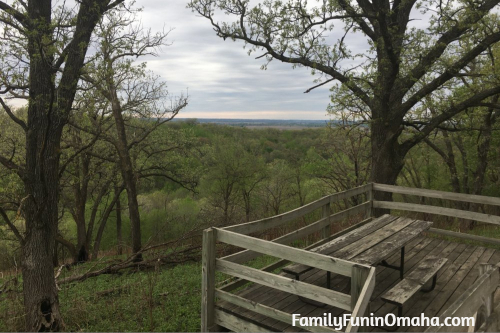 Bring along a picnic lunch for the day!
The boardwalk can be walked down and back, or you can choose to continue on to make a loop via the Hawk Ridge Trail, Goshawk Trail, and Shea Way.
Another favorite trail is the scenic Fox Run Ridge Trail that provides a beautiful panaromic view!
We love that there are so many interconnecting trails, and so each visit, you can take a different route!
Kids will love climbing the Observation Tower where you can see the Omaha skyline!
Another favorite trail, perfect for younger children is the Hohneke Trail on the Northern end of the park, by the campground!
Plan your visit and find out more about Hitchcock Nature Center here!
Find More Fun Here: