When my kids were younger, we loved exploring new parks and playgrounds. The Omaha Area is full of neighborhood parks with walking trails, playgrounds, swings, picnic areas, and more!
Join our growing community and keep updated on Omaha family-friendly events and activities and Sign up for our Free Email Newsletter!
Looking for more outdoor fun? Find the best Hiking and Walking Trails in the Omaha Area here!
***PLEASE NOTE: Some of the playgrounds may not be open at this time, or the times open may be adjusted. It is recommended to verify details before visiting.
Please make sure you are following recommended social distancing practices while you are out.
Enjoy exploring some of the best playgrounds in the Omaha Area!
TIP: Playgrounds at elementary schools are perfect for fun on the evenings and weekends!

= Mud-Free, Sand-Free Playground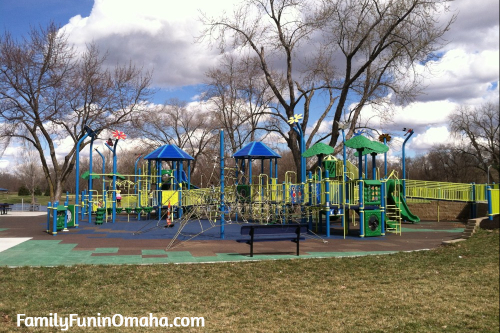 Benson Park and Playground
7002 Military Ave, Omaha
This newer park includes a Playground, Fishing, Walking Paths, Lagoon, Picnic Area, and a Sprayground!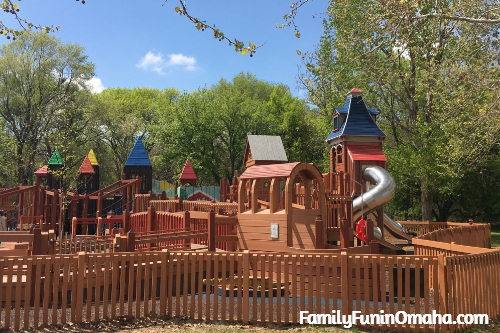 Lake Manawa, Council Bluffs
The Dream Playground Re-Imagined project is a community-based and volunteer-built initiative to revitalize and expand the Dream Playground with a new area that provides accessibility to all.
** Please Note: Non-Iowa residents will pay a $5 entrance fee at Lake Manawa State Park in Council Bluffs.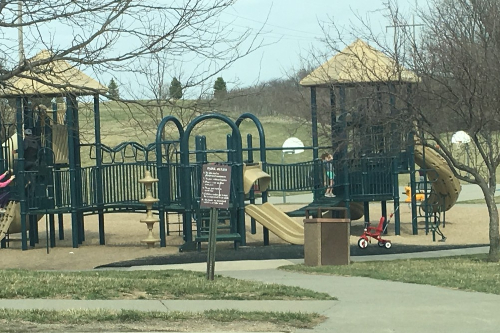 Elk Creek Park
N 163rd Street & Ames Ave., Omaha
Playground, Picnic Area, Open Space, and Sprayground nearby.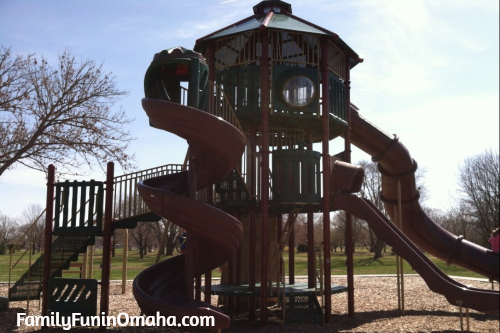 Halleck Park
816 East Halleck Street, Papillion, NE (East of the intersection of Washington and Lincoln Streets in downtown Papillion.)
The kids love this 3-story playground! Beautiful park with walking trails, playgrounds, shelters, fishing, and a large pavilion.
Reader Tip: One of my favorite things about Halleck Park is the swing that is counterbalanced so an adult and a little one can swing face to face!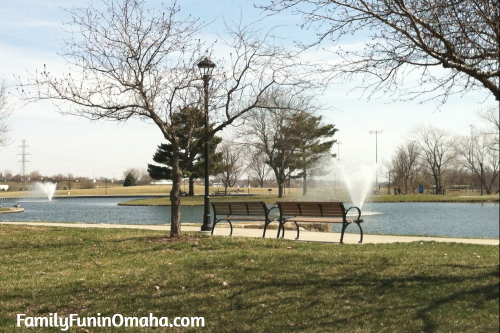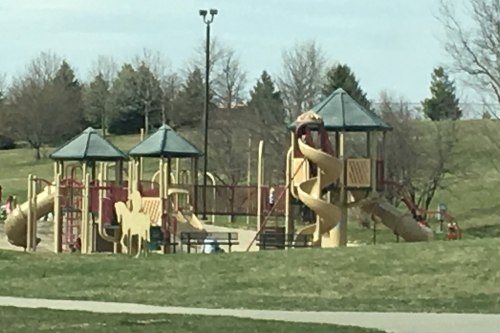 Hillsborough Park
13710 Boyd St., Omaha
Picturesque park with a big open space, playground, picnic area, and more.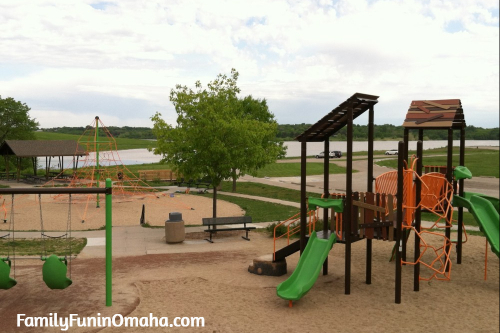 Lake Zorinsky
3808 S 156th St, Omaha
Climbing tower, playgrounds, walking/biking paths, swings, many open spaces, fishing, and more.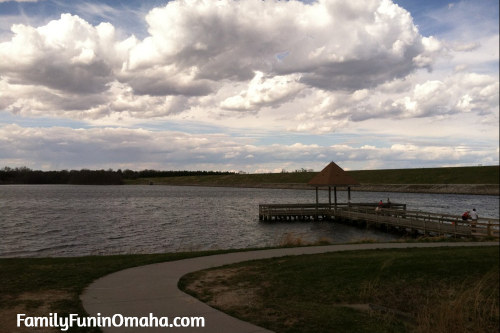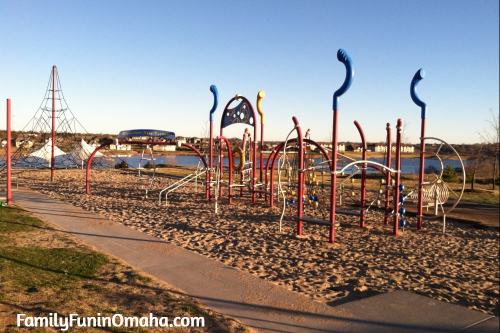 Lawrence Youngman Lake
192nd and West Dodge Road, Omaha
Climbing structure, swings, 2 play areas, shaded area, fishing.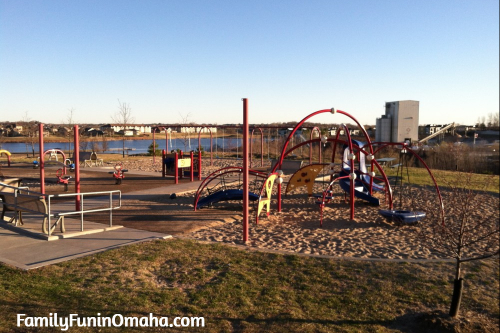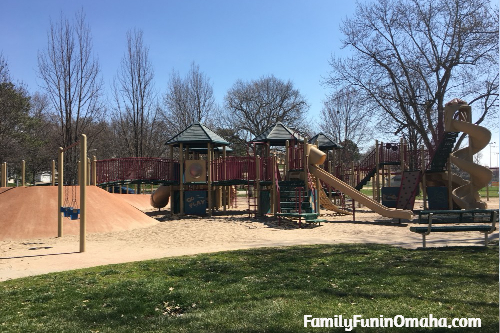 Orval Smith Park
80th & Park Dr. Ralston
Big, expansive park and playground with many play features.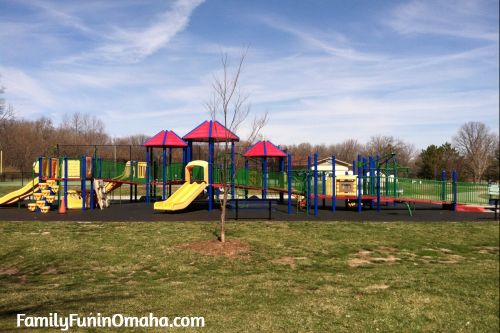 Seymour Smith Park
6802 Harrison St, Omaha
All-Play complex, Sprayground, Disc Golf Course, Skate Park, Picnic Areas.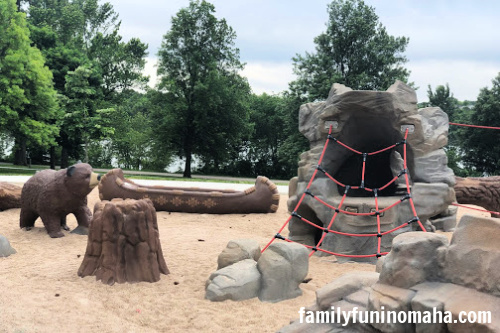 Standing Bear Lake and Recreation Area Entrance 4, 6404 N. 132nd Street, Omaha (located off 132nd at Entrance 4 into Standing Bear Lake)
The Standing Bear Lake Playground offers a unique play experience for kids of all ages. The playground features childhood classics like a slide and swings but also includes ropes and various climbing structures for open-ended play.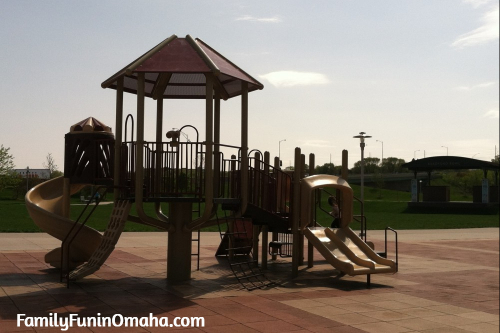 Stinson Park at Aksarben Village
67th & Center, Omaha
Popular park near tower and water feature, shops, green space with many events.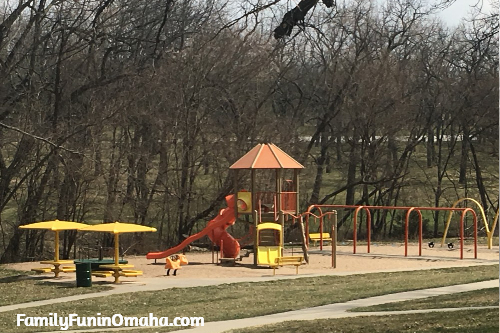 Walnut Grove Park
15050 Q St., Omaha
Wooded area with lagoon, walking paths, playground, picnic areas, shaded areas.
Find more Omaha Fun: