When my kids were younger, we loved exploring new parks and playgrounds. The Omaha Area is full of neighborhood parks with walking trails, playgrounds, swings, picnic areas, and more!
Join our growing community and keep updated on Omaha family-friendly events and activities and Sign up for our Free Email Newsletter!
Enjoy exploring some of the best playgrounds in the Omaha Area!
TIP: Playgrounds at elementary schools are perfect for fun on the evenings and weekends!

 = Mud-Free, Sand-Free Playground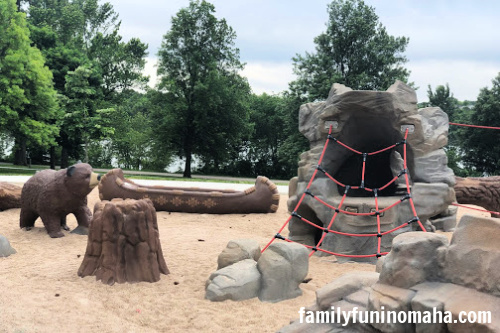 Standing Bear Lake and Recreation Area Entrance 4, 6404 N. 132nd Street, Omaha (located off 132nd at Entrance 4 into Standing Bear Lake)
The Standing Bear Lake Playground offers a unique play experience for kids of all ages. The playground features childhood classics like a slide and swings but also includes ropes and various climbing structures for open-ended play.
Find more Omaha Fun: