Omaha is a wonderful city filled with outstanding museums, sporting events, cultural attractions, and beautiful outdoor space. Discover many FREE or inexpensive things to do with kids in the Omaha area!
Join our growing community and keep updated on Omaha family-friendly events and activities and Sign up for our Free Email Newsletter!
FREE Things to Do with Kids in Omaha
Jump Directly to Category:
FREE Events each Month:
Art, Museums, Historical Places
Visit Boys Town (140th & Dodge) including the Hall of History, Dowd Chapel, Father Flanagan House, and Leon Myers Stamp Center, and see the world's largest ball of stamps.
Kenefick Park (next to Lauritzen Gardens) displays two of the greatest locomotives ever to power Union Pacific Railroad, highly visible to drivers passing on I-80. Free admission to the park, and free parking at Lauritzen Gardens. Kenefick Park shares the same hours of operation as Lauritzen Gardens – open daily from 9 a.m. to 5 p.m. year-round except Thanksgiving, Christmas and New Year's Day.
Visit the Hot Shops Art Center, (1301 Nicholas Street) with four "hot shops" featuring glass blowing, pottery, bronze casting and blacksmithing, and more than 80 artists.  Their Spring or Fall Open Houses are especially fun times to visit.
Especially for Kids
Indoor Activities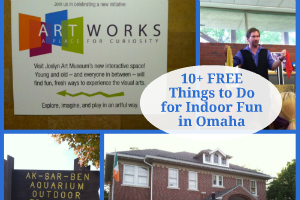 Visit the Do Space Technology Center and play in the Kids Room or take a Free Class including Littles Lab for ages 3-5. View and sign up for upcoming events here. Membership cards are Free and are now required for entry into Do Space classes and programs, so please bring your Do Space card with you to class.
Visit your Local Library for storytimes, special events, or check out some books together. Join the Summer Reading Program and participate in many of the special activities!
Omaha Public Library Passes to Area Attractions
Outdoor Activities
Take a walk on the Bob Kerrey Pedestrian Bridge (705 Riverfront Drive), and enjoy the amazing view of downtown Omaha.
Memorial Park (6005 Underwood Ave) features monuments honoring men and women of the armed forces who were killed or missing during service.  A beautiful rose garden highlights the expansive grounds which are perfect for sledding in the winter, or concerts and games in the summer.
Visit the OPPD Arboretum (108th and Blondo) for a picturesque walk in the city.
Stroll around the beautiful lakes and feed the ducks at Lakeside Hills Park (173rd and Francis behind Lakeside Hospital), Halleck Park (Papillion), and Schwer Park (Papillion)
Omaha and the surrounding areas offer an abundance of Recreation Areas for the entire family to enjoy, including:
Walk around the park and enjoy the spectacular fountain and light show at the Heartland of America Park (800 Douglas Street).
Special Places of Interest
The Old Market, a favorite among locals and visitors, is an historic area in downtown Omaha featuring shopping, restaurants, boutiques, nightlife, galleries, horse-drawn carriages, street musicians, all surrounded by cobblestone streets.  First Friday Old Market, held on the first Friday of each month from 6 – 9 p.m., is a free event celebrating local creativity.
Holy Family Shrine is a beautiful glass chapel overlooking I-80 that serves as a place of rest and solitude for people of all faiths. (Location: 23132 Pflug Road, between Omaha and Lincoln off I-80, exit 432-south on Hwy 31 (1.3 miles) west on Pflug Road (1 mile)).
Lewis & Clark Visitor Center (601 Riverfront Dr.) Located in the National Park Service building next to the Bob Kerrey Pedestrian Bridge on the Omaha side. Free to the public.
St. Cecilia Cathedral (701 N 40th Street) with its beautiful architecture and amazing stained-glass windows, is listed on the National Register of Historic Places.  It also hosts a wonderful flower festival every January.
Mormon Trail Visitors Center (3215 State Street), a monument to the trials and tribulations of the early pioneers, includes a full-sized log cabin, covered wagon, oxen and handcart, with special Gingerbread House displays at Christmas.
View the Fertile Ground Mural, an amazing 32,500 square-foot mural located on the east and north exterior walls of the Energy Systems building at 13th and Mike Fahey Street.
It is always a good idea to verify the information with the business before visiting.
Other Helpful Resources: