Members of the Omaha Public Library, Bellevue Public Library, or Council Bluffs Public Library can check out FREE passes to Lauritzen Gardens!
Join our growing community and keep updated on Omaha family-friendly events and activities and Sign up for our Free Email Newsletter!
Omaha Public Library and Lauritzen Gardens
The Omaha Public Library (OPL) and Lauritzen Gardens will partner to offer free garden admission to library patrons. All OPL branches will be checking memberships out to library cardholders.
Each of OPL's 12 locations will have day passes available (one per location) for checkout year-round to adults (ages 18+) who are Douglas County residents or have a non-resident paid membership to OPL.
Passes are good for one-time admission and each pass admits two adults and children from their household. Only one pass may be issued per library card and customer. Passes must be returned to any OPL location within five days of checkout. Unreturned or late passes will be subject to a $5 replacement fee.
To see which OPL locations have passes available, visit here! Or you can also visit omahalibrary.org and search for "Lauritzen Gardens" in the online catalog. You may also call any OPL branch to check availability.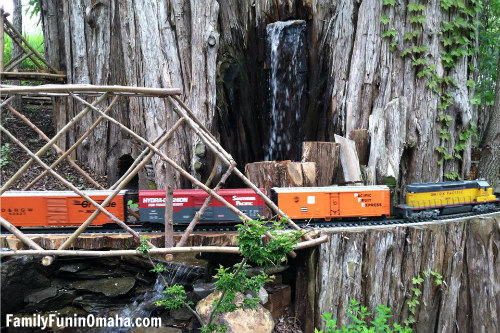 Anyone interested in obtaining an OPL card may find more information about how to get a card at omahalibrary.org/get-a-library-card or by visiting any OPL location. Library cards are free for residents of Douglas County.
Lauritzen Gardens joins Omaha's Henry Doorly Zoo and Aquarium, Fontenelle Forest, and Omaha Children's Museum as the fourth community organization to offer free admission through Omaha Public Library!
Council Bluffs Public Library and Lauritzen Gardens
Lauritzen Gardens has also partnered with the Council Bluffs Public Library to offer family passes available for checkout to anyone with a Council Bluffs library card.
The family pass will be available year-round and will admit 2 adults and children under 18 from the same household.
Passes are available on a first come, first serve basis. Holds cannot be placed on passes and must be checked out with an Adult library card. Passes not returned to the library within five days of check out are subject to a $5 replacement fee.
For more information, please contact the Circulation Desk at 712-323-7553, ext. 110.
Bellevue Public Library and Lauritzen Gardens
The Bellevue Public Library now has two passes to the Lauritzen Gardens for check out year-round. The passes admit two adults and children under the age of 18 from their household. Only one pass per family per week can be issued.
To see if the Bellevue Public Library has a family pass available on the day you want to visit the Forest, check the availability here by going to the library's online catalog and then typing "Lauritzen Gardens" in the title search. Or, call (402-293-3157) or visit the library.
More Library Partnerships
Find More Omaha Fun: