Living History Experiences offer a unique look into the past, with a variety of fun activities for families. Enjoy several in Nebraska and Iowa!
Join our growing community and keep updated on Omaha family-friendly events and activities and Sign up for our Free Email Newsletter!
Living History in Nebraska
The Museum will offer several history tours at 11 a.m., 1 p.m., and 3 p.m. and guests will see historic characters throughout the Museum in period appropriate uniform. Characters include General LeMay who was considered to be the father of Strategic Air Command; Rosie the Riveter known for her "We Can Do It" support of the defense industry during WWII; and the Berlin Candy Bomber who gained fame for dropping candy to German children during the Berlin airlift from 1948 to 1949.
Included in Museum general admission and free for members. Admission costs are $12 for adults, $11 for seniors or military, $6 for youth ages 4-12, and children 3 and under are free. The Museum is open 9 a.m. – 5 p.m. daily.
Living history demonstrations take place periodically throughout the summer and fall with reenactors portraying fur traders, coopers, blacksmiths, carpenters, tinsmiths, weavers and other period trades. Visitors are encouraged to interact with the reenactors.
Generally, these are held on the first weekend of each month during the Summer. Check schedule here under "Living History Demonstrations."
Kids love interacting and learning how butter is made, visiting the blacksmith shop, hearing the cannon, and trying their hand at weaving. Occasionally they have a scavenger hunt for the kids.
The events are free. Visitors will need a daily or annual Nebraska State Park Permit.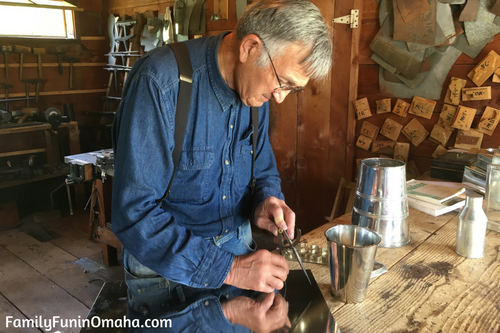 The Stuhr Museum of the Prairie Pioneer invites visitors to immerse themselves in a Living History Experience. Take a walk through Railroad Town and explore life as it was in 1897. Visit with costumed historians who are in the homes and businesses in town engaging in the activities of their day.
Admission charged.
The Wessels Living History Farm is a real, working farm, with chores to do every day and opportunities to do some hands-on learning. Farm life of the 1920's is relived on fifteen acres, complete with a fully furnished farm house, country church, country school, post and beam barn, out house, granary and more.
Admission charged.
History buffs will enjoy the restored schoolhouse and general store from the old river town of St. Deroin, where old-time crafts are demonstrated during living history weekends throughout the summer and fall.
Visitors will need a daily or annual Nebraska State Park Permit.
Living History in Iowa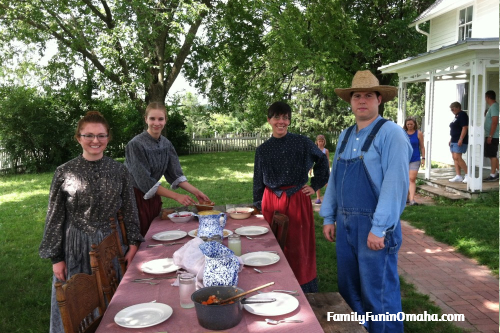 Living History Farms is an interactive outdoor museum which educates, entertains and connects people of all ages to Midwestern rural life experiences. Visit with many characters throughout the experience.
Admission charged.
The seven villages of the Amana Colonies offers visitors the opportunity to step back from today's busy pace, meet artists, sample hearty foods, visit historical buildings, shop, and more.