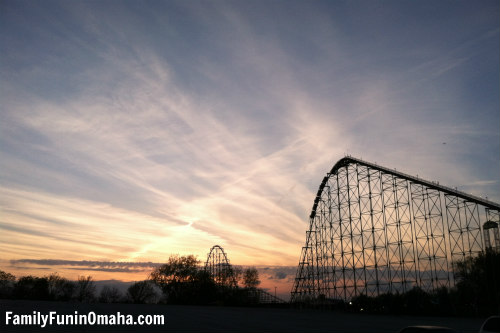 Find Worlds of Fun and Oceans of Fun Discounts in Kansas City, that offers a full day of excitement for the whole family!
Read more about 5 Reasons to visit Oceans of Fun and Tips for Visiting Worlds of Fun with Kids!
Join our growing community and keep updated on Omaha family-friendly events and activities and Sign up for our Free Email Newsletter!
Please Note: These promotions and ticket availability can change at any time. It is always a good idea to check for updates before visiting. Also note that some of the links below are affiliate links. Meaning, your price does not change, but I may receive a small commission if you make a purchase.
2019 Worlds of Fun and Oceans of Fun Discounts
Save $22 off the front gate price! Tickets are valid any one day the park is open to the public through June 16, 2019.
Worlds of Fun wants to thank the men and women who have served and who are currently serving in our country's military with complimentary admission to Worlds of Fun on select holidays.
Complimentary tickets are available for active duty, reserve, or retired military (with honorable or medical discharge) and government issued ID. Veterans or active military members only will receive complimentary admission to Worlds of Fun, with the option to purchase up to six (6) discounted tickets for immediate family members. Present valid government issued ID at any ticket sales window located at the Worlds of Fun or Oceans of Fun main entrance in order to receive your free tickets for military service and to purchase military discount tickets for immediate family.
Worlds of Fun and Oceans of Fun are pleased to offer a Military Discount off the Front Gate admission price to military members and their families.
Your Local Bank or Credit Union
Members can receive discounted tickets to Adventureland. The following have posted their promotions online.
Worlds of Fun/Oceans of Fun occasionally offers discounted tickets if you purchase them online, including the option to purchase special tickets after 4 p.m. (cannot be used on Saturdays).
If you are planning to visit more than 1 day this Season, it might be a good idea to look into the Two-Day Ticket option. It is valid any 2 days at Worlds of Fun during the 2019 public operating season through October 27, 2019. Days of use do not need to be consecutive. Admission must be used by the same person on both visits. Oceans of Fun is included in all Worlds of Fun admissions between May 24 and September 2, 2019. Not valid for WinterFest.
Find More Fun:
2018 Omaha Summer Fun Guides