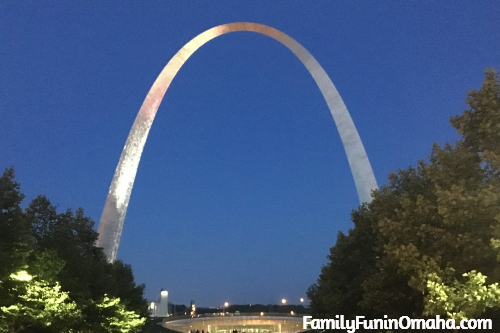 If you are looking for a FUN family-friendly vacation, St. Louis is the perfect destination! Read on to discover 8 of the Best Things to Do in St. Louis with Kids!
We loved The Gateway Arch, Magic House, and City Museum, the most unique indoor/outdoor playground with slides, caves, and tunnels that your kids will LOVE!
Plus, they have so many FREE activities including the Zoo, Science Museum, Grant's Farm, + more (just pay for parking!).
We spent 4 full days in St. Louis, with visiting 2 attractions each day (except for 1 full day at City Museum – it is that amazing!).
We are so grateful to partner with Explore St. Louis and Drury Inn & Suites on our recent vacation to help us share all about this exciting Midwest Destination! All thoughts and opinions are our own.
Some of the links below are affiliate links, meaning at no additional cost to you, the website will earn a commission in you click through and make a purchase.
Join our growing community and keep updated on Omaha family-friendly events and activities and Midwest Travel Destinations and Sign up for our Free Email Newsletter!

*It is always a good idea to verify information before visiting.
8 of the Best Things to Do in St. Louis with Kids
When we arrived in St. Louis, my kids could not wait to see The Gateway Arch. They had seen pictures and heard all about it, but they wanted to see it with their own eyes. As we approached the downtown area, the kids were excited as they could see parts of it begin to be revealed. They could not believe how big it was and that we would actually be going up it a couple days. (The first picture in this article was taken on that first night!)
The tram ride up was a little tight and I was a little apprehensive if I would be able to do it, but once I got inside, any fear I had went away and I enjoyed looking out the little window at the inside of the arch. It is a 4-minute ride up, and a quicker 3-minute ride down.
TIP: Purchase your timed tickets (can do it online) for the tram early as they do sell-out. Also, be sure to use the restroom as there are no facilities at the top.
Once on top, the views were amazing. Although there were a lot of people at the top, I felt that we could easily move around and look through various windows. Truly spectacular!
City Museum in St. Louis is truly one of the most unique places we have ever been!
Imagine the coolest indoor / outdoor playground full of tunnels, caves, bridges, slides, secret passages, and numerous places to crawl through, some big enough for adults, and some just for kid-sizes.
It is a 100-year-old warehouse where artists have repurposed the pieces of old cities including planes, a bus hanging off the roof, and pieces of the warehouse (see the rollers in the stairwell!) to create a space for endless exploring, crawling, discovering, climbing, and more.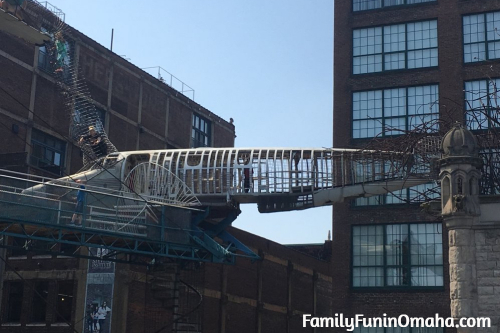 We started our day outside, as recommended to us since it can get quite hot later. So many places to climb! I felt like it was similar to one of those outdoor Adventure Courses where you climb among the trees very high off the ground. It was so much fun!
On the rooftop, they even have a ferris wheel and bus hanging off the edge! (Tip: The rooftop is optional and an additional charge.)
So many SLIDES, including this 5- and 10-story slide that you have to use a secret passage to get to!
The caves were another favorite area for us to explore!
We stayed most of the day at City Museum, and only left because the kids were so exhausted after exploring all day. They asked many times when we can come back to visit!
We love our Omaha Zoo, but when visiting other cities, we also love to explore other zoos.
St. Louis Zoo is full of wonderful animals, exhibits, and a great layout where you can make a full circle and see almost everything.
Amazingly, admission to the St. Louis Zoo is FREE, with a fee to park.
TIP: As with other popular locations, it is recommended to arrive early. We arrived right after a rainstorm, and encountered very little traffic and were able to easily find parking. When we left, the line to get in to park was very long.
We always love seeing the elephants!
The Magic House, St. Louis Children's Museum, is FULL of fun and interactive exhibits for kids to explore and play.
My kids loved these climbing pods that stretched 3-4 stories!
This is so cool!!
Don't miss this interactive space with various kid-size shops, library, and a restaurant for kids to pretend and play. There also is a special area just for little ones!
Bubbles, bubbles, and more bubbles! The Bubble Room was a highlight, with many exciting stations to play with bubbles!
Grant's Farm is a special treat, where guests can enjoy up-close encounters with animals, and much more!
Grant's Farm is the 281-acre ancestral home of the Busch family, named for Ulysses S. Grant who originally worked a portion of the land.
Amazingly, admission to the Grant's Farm is FREE, with a fee to park, and other fees for feeding animals, etc.
First, guests will ride a tram and will pass up-close to many animals on the way.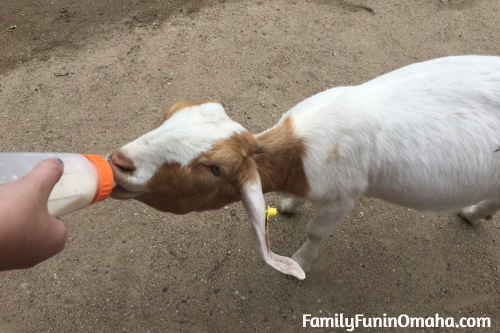 The kids enjoyed feeding the goats their milk bottles – so cute! Guests can also purchase a Fun Park Pass that includes many of the favorite things to do!
FREE BEER! Guests, who are 21 years of age or older, are invited to enjoy complimentary samples of Anheuser-Busch products!
Be sure to stop to see the beautiful Clydesdales next to the parking lot!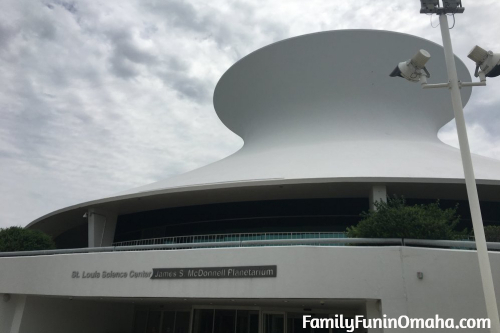 The St. Louis Science Center is full of interactive and exploratory exhibits including an entire GAMES Section full of fun activities and an arcade (loved Mrs. Pac-Man and Space Invaders!).
Admission is FREE!
TIP: Free parking is available at the McDonnell Planetarium (accessible through Forest Park), which is connected to the Science Center by a walkable Skybridge over Interstate 64/Highway 40.
You know the cool ball room at the Omaha Children's Museum? The St. Louis Science Center has a HUGE exhibit – it is so fun to watch the balls move around!
7. More Places to Visit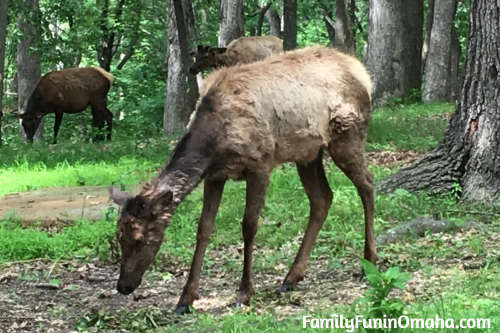 About 1/2 hour outside of St. Louis is Lone Elk Park, a drive-thru wildlife park. We saw several elk right on the side of the road, and a curious raccoon! Admission is FREE!
Across the street from Lone Elk Park is the World Bird Sanctuary. Guests can walk short paths to see birds, owls, and an educational presentation. Admission is also FREE, although donations are appreciated.
Check out a St. Louis Cardinals Game or take a tour of the stadium!
COMING SOON to St. Louis Union Station include an Aquarium, Fire and Light Show, a Ropes Course, and the St. Louis Wheel, a 200-foot high observation wheel!
8. Sweet Treats
Ted Drewes Frozen Custard is a local favorite and well worth the visit! We'd recommend the Muddy Mississippi, Lemon Crumb, and Apple Pie!
Fitz's is another local favorite for their famous Root Beer floats!
Where to Stay when Visiting St. Louis
When you are looking for a family-friendly hotel, with a lot of extras, Drury Inn & Suites is a perfect place to stay!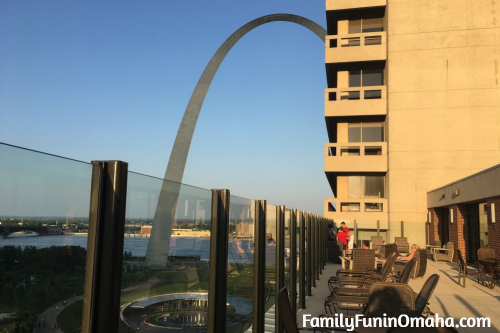 Look at this view from the Observation Deck!
If you are looking for a wonderful hotel near the Arch, the Drury Plaza Hotel St. Louis at the Arch is the perfect place to stay!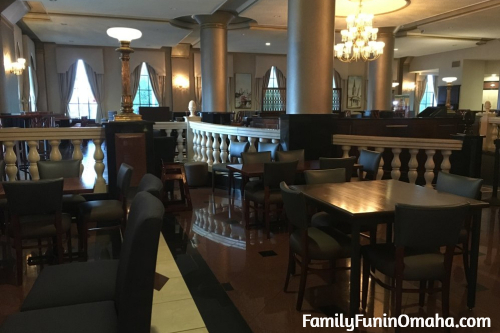 With a beautiful lobby and spacious rooms, this family-friendly hotel and very courteous staff make sure your stay is going well.
The pool is right next to the Outdoor Observation Deck!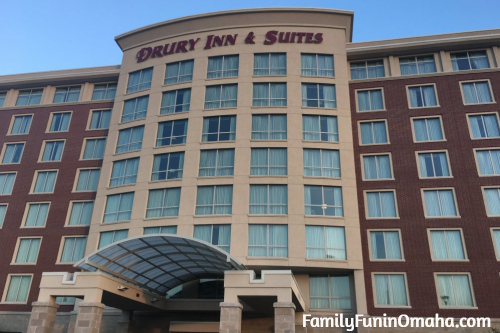 We also stayed at Drury Inn & Suites St. Louis Brentwood, which is a perfect location when visiting Forest Park, St. Louis Zoo, St. Louis Science Center, and The Magic House.
The Indoor / Outdoor Pool is perfect for relaxing and for the kids playing at the end of the day.
Wonderful Extra Perks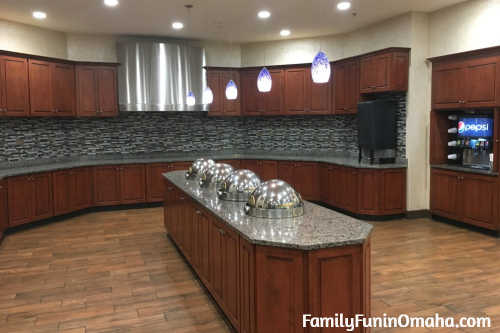 Guests are these Drury Hotels enjoy FREE Hot Breakfast and 5:30 Kickback which included dinner and 2 drinks for adult guests.
This was fantastic and delicious as we enjoyed tacos, pasta, hot dogs, soup, salad, and more every night!
(Note: These benefits can change at any time. Please verify with your selected hotel before visiting.)
St. Louis was a wonderful vacation with so many activities to offer families! As my son said, "It was very fun. Go there!"
For More Information on Visiting St. Louis:
>> SEE ALSO: Day and Weekend Trips from Omaha!