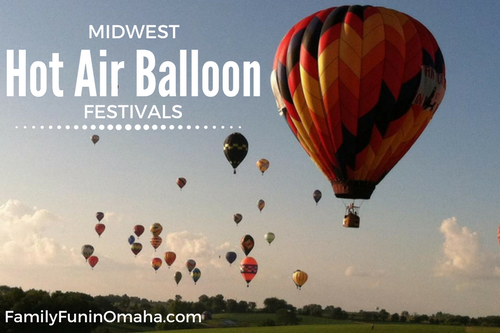 Hot Air Balloon Festivals are a beautiful sight to see, full of color, excitement, and fun!
Watch hot air balloons inflate right in front of you, cheer along with the crowd as they rise, and eventually take off towards the sky. Soon the skies are filled with colorful shapes and sizes floating and dancing, gradually moving off into the distance.
On other nights, the balloons inflate in surrounding fields and slowly move over the horizon preparing to land right in front of the excited crowd. Occasionally, pilots compete in challenges such as dropping a flag within a boundary to see who can come closest to the target.
Join our growing community and keep updated on Omaha family-friendly events and activities and Sign up for our Free Email Newsletter!
PLEASE NOTE: As things continue to rapidly change during this unusual time, it is always a good idea to verify details before visiting.
Balloon Glows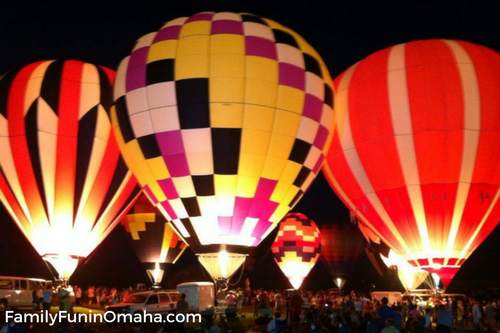 Our favorite events are the Evening Balloons Glows.
On the count of One … Two … Three … GLOW!, the pilots create a beautiful landscape of colors glowing in the night sky. They mix it up with a flicker, alternating glows among balloons, or all of the balloons glow at the same time.
Many times, spectators are invited to walk amidst the balloons, asking the pilots and crew questions. My kids love also collecting cards from each balloon crew!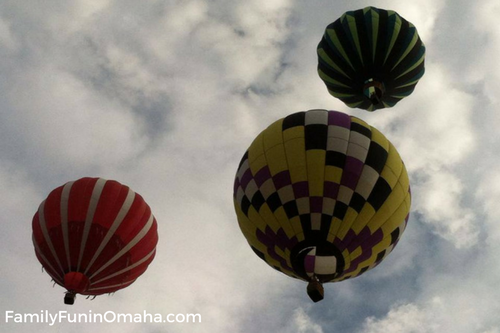 Midwest Hot Air Balloon Festivals
**It is always recommended to verify before visiting as dates, times, and locations can change.
Galena, IL
June 16- 18, 2023 – Hot air balloons, live music, night glow, inflatables for the kids, Classic Car Show, and more.
Ashland, OH
June 23 – 25, 2022 – Balloon glow, balloon races, stage performances, sports tournaments, displays, exhibits, food, and more.
Howell, MI
June 24 – 26, 2022 – The Michigan Challenge Balloonfest is a celebration of hot air balloons and features entertainment, fireworks, and family activities and attractions. The Saturday night balloon glow is a must-see attraction, when approximately 20 hot-air balloons will inflate on the launch field and glow their envelopes against the beautiful summer night sky.
Battle Creek, MI
June 30 – July 4, 2022 – Air show, night air show, balloons, Field of Rock Bands, Balloon Illume, fireworks, Skerbeck Carnival, vendors, and family fun for everyone.
About 25 minutes south of Des Moines
July 29 – Aug. 6, 2022 – One of our favorite Summer events! 9-day festival at the end of July with 100+ hot air balloons filling the sky, including special shapes! Live music, buy a balloon ride, Dawn Patrol, Night Glow Extravaganza, food vendors, fireworks, and more.
Read more about this wonderful Hot Air Balloon Festival from The Walking Tourists and Olio in Iowa.
Nearby, be sure to also visit the National Balloon Museum (The Walking Tourists).
Ta Ha Zouka Park, Elkhorn, NE.
Aug. 19 – 20, 2022 – Balloon launches, on-stage entertainment, helicopter rides, KidZone, Nebraska Food & Wine Festival, and more.
Gering, NE
Aug. 10 – 13, 2022 – Hot air balloon launches, opening night and a closing night balloon glow, craft fair, cornhole tournament, and more.
East Moline, IL
Aug. 12 – 13, 2022 – Balloon launch, balloon glow, and more.
Centralia, IL
Aug. 19 – 21, 2022 – Hot air balloons, balloon glows, and fireworks.
Macomb, IL
September 9 – 10, 2022 – Balloons, family fun, balloon glow, and more.
Creston, IA
Sept. 16 – 18, 2022 – Almost 40 balloons participate in races over the weekend. In addition, there is a parade with a marching band contest and balloonist and many more, also a doll show, arts & crafts fair, flea market, balloon night glow, food booths, and more.
Columbus, KS
Oct. 7 – 9, 2022 – Hot Air Balloon Regatta, car & motorcycle show, art & quilt shows, balloon glow, and much more.
Love a little history? Population 91 shares about a road trip itinerary based on the Peoria, IL, Hot Air Balloon Race in 1909. This was an endurance/distance race and the winner landed near Dixon, MO.
Hudson, WI
February 3 – 5, 2023 – A fun winter event! Family-friendly events such as an evening parade, hot air balloon launches, geocaching, marketplace and craft fair, and hot air balloon moon glow. Read more about the Hudson Hot Air Affair from Exploration Vacation.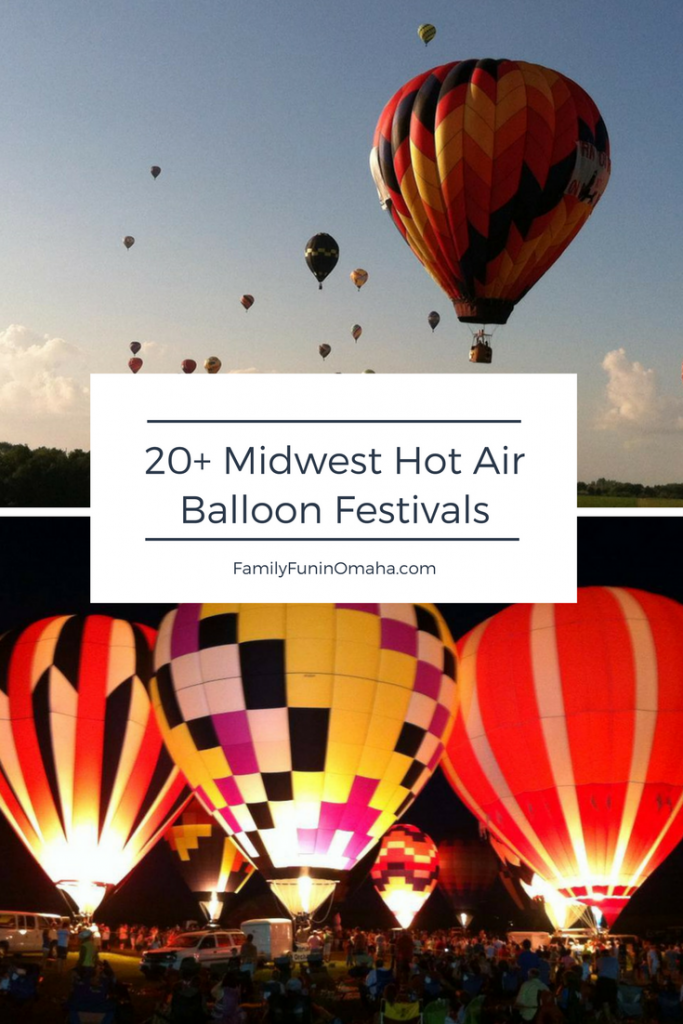 More Midwest Fun

We Hope these Festivals Return in 2022 …
As more festivals are announced for 2020, we'll let you know about them! These are festivals that have taken place previously.
Falls City, NE
TBA
Lisle, IL
CANCELED FOR 2021
Lincoln, IL
TBA – A relaxed gathering of hot air balloons. Learn more about this new, relaxed hot air balloon festival here.
Council Bluffs, IA
TBA – Watch hot air balloons from around the Midwest land and/or take off right in front of you in the picturesque beauty of Ditmar's Orchard. Plus, enjoy live music. Always a favorite fall event.
2020 Update: All admission/parking tickets must be purchased in advance from Eventbrite. Limited amounts are available. All walk-ins will be turned away.
Montpelier, OH
TBA – Balloon flights, glows, and special events.
Topeka, KS
TBA – Balloon flights and balloon glow.
St. Louis, MO
TBA – The oldest and most well-attended FREE hot air balloon event in the world.
Bloomington, IN
TBA – Balloons, fireworks, and more.
Brookfield, MO
TBA – Balloon competitions, vendors, parade, and more.
Ravenna, OH
TBA – Balloon Lift Off, parades, fireworks, and more.