Looking for a FUN, exciting waterpark in the Midwest, with many thrilling rides to choose from?
Lost Island Waterpark in Waterloo, Iowa, has been named one of the best Waterparks in the country, and on our first visit recently, we discovered why!
Looking for ideas of Where to Stay and What to Do while visiting Lost Island Waterpark? Visit here for many ideas.
Special thanks to Experience Waterloo for partnering with us by providing tickets so that we can share all about our fun experience with you!
Join our growing community and keep updated on Omaha family-friendly events and activities and Sign up for our Free Email Newsletter!
Watch and see all about the fun your family can experience at Lost Island Waterpark!
Lost Island Waterpark –  Exciting Family Fun!
Lost Island Waterpark features 14 major slides, a lazy river, wave pool, and 3 children's play areas!
Even with that much to offer, it was compact and so guests did not have to walk far between attractions – which we loved!
Lost Island Waterpark with many exciting slides and attractions to choose from, has recently been named one of the best waterparks in the country by USA Today!
Thrilling Water Coaster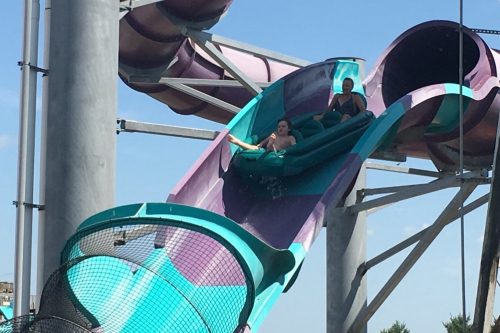 This was our all-around favorite ride! We have never seen anything like it before.
This hydromagnetic water coaster, Wailua Kupuawith – with only a handful of its kind in the world, brings you up and down many thrilling hills, through tunnels, with excitement throughout!
Favorite Family Slides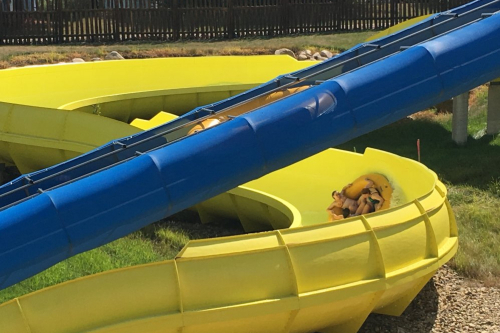 The Calypso Cascade was another family favorite!
Each raft can hold up to 5 people, as you swish and splash down the slide!
This slide also has a conveyor belt which carries up the big yellow rafts up to the top for you!
Another family favorite, Emerald Adventure & Jade Rapids, are completely enclosed waterslides, where you can ride down on a single or double tube.
The Tangerine Tempest, or the toilet bowl as my kids called it, was so much fun!
Riders go down a steep slide and then swish around 2-3 times in the bowl, before continuing down the rest of the slide!
Exciting Thrill Rides
We have never seen a waterpark ride like the Molokini Crater before!
Guests ride on a 2-person or 4-person raft down a steep slide into a large funnel, and then ride side to side until they go through a waterfall at the end – we heard lots of screams of excitement!
Race against your family and friends on the Tá Katipo!
Guests ride down face first on a mat, through an enclosed tube, then down the open lanes!
The Lost Souls Slide is one of the extreme slides! Riders will shoot down this speed slide for a quick exhilarating drop!
Fun Kiddie Areas
Perfect places for the little ones to splash, slide, play, and climb!
Starfish Cove, Blue Iguana Lagoon for Kids, and Tahiti Village offer a variety of smaller sized slides, waterfalls, and colorful areas for younger kids to have fun!
More Family Fun
The Wave Pool, Tsunami Bay, is always a popular spot for many visitors!
Guests can grab a free tube and ride the waves or sit by the zero entry for a more relaxing experience!
The Lazy River is always a guest favorite to rest and relax in between exhilarating rides!
With a variety of free tubes to choose from, guests will love floating down the Kailahi River, enjoying the beautiful surroundings, and cool water.
We loved that Lost Island Waterpark also included a traditional pool area for some more fun!
The Blue Iguana Lagoon included a log walk, 2 slides, volleyball, basketball, and more!
Go Karts and Mini Golf
After a day of fun in the sun, for an additional fee, guests can ride the exciting Go Karts or play Mini Golf!
Monaleo's Speedway is one of the longest go-kart tracks in the Midwest, while Monaleo Adventure golf features two challenging 18-hole courses in a picturesque setting!
Discover many more attractions at Lost Island Waterpark here!
Exciting NEW PLANS Ahead!
It was recently announced that Lost Island Waterpark will soon be adding an AMUSEMENT PARK!
Construction is expected to begin soon, with an anticipated opening in 2022.
Visit Lost Island Waterpark
Location: 2225 E. Shaulis Road, Waterloo, IA (located 2 hours Northeast of Des Moines, approx. 4 hours from Omaha)

Hours: The waterpark is generally open Memorial Day Weekend through mid-August. The miniature golf and go-karts are open for a longer season. Visit their website for dates and hours.

Mascot: Lost Island has a Mermaid mascot, which surfaces in Blue Iguana Lagoon every Saturday and Sunday during the Summer. Watch for exact time postings at the front gate.

Other amenities: Cabanas are available for rental, and food and refreshments are available for purchase. Many beach chairs and umbrellas are scattered throughout the park.

Cost: Visit here for current prices.

Lodging and Other Things to Do Nearby: Visit here to ideas on where to stay and what to do near Lost Island Waterpark.
Visit Lost Island Waterpark for a memorable Summer Vacation!
Find More Fun: