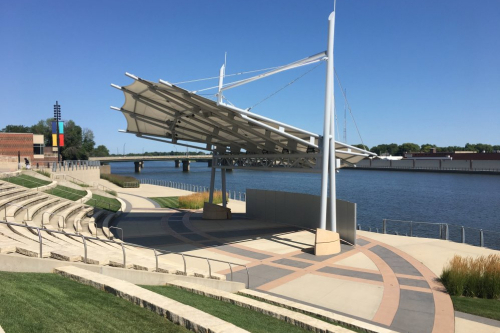 Waterloo, Iowa, is a vibrant little city about 2 hours northeast of Des Moines.
It is home to Lost Island Waterpark, recently named one of the best waterparks in the country! Read all about our visit and be sure to add a visit to your Summer Bucket List!
Special thanks to Experience Waterloo for partnering with us by providing accommodations so that we can share all about our fun experience with you!
Some of the links below are affiliate links, meaning at no additional cost to you, the website will earn a commission in you click through and make a purchase.
Where to Stay Near Lost Island Waterpark
We stayed at the Hampton Inn Waterloo Cedar Valley, a wonderful hotel with spacious rooms. It's close proximity to Lost Island Waterpark was ideal, as well as many restaurants.
Our family stayed in a 2 bedroom suite, with very comfortable beds, and a spacious area with a sofa, television, desk, and chair.
The bathroom was very large and accommodating!
This room also included a microwave, fridge, and extra sink. This was a great space to make our lunches for the day!
The lobby was spacious, and the breakfast area offered a variety of seating options, which was open throughout the day and offered a great place to people to work, if needed.
The breakfast was more than your typical hotel breakfast, with amazing smoothies that we all loved!
When we look for hotels, we always pick one with an indoor pool, which offers a great place to wind down with the kids after a busy day.
Visit Hampton Inn Waterloo Cedar Valley when planning your next trip to the Waterloo, Cedar Valley area or when you are planning a visit to Lost Island Waterpark!
What to Do Near Lost Island Waterpark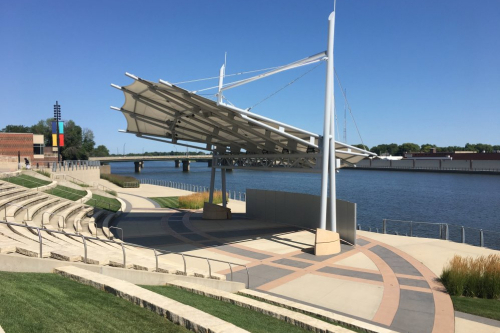 Waterloo is part of a larger metropolitan area known as the Cedar Valley, which includes the cities of Cedar Falls, Evansdale and Hudson.
The beautiful scenery along the Cedar River provides the perfect backdrop for the amphitheater!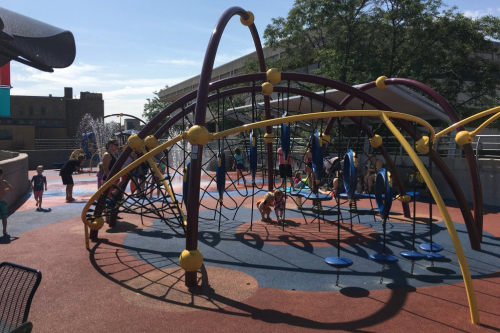 Near the amphitheater, is this fantastic playground and splash park that kids will love!
Waterloo is home to several museums, including Bluedorn Science Imaginarium, Grout Museum of History & Science, and Phelps Youth Pavilion, and interactive children's museum.
The John Deere Tractor and Engine Museum offers Free admission, and is a great stop on your visit.
Enjoy a variety of outdoor recreation with beautiful parks and trails nearby.
During the Summer, you can also catch an Waterski Show! Visit their website for the schedule.
When coming to the Waterloo area, be sure to visit Experience Waterloo for everything you need to plan a wonderful and memorable vacation!
Find More Fun: