Enjoy many family-friendly events coming up in Omaha, including these 10 FREE Events in July!
Join our growing community and keep updated on Omaha family-friendly events and activities and Sign up for our Free Email Newsletter!
FIND MORE FUN ALL SUMMER WITH THESE OMAHA SUMMER FUN GUIDES!
PLEASE NOTE: As things continue to rapidly change during this time, it is always a good idea to verify details before visiting.
Free Things to Do in July!
Please Note: It is always a good idea to verify before visiting as dates and times may change.
FREE Ongoing Activities:
Independence Day celebrations will look a little different this year, but there are still some fun events to look forward to!
Omaha Public Library is bringing some of your favorite entertainers and organizations to your home this summer with a series of exciting virtual events!
Please Note: It is always a good idea to verify as dates and times may change.
Local musicians entertain families every Friday night throughout the July and August. Bring a lawn chair, practice social distancing and enjoy a delightful evening with the whole family.
Location: Rockbrook Village, 2800 S 110th Ct, Omaha.
7-9 p.m.: Shop and Dine.
9 p.m.: Movie: Jurassic Park
Capacity is 50 cars, so it will be on a first come, first serve basis. Parking will begin at 6:30pm outside of the Appliance and Electronics building.
Location: Nebraska Furniture Mart, 700 South 72nd St., Omaha.
Hydrant Parties are back every Monday, Wednesday, and Friday in July at various locations throughout the city!
Free Starlight Movies are back in July. Tickets are required and social distancing practices will be in effect. Since SumTur capacity is 300 for the foreseeable future, they will be distributing free tickets on the Saturday before each movie date at local businesses including Graley's Creamery, Twisted Vine, Kajoma's Boutique, and at Papillion Landing. See ticket distribution locations, event schedules as well as their Directed Health Measures and precautions at www.sumtur.org.
Location: 11691 S. 108th St., Papillion, NE.

Friday, July 3: Frozen 2
Friday, July 10: Toy Story 4
Friday, July 17: Lion King (2019)
Friday, July 24: Aladdin (2019)
Families are invited to enjoy a free movie at dusk.
Friday, July 10: Bee Movie
Friday, July 17: Moana
Friday, July 24: Finding Nemo
Friday, July 31: The Cat in the Hat
Location: 19475 225th St., Council Bluffs, IA.
Free Outdoor Movies behind the Dairy Chef (3223 N. 204th St., Elkhorn, NE).
Movies start at dusk. Bring blankets or chairs to sit on. Free popcorn provided.
You may bring your own food and beverages. (Alcohol is not allowed.) Food, drinks, and ice cream also for sale at Dairy Chef.

July 11: The Secret Life of Pets 2
Test your Potter knowledge this summer for our Harry Potter Trivia Tuesdays.
July 14: Harry Potter and the Order of the Phoenix
July 21: Harry Potter and the Half-Blood Prince
July 28: Harry Potter and the Deathly Hallows
Location: Online
These virtual escape rooms are designed for students in grades 6-12.
Planet Comicon and NFM are teaming up for Superhero Story Hour, featuring exciting stories read by your favorite heroes and villains every Thursday at 2 p.m. on Facebook and Instagram.
Location: Online.
Gretna Days – July 24 – 26 [tentative]
A fun-filled community event featuring a variety of activities and special events for all ages.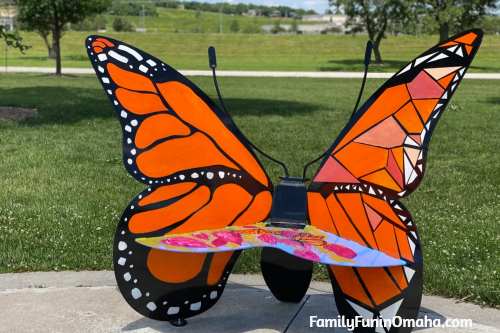 Throughout the Summer, see the beautiful "Wings Over Papillion" Butterfly Bench Public Art Project with uniquely painted butterfly benches throughout Papillion!
Learn about art in Joslyn's collection, and make some of your own, all from the comfort of your kitchen table! Gather up a few simple materials and join in LIVE! on Facebook every Friday at 10:30 am for an art-making.
Materials needed for each week's activity are listed here (and will be broadcast at 10 am each Friday). Need supplies? Free kits will be available for pick-up outside of Joslyn each Thursday, beginning at 9 am, while supplies last.
Kids ages 3 and up will learn a fun new craft in each Zoom session.
Location: online
FREE Ongoing Activities:
2020 Omaha Summer Fun Guides