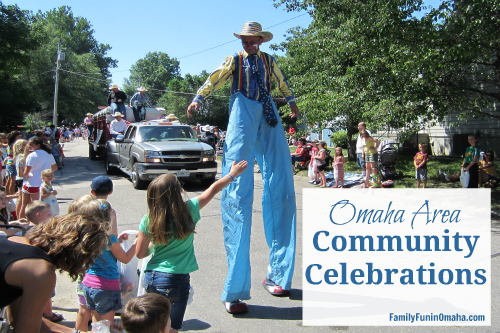 Celebrate with many surrounding communities and enjoy Parades, Carnivals, Fireworks, Family Picnics, Concerts, Car Shows, and more. Many of the events are free, and definitely fun!
Join our growing community and keep updated on Omaha family-friendly events and activities and Sign up for our Free Email Newsletter!
**Please Note: It is always a good idea to verify event information as they are subject to change. 
2019 Community Celebrations
Florence celebrates its heritage each year with a parade and many other activities.
May 11 (1 – 3 p.m.): Florence Days Parade marches from Miller Park to McKinley St. This year's theme is "Mardi Gras in Florence."
Celebrate CB 2019 kicks off on May 14th with the annual Clean Sweep at Bayliss Park.
The week-long celebration continues with a special Farmer's Market on May 16th, the Ag Committee Spring Cookout on May 17th, and ends on May 18th with the Celebrate CB Parade and Children's Faire at Bayliss Park.
Location: Bayliss Park, 100 Pearl St., Council Bluffs, IA.
Parade, Hot Wheels races, community cookout, fireworks, concert, family pool party, and more.
Parade, family fun festivals, hot air balloon rides, a spectacular fireworks display, and more.
Carnival, parade, Taste of Blair, beer garden, street dance, June jam, car show, and more!
Grand Parade, Craft & Vendor Fair, family activities, outdoor movie, fireworks, and more.
Parade, Pancake Feed, family fun, children's tractor pull, live entertainment, fireworks, and more.
Parade, festival, and car show.
Parade, carnival rides, live music, family entertainment, food and shopping in Papillion's City Park.
Independence Day activities, family street dance, annual Grand Parade and children's parade, and fireworks.
A three-day, family fun festival celebrating history. Car show, art show, parade, hot air balloon glow, and more.
Carnival, parade, fireworks, tractor pulls, community picnic, and more.
Family-friendly summer festival includes a pancake breakfast, parade, and street festival featuring dozens of vendors, art, live music, and children's activities.
Parade on Spruce Street, kids activities in the park, car show, craft show, pedal tractor pull, and more.
Parade, pancake feed, pony rides, children's activities, entertainment, food, fun, and more.
Location: Washington Park, Franklin St. Bellevue, NE.
Parade, car show, carnival, family day activities, and more.
A family-friendly street festival that celebrates and highlights the Dundee neighborhood with a parade, 5k run, arts & crafts vendors, book sale, pancake breakfast, food trucks, live music, and beer garden.
Loessfest is an annual celebration of the all of the great things happening in Council Bluffs, as well as the area's unique landscape.
Location: Tom Hanafan River's Edge Park, located at the Bob Kerrey Pedestrian Bridge, 4200 Avenue B, Council Bluffs, IA.
Four days of pageantry, activities and celebrations for the entire family.
Carnival Rides, parades, music, Chicken Chariot Races, Slow Tractor Races, Egg Toss, Airport Fly-In Breakfast, Tractor Pull, vendors, fireworks extravaganza, and much more!
Heritage Days is a 2-day event with hands-on learning demonstrations, children's games, traditional foods, and music. It will take place at the Fort Atkinson State Historical Park in Ft. Calhoun, NE.
Find more Helpful Resources:
Love this? Pin it here: