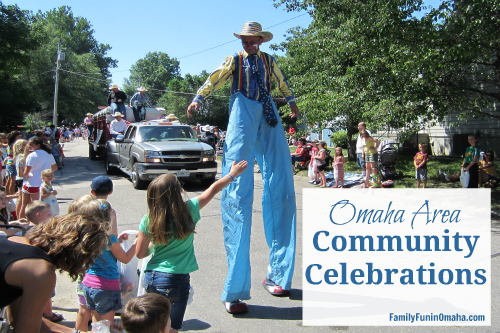 Celebrate with many surrounding communities and enjoy fun activities. Many of the events are free – and definitely fun!
Even though the celebrations will look a little different this year, organizers have been busy planning a variety of fun activities!
Join our growing community and keep updated on Omaha family-friendly events and activities and Sign up for our Free Email Newsletter!
**Please Note: It is always a good idea to verify event information as they are subject to change.
2023 Community Celebrations and Parades
This annual event is a way for the community to get together. Activities include a Scavenger Hunt, carnival, parade, a Farmer's Market, kid's activities, and more!
Location: Bayliss Park, 100 Pearl St., Council Bluffs, IA.
Florence celebrates its heritage each year with a parade and many other activities.
Kick off summer with a one-day extravaganza, including a parade, entertainment, games, car show, and fireworks display!
The weekend features a community picnic, BBQ, Corn Hole tournaments, parade, fireworks, and more.
Four days filled with fun, including the Elkhorn Days Parade, bounce houses, local entertainment, Relevant Church Kids Festival, pancake feed, car show, Lord of Life Lutheran Church Family Fun Festival, and more!
Food Fest, Concert in the Park, parade, car show, craft show, BBQ contest, and more!
Location: Washington County NE Chamber of Commerce, 1646 Washington St., Blair, NE.
Hometown parade, kiddie parade, kid's games, beer garden, and fireworks!
Three days of festivities include a Market in the Park, parade and kiddie parade, carnival, Beer Fest, and a fireworks show!
Enjoy Ralston's annual Independence Day parade.
Living History Encampments at Clemmons Park, Kennedy's Cruisers on Main Street Car & Bike Show, Rough Stock Rodeo, children's activities, a historical parade, beer gardens, music, historical tours, and more.
Carnival, free Nights at the Movies, golf tournament, fireworks show, kid's pedal tractor pull, community picnic, Dance & Beer Garden, and more.
Parade, FREE Pool Passes to Gallagher Pool for kids and adults, kickball tournament, bike ride, mural tour, historical tour, and more!
This multi-day event typically features a parade, kids' activities in the park, car and craft shows, pedal tractor pull, and more!
This multi-day community event typically includes a parade, Pancake Feed, children's activities, pony rides, bounce houses, music, food, and more!
Location: Washington Park, Franklin St., Bellevue, NE.
This family-friendly street festival celebrates and highlights the Dundee neighborhood with a parade, 5k run, art and craft vendors, book sale, pancake breakfast, food trucks, live music, and a beer garden.
Parade, carnival, live music, beer garden, Family Fun & Safety Day, kid's tractor pull, Ice Cream Social, and more!
Location: Andersen Park, 13625 Cottner St., Omaha, NE.
Four days of pageantry, a kiddie parade, pep rally, talent show, Little Tuggers contest, car show, craft fair, bike races, music & entertainment, contests, the Grand Parade, fly-in breakfast, horseshoe tournament, tractor pull, and free community picnic!
Find more Helpful Resources: