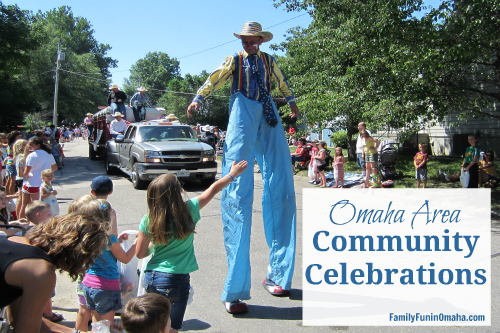 Celebrate with many surrounding communities and enjoy fun activities. Many of the events are free – and definitely fun!
Even though the celebrations will look a little different this year, organizers have been busy planning a variety of fun activities!
Join our growing community and keep updated on Omaha family-friendly events and activities and Sign up for our Free Email Newsletter!
**Please Note: It is always a good idea to verify event information as they are subject to change.
2021 Community Celebrations and Parades
Black Squirrel Scavenger Hunt, Farmers Market, Wellness Wednesday on the Trails, and more!
Location: Bayliss Park, 100 Pearl St., Council Bluffs, IA.
Hometown Heroes event, fireworks display, the Salute to Summer Express, and more!
Details TBA for this fun annual celebration.
The weekend features a Community Picnic, BBQ and Corn Hole Tournaments, Parade, Fireworks, Street Dance, and a Community Worship Service.
Gateway to the West Food Fest, Gateway June Jam, car show, craft/vendor fair, and parade.
Location: 1646 Washington St., Blair, NE.
The morning kicks off with the SYAA Color Run, followed by a Hometown Parade, Kiddie Parade, Street Dance featuring "On the Fritz," kids games, Beer Garden, and fireworks.
Three days of festivities include a Market in the Park, Parade and Kiddie Parade, Carnival, Beer Fest, and a fireworks show.
Enjoy Ralston's annual Independence Day parade in the morning followed by a nighttime fireworks display.
A family fun festival celebrating history. Festivities being planned include a Parade, Rodeo, the Balloon Glow, children's games and some sporting activities, and a city park recognition of Patriotic Productions display entitled "Remembering Our Fallen."
Family fun days include a Carnival, Golf Tournament, Fireworks Show, Kids Pedal Tractor Pull, Community Picnic, Inner Tube Races, and more.
Benson Days is a family-friendly summer festival that celebrates our neighborhood's creative culture. Enjoy Movie Night in Gallagher Park, Historical Building Tour, Bike Ride, and more fun stuff to come.
Valley Days – Aug. 13 – 15 (Tentative)
This multi-day event typically features a Parade, kids activities in the park, Car and Craft Shows, Pedal Tractor Pull, and more.
This multi-day community event typically includes a Parade, children's activities, entertainment, food, and more.
Location: Washington Park, Franklin St., Bellevue, NE.
This family-friendly street festival celebrates and highlights the Dundee neighborhood with a Parade, Dundee Dash 5k Run, arts and crafts vendors, Book Sale, Pancake Breakfast, Food Trucks, Live Music, and a Beer Garden.
This community event typically includes a Parade, Car Show, Carnival, and more.
Four days of pageantry, activities, and celebrations for the entire family. This year's theme is "Remember the Past, Celebrate the Future."
---
TBA for 2021:
Florence celebrates its heritage each year with a parade and many other activities.
May 11 (1 – 3 p.m.): Florence Days Parade marches from Miller Park to McKinley St. This year's theme is "Mardi Gras in Florence."
Parade, festival, and car show.
Loessfest is an annual celebration of all of the great things happening in Council Bluffs, as well as the area's unique landscape.
Location: Tom Hanafan River's Edge Park, located at the Bob Kerrey Pedestrian Bridge, 4200 Avenue B, Council Bluffs, IA.
Heritage Days is a 2-day event held at the Fort Atkinson State Historical Park in Ft. Calhoun, NE.
Find more Helpful Resources:
Love this? Pin it here: