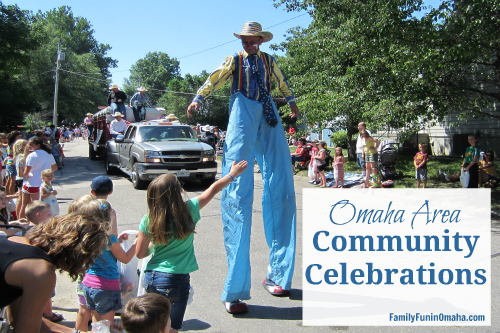 Celebrate with many surrounding communities and enjoy Parades, Carnivals, Fireworks, Family Picnics, Concerts, Car Shows, and more. Many of the events are free, and definitely fun!
 Keep updated on the latest Omaha fun and Sign up for our Free Email Newsletter!
Find more upcoming events in the Omaha Kids Calendar and this weekend's events in Weekend Fun, plus more FREE Summer Fun in Omaha! 
2017 Community Celebrations
Features floats, marching bands and other entertainers along historic 24th Street. Rain or shine.
Parade [24th Street (D to L)] – May 6 (10:00 a.m.)
May 12: Celebrate @ The River at Rivers Edge Park with a free concert by Taxi Driver.
May 20 (10:30 a.m.): Parade, followed by music, kids activities, and carnival rides in Bayliss Park.
Florence celebrates its heritage each year with a parade and many other activities.
Parade, pedal tractor pull, a petting zoo, pony rides, face painting, a bounce house, fireworks, craft/vendor show, and car show.
Parade, Hot Wheels races, community cookout, fireworks, concert, family pool party, and more.
Concerts including KC and the Sunshine Band, Omaha Symphony, Fireworks, Movie in the Park, and more.
Celebrating 150 years! Parade, Family Fun in the Park, Family Fun Festival, and more.
Taste of Blair, Parade, Car show, Craft and Vendor Fair, and more.
Parade, pioneer re-enactors, family activities, movie night, vendors, car show, fireworks, and more.
Family fun, parade, and more.
Parade at 11:00 a.m. Bounce houses, face paint, photo booth, fireworks, and more.
Parade, carnival, and many more activities.
Celebrate the Fourth of July with many celebrations in Omaha!
Independence Day activities, street dance, annual Grand Parade, and fireworks.
A three-day, family fun festival celebrating history. Car, truck and bike show, craft fair, parade, and more.
Carnival, fireworks, tractor pull, picnic, and more.
Celebrating 130 years! Activities include a pancake breakfast, parade, street festival featuring dozens of vendors, art, live music, children's activities and more.
Parade, pancake feed, pet show, activities for children, entertainment, food, and fun in Washington Park in Olde Towne Bellevue.
Parade, car show, carnival, and family day activities.
Fun day to celebrate Dundee.
Other helpful resources: