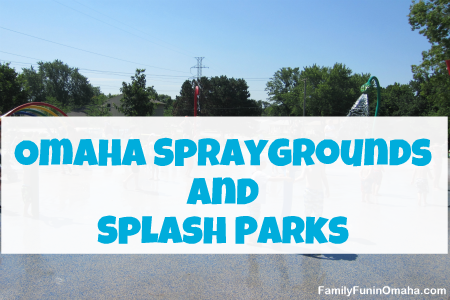 Splash around at Fun and Free Spraygrounds, Splash Parks, and Splashpads in the Omaha Area to stay cool on a hot summer day!
Join our growing community and keep updated on Omaha family-friendly events and activities and Sign up for our Free Email Newsletter!
PLEASE NOTE: As things continue to change during this time, it is always a good idea to verify details before visiting.
FREE Omaha Area Spraygrounds and Splash Parks:
Hours are 9 a.m. to 8 p.m. daily from Memorial Day (May 30, 2022) through Labor Day (September 5, 2022).
Benson Park, 7002 Military Ave.
Bob Kerrey Pedestrian Bridge, 705 Riverfront Dr. (TEMPORARILY CLOSED FOR MAINTENANCE)
Fontenelle Park Sprayground, 4405 Fontenelle Blvd.
Kountze Sprayground, 1920 Pinkney St.
Levi Carter Park Sprayground, 809 Carter Lake Shore Dr.
Miller Sprayground, 2707 Redick Ave.
Morton Park Sprayground, 5724 S. 41st St.
Orchard Park Sprayground, 6502 Hartman Ave.
Seymour Smith ALL PLAY Park, 6802 Harrison St.
Upland Sprayground, 3104 Jefferson St. (CLOSED FOR RENOVATION)
Westwood Heights Sprayground, 12334 Seldin Dr.
In the neighborhood off of 108th and Harrison. (7419 S. 101st Ave., La Vista, NE.)
Approximately 189th & Q, Omaha, NE. [5316 S. 189th St.]
Water playground, plaza, trail, and picnic areas. (E. Graham Ave. and Park Entrance) Open from 8 a.m. – 9 p.m. daily during the summer months.
Splash pads usually open Memorial Day through Labor Day.
Eagle Ridge Splash Pad – 2 blocks east of 66th St. and Ashwood Ave. in the Eagle Ridge subdivision. The splash pad is open from 10 a.m. to 7 p.m.
Schwer Park Splash Pad – 800 W. Centennial Rd. The splash pad is open from noon to 7 p.m.
First Street Plaza Splash Pad – This is a small water feature located on the corner of First St. and Washington St. in downtown Papillion. It is open from 9 a.m. to 10 p.m.
All Splash Pads are open daily, 8 a.m. – 9 p.m., from Memorial Day through Labor Day.
Ronin Park – 17th and Somers Ave.
Miller Park – Jackson St. and "M" St.
Ruwe Park – 5th & Howard St.
Van Anda Park – Linden St. and Pebble St.
John C. Fremont – 9th and Broad St.
A small outdoor water play area that is typically open from Memorial Day Weekend to Labor Day.
100 Pearl St., Council Bluffs, IA. The is a small interactive water component incorporated into the north side of the plaza. This is a small 12′ diameter area with child-activated sprays that emanate from the plaza floor.
6th St. and Vine St. Usually open 10 a.m. – 8 p.m. daily from Memorial Day through Labor Day.
Located at 12th and Redick Blvd.
The spray ground opens Memorial Day Weekend through Labor Day, but will not be available during special events.
Fun little water fountains provide big entertainment.
Platte River State Park Spray and Splash Park
A state-of-the-art two-tiered splash pad with three water slides, a waterfall, dump bucks, a fountain, and more. The upper level is designed for younger children while the lower level is designed for older kids.
Admission charged. Usually open noon-6 p.m. daily from Memorial Day through mid-August, then from noon – 6 p.m. on weekends only until Labor Day. Daily or annual State Park permit required.
Alaskan Adventure Splash Pad at the Omaha Zoo – included with Admission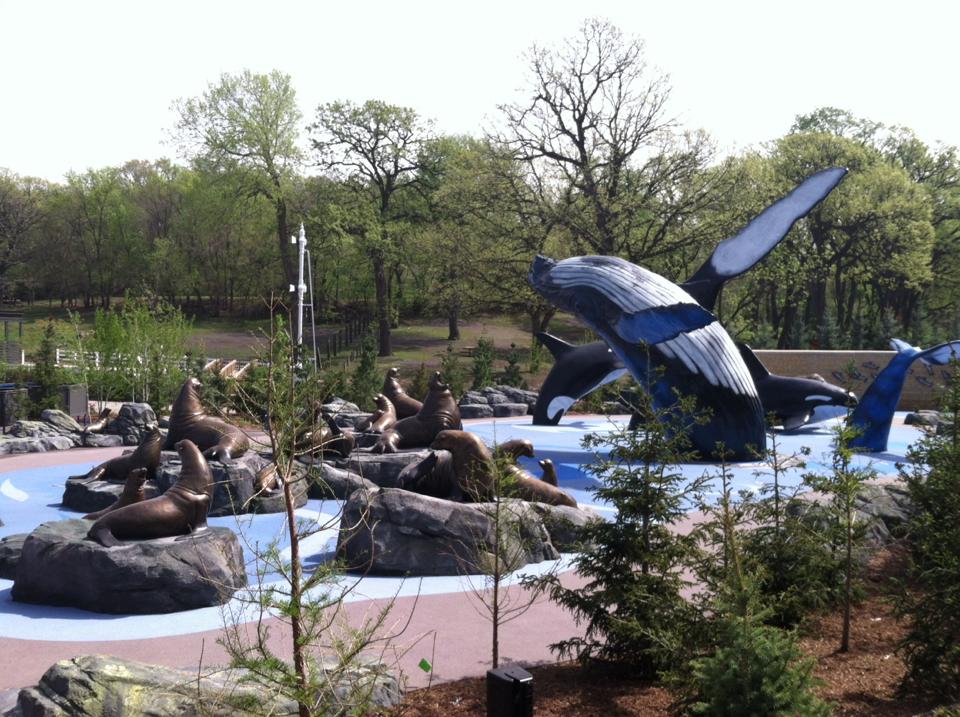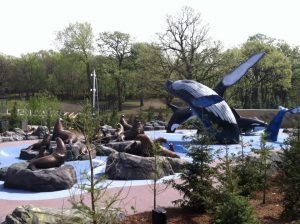 The Alaskan Adventure Splash Pad offers an excellent way for zoo visitors to cool off during a hot summer day. Be sure to bring a change of clothes. This is included with admission to the Zoo and is located near the north entrance.
Hours are weather-permitting.
Have a splashy fun summer!
Other helpful resources: