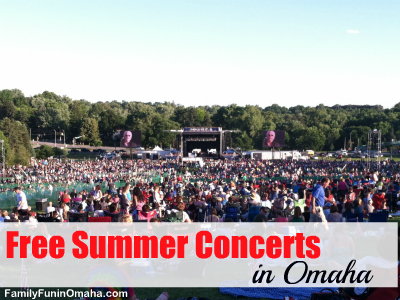 Enjoy a variety of FREE Summer Concerts in the Omaha Area, perfect for relaxing on a warm summer evening!
Find more FREE Summer Events and Things to Do this Summer with Kids here!
Join our growing community and keep updated on Omaha family-friendly events and activities and Sign up for our Free Email Newsletter!
2021 Summer Fun Guides:
PLEASE NOTE: As things continue to change during this time, it is always a good idea to verify details before attending.
SPECIAL EVENTS
Location: Inner Rail Food Hall at Aksarben Village, 1911 S. 67th St., Omaha, NE.
This free outdoor concert will feature live performances with local artists in bite-size pieces.
Location: 4141 River's Edge Parkway, Council Bluff, IA.
The Art Deco facade of Joslyn's Memorial building sets the stage for a pop-up chamber music performance by Omaha Symphony musicians.
Pre-registration required, beginning May 23.
Location: 2200 Dodge St., Omaha, NE.
Experience the power and splendor of a symphony orchestra ensemble at this free outdoor concert.
Location: 4250 River's Edge Parkway, Council Bluff, IA.
Enjoy live music by the Papillon Area Concert Band.
Location: SumTur Amphitheater, 11691 S. 108th St., Papillion, NE.
Get into the summer groove with a lively Zydeco music pop up performance from Prairie Gators.
Location: Farnam Patio, 3110 Farnam St., Omaha, NE.
A free, family-friendly opera concert.
Location: Turner Park, 3110 Farnam St., Omaha, NE.
Enjoy this annual celebration with a Fireworks Grand Finale at 10:00 p.m.
Location: Memorial Park, 6005 Underwood Ave., Omaha, NE.
Location: Turner Park, 3110 Farnam St., Omaha, NE.
WEDNESDAYS
Music in Bayliss Park – June 9 – July 21 (No concert July 7th), (6:30 – 8 p.m.), FREE
Location: Bayliss Park, 100 Pearl St., Council Bluffs, IA.
THURSDAYS
Location: Washington Park, 20th St. & Franklin St., Bellevue.
Vibes at Village Pointe – Thursdays, June 17 – August 19 (6:30 – 8:30 p.m.), FREE
Blankets and chairs encouraged.
Location: Amphitheater at Village Pointe Shopping Center, 17305 Davenport St., Omaha, NE.
Attendees are welcome and encouraged to bring: blankets and chairs, sunscreen and flat shoes.
Location: Turner Park, 3110 Farnam St., Omaha, NE.
FRIDAYS
Enjoy and unplug with live pop-up music performances.
Location: Farnam Court, Farnam St., Omaha, NE.
Family-friendly event featuring live local Omaha bands, a variety of food trucks, adult beverages, and Omaha Parks & Recreation giveaways.
Location: Zorinsky Lake, 156th St. and F St., Omaha, NE.
Bring a blanket or chair and enjoy a night out with family and friends.
Location: Shadow Lake Towne Center, Hy-Vee Amphitheater, 72nd St. & Hwy. 370, Papillion, NE.
Bring a lawn chair and enjoy a delightful evening with the whole family.
Location: Rockbrook Village, 108th & Center, Omaha, NE.
Location: Santa's Workshop, 8305 Parkview Blvd., La Vista, NE (at the small pond).
SATURDAYS
Enjoy face painting, balloon artists, and the kids will play in the fountain and on the playground equipment. Bring chairs or blankets. Food and drink vendors.
Location: Stinson Park, 2232 S. 64th St., Omaha, NE.
SUNDAYS
The Nebraska Wind Symphony is finalizing plans for two free summer concerts.
June 13 at 4 p.m., NWS is collaborating with The Omaha Area Youth Orchestra (OAYO) at SumTur Amphitheater (11691 S 108th St, Papillion, NE). NWS musicians will join in with OAYO during the initial part of the program followed by band music performed by NWS.
July 4 at 5 p.m., NWS presents a salute to America July 4th Concert at the Capitol District (1022 Capitol Ave, Omaha, NE).
Have fun enjoying these free Summer Concerts!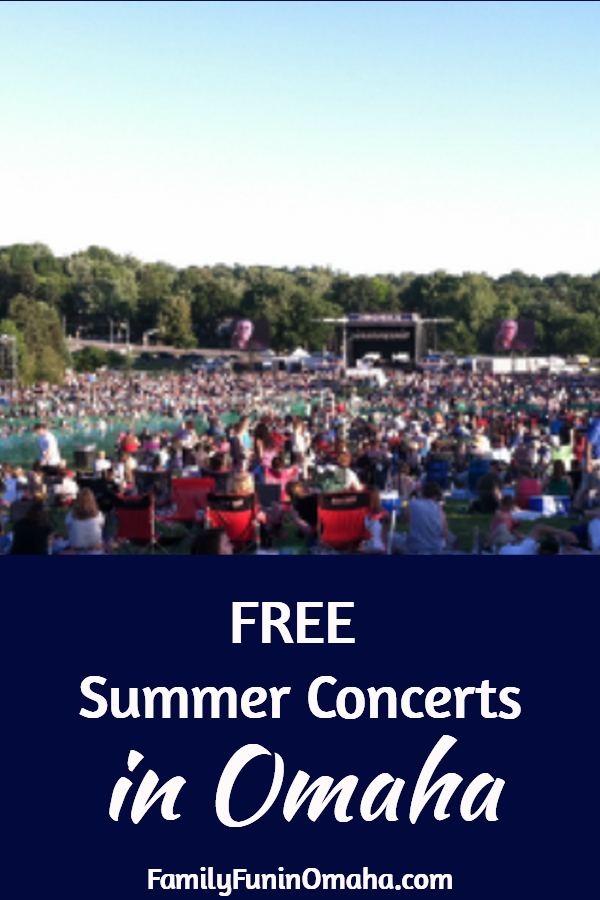 Past Events We Hope to See Again Soon:
Loessfest includes concerts, fireworks, movies, and more!
Location: River's Edge Park, Council Bluffs, located at the foot of the Iowa side of the Bob Kerrey Pedestrian Bridge.
The amazing line-up of events for Loessfest is all free and open to the public.
Due to construction on the Riverfront, the city is unable to host Bridge Beats.
Attendees must purchase a $3 per vehicle daily entrance pass or have a membership to the Pottawattamie Conservation Foundation to attend these events. Daily entrance passes may be purchased with exact change or check at the front gate & may be purchased the day of the event. There is no additional fee to attend these events, free-will donations are welcome.
Location: Narrows River Park, 2500 N. 25th St., Council Bluffs, IA, & Hitchcock Nature Center.