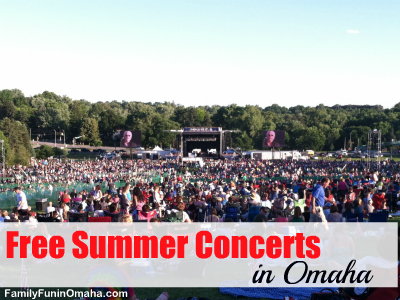 Enjoy a variety of FREE Summer Concerts in the Omaha Area, perfect for relaxing on a warm summer evening!
Keep updated on the latest Omaha fun and Sign up for our Free Email Newsletter!
As schedules may change, it is always a good idea to verify with the location before visiting.
SPECIAL EVENTS
Location: Tom Hanafan River's Edge Park
KC and the Sunshine Band – Friday, May 26 (7 p.m.)
Country Rocks the River – Saturday, May 27 (5:30 p.m.)
Omaha Symphony followed by Fireworks for Freedom – Sunday, May 28 (8 p.m.)
All Day Creole and Cajun Music Festival.
Enjoy this annual celebration featuring Kool & the Gang, Emmett Bower Band, and The Confidentials, with a Fireworks Grand Finale.
Enjoy incendiary blues, rock, funk, R&B, and soul. Turner Park opens for seating 1 hour prior to start time.
THURSDAYS
Located at Washington Park, 20th & Franklin Streets.
Bring your blankets, lawn chairs, snacks, family, and friends. Concessions will be available for purchase.
Turner Park opens for seating: 5:30 p.m. & Music starts at 7:30 p.m.
Get ready to wrap yourself in another season of Jazz on the Green at Midtown Crossing presented by Omaha Performing Arts. Free and open to the public.
FRIDAYS
Grab a blanket or a chair and come every Friday from 6:30 – 8:30 p.m. all summer long in the Nebraska Medicine Amphiteater.
Local musicians entertain families every Friday night throughout the summer. Bring a lawn chair and enjoy a delightful evening for the whole family.
La Vista Concerts & Movies – Fridays, June 9, July 7 & August 11, 2017; (Concert at 7 p.m., movie immediately after)
Held outdoors at the La Vista Public Library, 9110 Giles Rd.

June 9 – Silas Creek Band followed by Moana
July 7 – John Denver & Johnny Cash Tributes followed by Rogue One
August 11 – Blue House followed by Sing
Bridge Beats Friday Night Music Series – Every other Friday, June 16, June 30, July 14 & July 28, 2017; (6 – 9:30 p.m.), Bob Kerrey Bridge Plaza (Omaha's side)
Bring your whole family and enjoy free, live music as you take in beautiful views of the Missouri River and stroll across the Bob Kerrey Pedestrian Bridge. Guests are encouraged to bring lawn chairs and blankets for seating.
SATURDAYS
Kids can play in the fountain and on the playground equipment. For the concerts you may bring chairs, blankets, an umbrella, and coolers (no glass allowed).
Vibes at Village Pointe – Saturdays, May 27 – August 19, 2017; (6:30 – 8:30 p.m.)
Kids can enjoy free face painting or balloon art. Blankets and chairs encouraged.
SUNDAYS
This is a brand new concert series! The first 75 guests to arrive will be treated to complimentary food provided by HyVee. Participants must have a valid Pottawattamie County Park annual permit or purchase a $2.00 per vehicle daily entrance pass to enter the park.
Location: Narrows River Park, 2500 North 25th Street, Council Bluffs, IA.
Have fun enjoying all of these Free Summer Concerts!