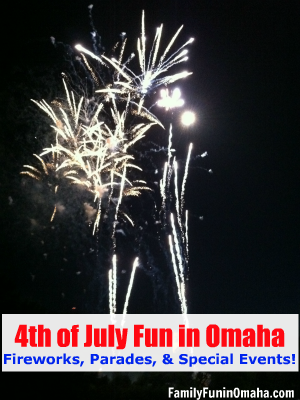 Happy Fourth of July!
Celebrate this 4th of July with food, fun and fireworks! It is one of our favorite holidays and we love watching fireworks and parades with our kids.
Join our growing community and keep updated on Omaha family-friendly events and activities and Sign up for our Free Email Newsletter!
Find more FUN this Summer:
PLEASE NOTE: As things are subject to change during this time, it is always a good idea to verify details before attending any event.
Omaha Area Fireworks Displays and Special Events
– Look for this symbol for the Fireworks Displays!
Fun For The Whole Family! Come celebrate at the 2nd annual Red, White, & Blue Block Party. This free event includes waterslides, a bounce house, live music, outdoor games, delicious free food, giveaways from local vendors, firetruck tours, a sports camp for kids and so much more! Come with your family and invite your friends.
Location: Heartland Hope Mission, 2021 U Street, Omaha.
Fireworks show is scheduled for 10 p.m.
Location: 3918 S 194th, Omaha.
The Lake Manawa firework display is back! Join the Friends of Lake Manawa for the area's largest firework show. 101.9 The Keg will be playing music that will accompany the show.
Celebrate Independence Day with a parade, party in the park, and fireworks display (July 5) in this 3-day celebration.
After the match on July 3, against Chattanooga Red Wolves FC set to kick-off at 8 p.m., Union Omaha will host an Independence Day firework show.
Location: 12356 Ballpark Way, Papillion, NE.
Celebrate the 4th of July at select City of Omaha pools. Admission will be only $1 per person. Pools will close at 5 p.m. See list of pools here.
Parade: 1:00 pm start – from 84th & Q St. through downtown Ralston to 72nd & Main St.
Fire Department Water Fights following parade – 77th and Main St.
Fireworks Spectacular – Dusk (approx. 9:30 pm) Ralston Arena, 72nd & Q St
Location: 12356 Ballpark Way, Papillion, NE.
Normally held the weekend before the Fourth of July, this year the event will be August 28th. Enjoy this annual celebration with a Fireworks Grand Finale at 10:00 p.m.
Location: Memorial Park, 6005 Underwood Ave., Omaha, NE.
---
Keep Omaha Beautiful encourages Omaha residents to safely and properly dispose of firework waste over the 4th of July holiday. Fireworks contain a variety of toxic pollutants, including heavy metals, sulfur-coal compounds, and other poisonous materials. To ensure these pollutants do not end up in our local waterways and negatively impact living organisms/aquatic ecosystems, it is important to properly dispose of firework waste and prevent it from entering storm drains on the street. Stormwater and/or urban runoff carrying these firework pollutants will not be treated before it is routed into local streams and rivers.
To learn how you can safely dispose of fireworks in order to prevent litter and water pollution visit the Keep Omaha Beautiful website:
http://www.keepomahabeautiful.org/resources/fireworks-disposal-guidelines.html
---
Have a wonderful Fourth of July Holiday!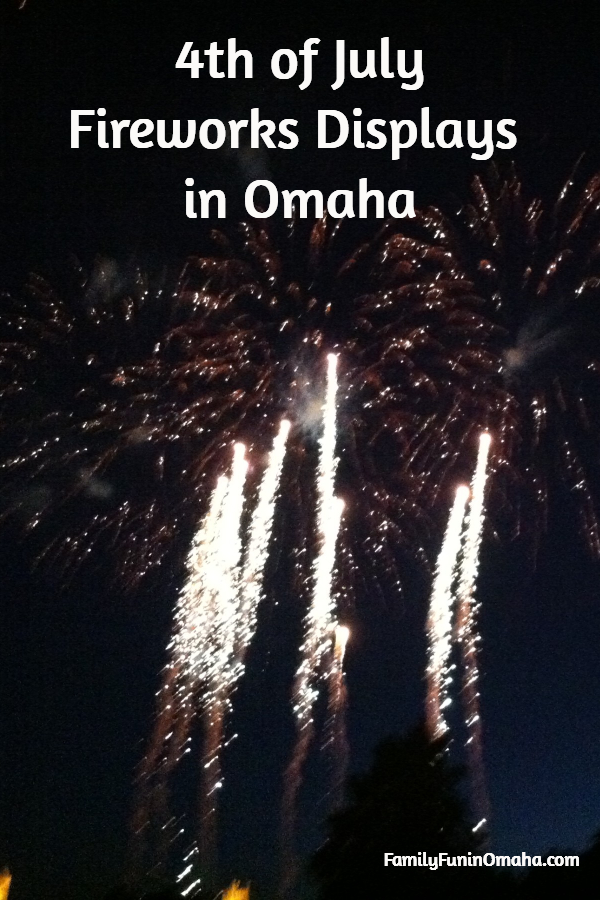 We Hope to Update These Events Soon:
Fireworks at 10 p.m.
Location: 13800 Eagle Run Dr. (approx. 138th & Maple), Omaha, NE.