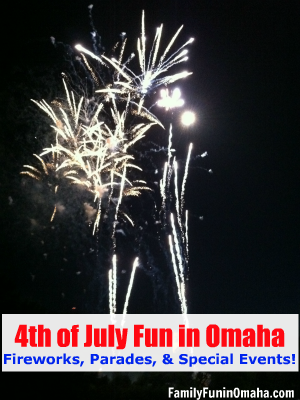 Happy Fourth of July!
Celebrate this 4th of July with food, fun and fireworks! It is one of our favorite holidays and we love watching fireworks and parades with our kids.
Join our growing community and keep updated on Omaha family-friendly events and activities and Sign up for our Free Email Newsletter!
Find more FUN this Summer:
PLEASE NOTE: As things are subject to change during this time, it is always a good idea to verify details before attending any event.
Omaha Area Fireworks Displays and Special Events
– Look for this symbol for the Fireworks Displays!
3rd annual Red, White, & Blue Block Party on Saturday, June 25th from 11 am – 2 pm at 2021 U Street. This free event includes waterslides, a bounce house, live music, delicious free food, giveaways from local vendors, firetruck tours, a sports camp for kids and so much more! Come with your family and invite your friends. Take the cue, it's true, there's lots of fun things to do at the Red, White, & Blue Block Party! See event flyer here.
Location: Heartland Hope Mission, 2021 U St., Omaha, NE.
Location: 3918 S. 194th, Omaha, NE.
Enjoy the fireworks from the water or the shoreline of this beautiful lake.
Enjoy amazing old-time music (provided by Flatwater Drifters), readings from the Declaration of Independence, drawings, and more!
The Dodge House will be supplying free hamburgers hotdogs, chips, and water (while supplies last). Kona Ice truck will be on-site with this refreshing treat for only $1 per cup.
Location: Historic General Dodge House, 605 S. 3rd St., Council Bluffs, IA.
Celebrate the 4th of July at select City of Omaha pools. Admission is only $1 per person. Pools will close at 5 p.m. Only available at pools with open hours for that day. See list of pools here.
Parade: 1 p.m. start – from 84th & Highland St. through downtown Ralston to 72nd & Main St.
Enjoy the fireworks display following the game.
Location: 12356 Ballpark Way, Papillion, NE.
Music Director Ankush Kumar Bahl will lead the Omaha Symphony in a Salute to Our Military concert
Enjoy the fireworks display following the concert.
Location: The Riverfront, 900 Farnam Street, Suite 100 Omaha, NE 68102
Witness beautiful aerial shells, ear-splitting salutes, and breathtaking ground effects all set to music!
Location: 19440 Davy Jones Cir Plattsmouth, NE 68048
Normally held the weekend before the Fourth of July, this year the event will be July 22nd. Enjoy this annual celebration with a Fireworks Grand Finale at 10:00 p.m.
Location: Memorial Park, 6005 Underwood Ave., Omaha, NE.
---
Keep Omaha Beautiful encourages Omaha residents to safely and properly dispose of firework waste over the 4th of July holiday. Fireworks contain a variety of toxic pollutants, including heavy metals, sulfur-coal compounds, and other poisonous materials. To ensure these pollutants do not end up in our local waterways and negatively impact living organisms/aquatic ecosystems, it is important to properly dispose of firework waste and prevent it from entering storm drains on the street. Stormwater and/or urban runoff carrying these firework pollutants will not be treated before it is routed into local streams and rivers.
To learn how you can safely dispose of fireworks in order to prevent litter and water pollution visit the Keep Omaha Beautiful website:
http://www.keepomahabeautiful.org/resources/fireworks-disposal-guidelines.html
---
Have a wonderful Fourth of July Holiday!