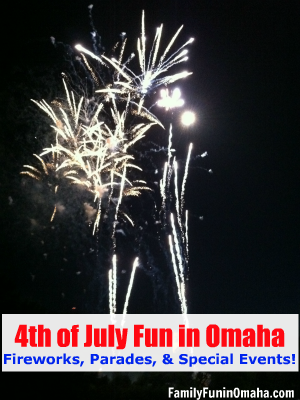 Happy Fourth of July!  It is one of our favorite holidays and we love watching fireworks and parades with our kids.  Celebrate this Independence Day with fireworks displays, parades, concerts, and community celebrations!
Do you have a Fourth of July Fireworks Display or Special Event to add? Please contact us to let us know! Thank you!
Be sure to also visit:
 Keep updated on the latest Omaha fun and Sign up for our Free Email Newsletter!
It is always a good idea to verify with the business before visiting.
Omaha Area Fireworks Displays and Special Events
Fireworks Displays
Special Events
Saturday, June 25, 2016
Friday, July 1, 2016
Saturday, July 2, 2016
Sunday, July 3, 2016
Monday, July 4, 2016
More Fun to Come …