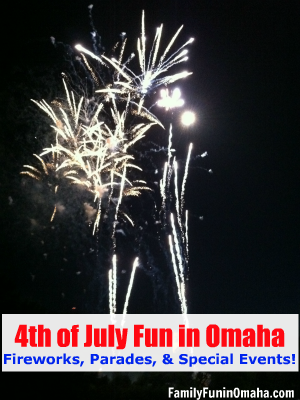 Happy Fourth of July!
Celebrate this 4th of July with food, fun and fireworks! It is one of our favorite holidays and we love watching fireworks and parades with our kids.
Join our growing community and keep updated on Omaha family-friendly events and activities and Sign up for our Free Email Newsletter!
PLEASE NOTE: As things continue to change during this time, it is always a good idea to verify details before attending any event.
Omaha Area Fireworks Displays and Special Events
– Fireworks Displays
Saturday, June 27, 2020
Celebrate with live music by CLEAN & EASY and BBQ for sale from Hy-Vee, Amos Fabulous Food & Ditmars Orchard. Plus, enjoy a free piece of watermelon, while supplies last (1 per person), giant yard games, and horseshoes and bags tournament.
Location: Ditmars Orchard & Vineyard, 19475 225th St., Council Bluffs, IA.
Enjoy the fireworks display from your vehicles in order to maintain social distancing.
Location: Eagle Vision, 540 C St., Eagle, NE.
Friday, July 3, 2020
For the 52nd year in a row, the Omaha Storm Chasers will host the FNBO Independence Fireworks Spectacular on Friday, July 3rd. The show will follow a Corn Belt League doubleheader.
Location: 12356 Ballpark Way, Papillion, NE.
The fireworks show is scheduled for Friday, July 3, at 10 p.m. (The rainout date is Sunday, July 5, at 10 p.m.)
Since Home Campus remains closed to the public, only youth and staff who live on campus can attend the show in person. Viewing of the fireworks from on the Boys Town campus WILL NOT be available to the public or other Boys Town employees. If you can find a safe viewing area off campus, great. If not, you can also watch the fireworks show via Facebook live in this event. Thank you again for your support as Boys Town makes the tough choices to keep our staff and residents safe while continuing our mission.
Saturday, July 4, 2020
Join in for a Fourth of July parade with a quarantine twist! Neighbors will create decorations in their front yards. Viewers can walk or drive around the neighborhood to see the displays.
Approximate location: 36th & Woolworth Ave. (Field Club), Omaha, NE
Fireworks at 10 p.m.
View the show from the north side of Maple Street. Tune into their YouTube channel at 10pm to stream the synchronized music for the show.
Location: 13800 Eagle Run Dr. (approx. 138th & Maple), Omaha, NE.
Friday, July 10, 2020
Location: 1501 South 188 Plaza Omaha.
Keep Omaha Beautiful encourages Omaha residents to safely and properly dispose of firework waste over the 4th of July holiday. Fireworks contain a variety of toxic pollutants, including heavy metals, sulfur-coal compounds, and other poisonous materials. To ensure these pollutants do not end up in our local waterways and negatively impact living organisms/aquatic ecosystems, it is important to properly dispose of firework waste and prevent it from entering storm drains on the street. Stormwater and/or urban runoff carrying these firework pollutants will not be treated before it is routed into local streams and rivers.
To learn how you can safely dispose of fireworks in order to prevent litter and water pollution visit the Keep Omaha Beautiful website:
http://www.keepomahabeautiful.org/resources/fireworks-disposal-guidelines.html
Find more FUN this Summer:
Have a wonderful Fourth of July Holiday!