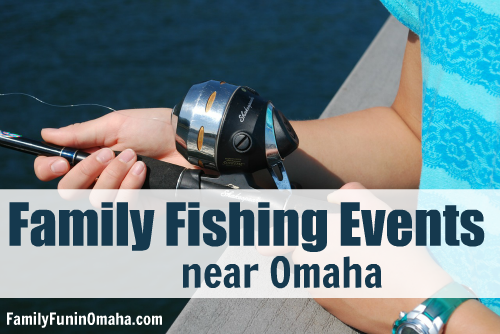 Community Fishing Nights occur across the state, where you will find loaner fishing equipment, bait and staff to assist you. At these events, Nebraska Game and Parks staff and Certified Fishing Instructors teach families the basics of this fun and relaxing activity.
Join our growing community and keep updated on Omaha family-friendly events and activities and Sign up for our Free Email Newsletter!
2020 Update: To mitigate the spread of COVID-19, they have canceled all group events and programs through June 30, 2020, or until further notice. This includes our National Archery in the Schools Program, Nebraska Game and Parks Outdoor Education Center, community fishing, Schramm Education Center, wildlife brewery and park events; the Fort Kearney Expo; hunter education courses; the outdoor discovery program; or any other event requiring a gathering of individuals. Nebraska State Parks and recreation areas remain open for day-use such as fishing and hiking.
It is always a good idea to verify the events before visiting, as information can change (especially in inclement weather).
FREE Fishing and Park Entry Day: TBD
Free Fishing and Park Entry Day in Nebraska has been DELAYED. Typically held annually in Nebraska on the Saturday preceding Memorial Day weekend, FREE Fishing and Park Entry Day allows anyone to enjoy fishing anywhere across the state without a fishing permit or explore outdoor opportunities at any Nebraska state park, state recreation area or state historical park without the need to purchase a park entry permit.
Several family-friendly activities are usually scheduled in state park areas across the state to celebrate. A rescheduled date for Free Fishing and Park Entry Day will be announced at a later time.
2020 Community Fishing Events Near Omaha
NOTE: Community Fishing Nights have been canceled through June 30, 2020, with a possible extension.
While Community Fishing Nights will not be offered to the public this summer, the Nebraska Game and Parks Commission has several online resources to help anglers of all experience levels.
Game and Parks' instructional and informational fishing materials online at OutdoorNebraska.gov/fishing include:
Fishing Guide – Now also is available in Spanish, this guide includes a "Public Fishing Areas" detailing fishing waters by region, including special regulations and species available.
Fishing Forecast – The forecast uses survey data to determine likely populations and sizes of various fish species in different waters across the state.
Going Fishing Guide – This must-read for anyone new to angling includes equipment, tackle, knots, casting, techniques, fish identification, fish cleaning, and much more.
YouTube – Game and Parks' channel has several videos covering topics that would interest novice anglers.
Maps – Find fishing spots across the state and get a closer look at them by using the site's maps, including interactive, lake contour, and Public Access Atlas maps.
The site can also be used to purchase fishing and park entry permits.