Enjoy the best family-friendly things to do this July in Omaha!
Fireworks Displays, Community Fishing events, Do Space Summer Passport Program, Living History Weekend, Outdoor Movies and Concerts, Spraygrounds, and more!
Join our growing community and keep updated on Omaha family-friendly events and activities and Sign up for our Free Email Newsletter!
2021 Summer Fun Guides:
PLEASE NOTE: As things continue to change during this time, it is always a good idea to verify details before visiting.
BEST THINGS TO DO IN JULY IN OMAHA

Celebrate with many Fireworks Displays and Parades!
This FREE summer concert series will be held at Zorinsky Lake on Fridays, July 9th – 30th from 6-9 pm. This family-friendly event will feature live local Omaha bands, a variety of food trucks, adult beverages, and Omaha Parks & Recreation giveaways! The concerts will be held at the end of the drive off the 156th and F Street entrance.
Enjoy movies at Midtown Crossing, Flix at the Chef, Ditmar's Orchard, and more!
Enjoy a variety of FREE Summer Concerts in the Omaha Area, perfect for relaxing on a warm summer evening!
Stay cool on a hot, summer day with FUN Hydrant Parties at various locations in Omaha and Council Bluffs!
Ralston Independence Day Parade, John C. Fremont Days, Gretna Days, and Benson Days are all in July!
Little ones love running through spraygrounds! Try a new one this summer!
Get a couple of stamps this July by visiting passport stops in Nebraska!
On Tuesdays this Summer, visit The Durham Museum after 5 p.m. for $5! From June 1-August 31, admission for all ages will be just $5 after 5 p.m. on Tuesdays. On Tuesday nights, the museum stays open until 8 p.m., giving guests the opportunity to visit late during the work week.
Enjoy special events all month long at select City of Omaha pools.
Summertime is perfect for sharing Ice Cream with friends – including the Tower, an old-fashioned Soda Fountain, and more!
Fat Brain Toys offers families a mix of Tuesday morning, Saturday morning, and Thursday afternoon events! See schedule of events here.
Location: Fat Brain Toys, 16909 Burke St., Ste. 131, Omaha, NE.
Omaha Public Library is bringing some of your favorite entertainers and organizations to your home this summer with a series of exciting virtual events!
Discover all of them here. [REGISTER]
Community Fishing Nights occur across the area, where you will find loaner fishing equipment, bait and staff to assist you. At these events, Nebraska Game and Parks staff and Certified Fishing Instructors teach families the basics of this fun and relaxing activity.
Do Space Summer Passport Program: Code, Make, Learn, & Explore this summer with the Do Space Summer Passport. Explore Omaha, learn new things, and have fun. Their Summer Passport Program provides a FREE resource that engages children of all ages in tech-related educational activities. Passports can be picked up at Do Space starting June 5th and they can also be accessed digitally at dospace.beanstack.org.
Summer Project Kits: Do Space is offering two new projects to take home and complete every two weeks throughout June and July. View the project schedule for release dates and instructions.
Visitors will be able to glimpse the activities that would have taken place at this 1820's era outpost such as blacksmithing, carpentry, coopering, tinsmithing, and more will be demonstrated throughout both days. Period crafts will also be highlighted: spinning, weaving, and quilting.
A valid Nebraska Park Entry Permit is required for all vehicles to enter the park and can be purchased at the site. A per person fee is required at the Harold W. Andersen Visitor Center of $2 per adult and $1 per child.
A visually appealing, highly energetic form of drumming, using only unorthodox forms of percussion.
Location: Hy-Vee Amphitheater at Shadow Lake Towne Center, 7775 Olson Dr., Papillion, NE 68046.
Meadowlark Model A Ford Club members will display a variety of Model A's and share some stories.
Location: 2200 Dodge St., Omaha, NE 68102.
Register your child to build a 4×4 vehicle in July. (Reserved kits can be picked up in-store July 10-11.)
The Kids Funfare at Regency Shopping Center is free of charge and is located in the Center Courtyard outside of Pottery Barn Kids.
Location: 120 Regency Pkwy, Omaha.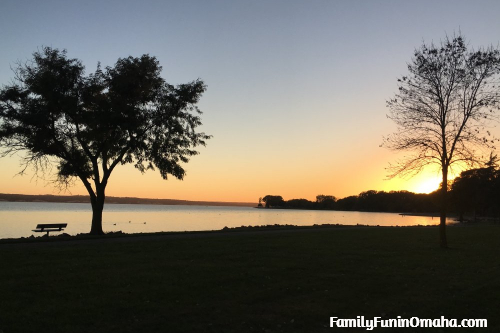 Choose from a variety of locations that are not too far from Omaha. Explore a new destination, go on an adventure, and create new memories!
Day Trips, Road Trips, Cabins to Rent, and more!
Members of certain libraries can check out a pass to visit one of the following locations:
Durham Museum – Members of all 12 Omaha Public Library branches, Bellevue Public Library, Bennington Public Library, Council Bluffs Public Library, Fremont Public Library.
Fontenelle Forest – Members of the Omaha Public Library, Bellevue Public Library, or Council Bluffs Public Library.
Lauritzen Gardens – Members of the Omaha Public Library, Bellevue Public Library, or Council Bluffs Public Library.
Browse our 2021 Summer Camp Guide available now! From Art Camps to Specialty Camps and themes for every age and interest, you are sure to find one for your kids.
Exciting News! Now you can SEARCH SUMMER CAMPS by:

Type of Camp (Theme, All-Day, Half-Day, Extended Care, + more!)
Age Group
Week of Camp
Find more Helpful Resources: