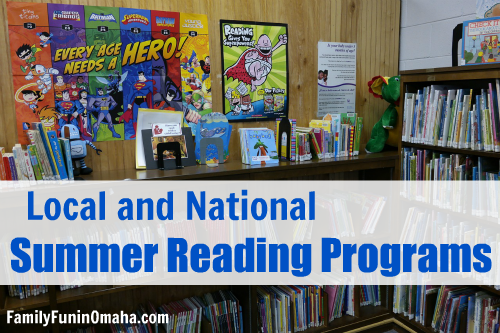 I remember participating in the Summer Reading Program when I was little, and loved sitting outside on warm days curled up with a book. This summer, engage your kids in many of the wonderful local and national summer reading programs available for kids and teens, with great rewards and prizes.
>>Discover more Free Summer Activities in Omaha including movies, concerts, fishing events, spraygrounds, and more!<<
Join our growing community and keep updated on Omaha family-friendly events and activities and Sign up for our Free Email Newsletter!
LOCAL LIBRARIES
The 2018 Summer Library Program (SLP) begins on May 27 and runs through July 21.
Summer Reading Program for infants – grade 5, teens, and adults.
Many fun events planned all Summer!
Summer Reading Program for kids, teens, and adults.
Summer Reading Program Kick-Off Parties

W. Dale Clark Main Library: Friday, May 25, 2018; 10 a.m. – 12:30 p.m.
All other branches: Saturday, May 26, 2018; 1 – 3 p.m.

MANY great programs throughout the summer including music, magic, animals, arts and crafts, games, science, and costumed character visits. Visit the Omaha Public Library 2018 Summer Reading Program Guide for detailed information.
Summer Reading Program for youth (birth – 6th grade), teens (7th – 12th grade), and adults.
Enjoy many special events all summer.
Join the Summer Reading Program with many special events! Some events will require advanced registration.
NATIONAL PROGRAMS
Your child can earn a FREE book from the selection on the Reading Journal list after reading 8 books and recording them in their Summer Reading Journal. Bring your completed journal to a Barnes & Noble store between May 15 and September 3, 2018.
Young readers can finish the challenge for a chance to win a $25 gift certificate.
Kids 14 and under can earn Bookworm Bucks for reading in June and July. Then, claim your Bookworm Bucks at HPB on or before August 30, 2018.
Local HPB (12355 W Center Rd, Omaha)
The Scholastic Summer Reading Challenge™ is a free online reading program for children. Read and log minutes all summer, and unlock stories & earn rewards.
More FREE Summer Fun