Skinny Bones Pumpkin Patch has partnered with us for many years as a Featured Listing in our Omaha Area Pumpkin Patch Guide. We are grateful for their invitation to visit Skinny Bones to experience all of the new attractions, and share them with you. 
Skinny Bones Pumpkin Patch is a fun Fall family destination with many attractions to enjoy. We love the family-friendly atmosphere of Skinny Bones. From the planning, to the work they do year-round, to the taste testing of the perfect Kettle Corn recipe, the family aspect of Skinny Bones is evident.
Challenging Corn Maze and Scavenger Hunt
Our FAVORITE part of Skinny Bones Pumpkin Patch is their amazing Corn Maze! The Corn Maze is manicured by hand to make sure stalks are not pointing out into the walkway, and to create a smooth path to help make it wheelchair and stroller-friendly. Even though it had poured the day before, most of the Corn Maze was not muddy, and all of the paths were able to be walked through.
A fun addition to the Corn Maze is the Scavenger Hunt! Our entire family loved finding all of the stops, each with a different shaped hole punch. It took 3 tries to find #4, but eventually each of the 8 stops were found.
It was perfect active and fun family activity to do together. I kept saying there is nothing I would rather be doing on this beautiful Fall day!
They also offer a special Flashlight Night on Fridays and Haunted Night on Saturdays!
Fun for the Younger Ones
Skinny Bones Pumpkin Patch offers several attractions for the younger visitors.
The Corn Pool is always a hit with the kids!
The Mad Cow Ride is fun for the little ones with different names on each car.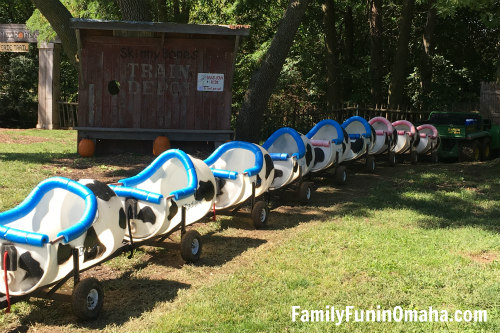 Look at this extra little seat for the little ones to ride along!
Frankenslide
This slide is so fast and fun! The Frankenslide is a new attraction in 2016, offering a beautiful view from the top of the stairs. It is deceiving how fast it goes, but it does give you a little adrenaline rush with a soft landing.
With 2 slides side-by-side, it was perfect to race each other over and over again!
More Fun at Skinny Bones
My son's favorite activity was the Nerf Gun War Zone. He loved challenging us, darting between the barriers, and shooting through the little hole cutouts. It felt like we were kids again playing with the Nerf Guns.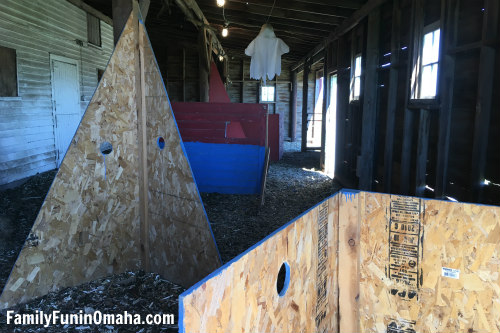 The Giant Jumping Pillow is always a favorite for all ages!
The slanted house provides a unique experience you have to feel to believe. It is very deceiving. Be careful, though, it can cause you to feel dizzy!
The TWO new racetracks are so much fun! My kids enjoyed the smaller track and raced each other around it several times. The carts were nice and easy to navigate for them. The larger track is very long with lots of twists and turns. Once you got started, it was fun to race one another!
Amazing Kettle Corn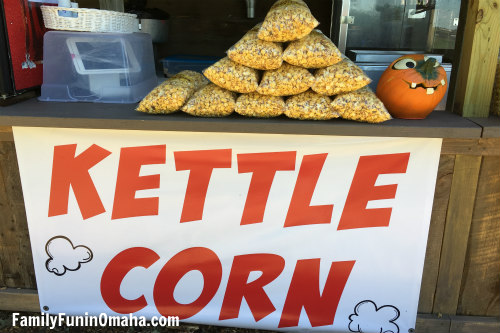 I love Kettle Corn, and this was some of the best I have enjoyed! Maria shared that it is a family-recipe with a perfect balance of sweet and salty, and full of large whole kernels. Highly recommend!
We had such a wonderful time at Skinny Bones Pumpkin Patch, and filled the beautiful Fall afternoon with lots of family-friendly fun.
For more information, visit Skinny Bones Pumpkin Patch!
Special thanks to Skinny Bones Pumpkin Patch for inviting us to visit for the purpose of this review, and for being a Featured Listing in our Omaha Area Pumpkin Patch Guide.