Wow! Crazy! Look at that!  These were the words excitedly shared by my kids as we watched Monster Jam Saturday at the Mid America Center in Council Bluffs. The event began with an introduction for each truck where they showed off some of their skills, jumping into the air, some almost at a 90° angle to the ground.
The crowd cheered as each truck then raced around the track, jumping over smashed cars, and flying high into the air.  Motor bikes, freestyle BMX-style bikes, and a very cool, very loud jet car entertained fans throughout the event.
The highlight of Monster Jam was the freestyle jumping and spinning at the end, where each truck tried to out-jump the one before it.  We could not believe how high some of the trucks were able to jump!
The Puppy Truck – My daughter's favorite
Iron Man – My son's favorite!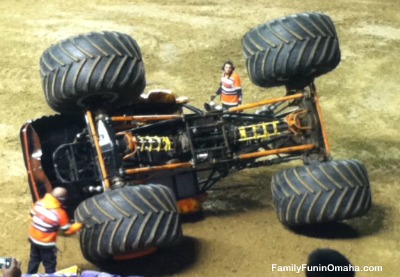 At the end, to the excitement of all of the fans, El Toro Loco flipped over!
Recommendation: Ear plugs or ear protection, even for adults, as it is very loud. Additionally, be sure to dress warm, as the arena needs to be vented and is very cold.
Disclosure:  I am a Moms Connect member of US Family Guide, and in exchange for my participation in sharing information, discount offers, reviews, and giveaways for family-friendly attractions, US Family Guide has provided passes for my family.