Enjoy the best family-friendly events this May in Omaha!
Join our growing community and keep updated on Family-Friendly EVENTS EACH WEEKEND plus more Omaha Fun and Sign up for our Free Email Newsletter!
Through a series of glass art installations, guests will explore how a plant grows from a tiny seed to a beautiful bloom and learn about the beauty and fragility of nature. Find out what plants need to help them grow, how seeds move, and the role plants play in Nebraska's ecosystems.
Location: Lauritzen Gardens, 100 Bancroft St., Omaha, NE.
You'll see some of the world's largest and most creative kites! Bring your own kite, and kids can bring a bag for the candy drop.
Location: LaVista Soccer Complex, 7346 S. 66th St., La Vista, NE.
Read books about nature, sing songs, and learn how to identify plants and animals found in the wild.
Location: Saddlebrook Branch, 14850 Laurel Ave., Omaha, NE.
Celebrate Mother's Day with special events and freebies!
Chipper is chipping in to help prevent lead poisoning in Council Bluffs with educational activity stations, prizes, raffles, cotton candy, popcorn, face painting, balloons, and a picture with Chipper.
This event is designed for kids under age 6; siblings are welcome!
Location: Council Bluffs Public Library, 400 Willow Ave., Council Bluffs, IA.
This annual event is a way for the community to get together. Activities include a Scavenger Hunt, carnival, parade, a Farmer's Market, kid's activities, and more!
Location: Bayliss Park, 100 Pearl St., Council Bluffs, IA.
Florence celebrates its heritage each year with a parade and many other activities.
Enjoy a day of fishing or state park activities during the park system centennial year without the need to purchase a fishing or park entry permit for the day.
Location: Any Nebraska state park, state recreation area, or state historical park.
Enjoy food, all sorts of family-friendly fun, and a take-and-make kid's craft kit.
Location: Nebraska Furniture Mart, 700 S. 72nd St., Omaha, NE.
This event is for all ages with lawn games, balloon animals, face painting, and live music. The Papillion Area Historical Society will also be having an open house. The food will also be free, while supplies last.
Location: Sump Memorial Library, 222 N Jefferson Street, Papillion, NE.
The event will kick off with a ribbon-cutting ceremony to celebrate the newly renovated clubhouse. After the ceremony, enjoy free lunch and instruction from one of their four Golf Professionals from 12 – 2 p.m. Free golf will be available from 12 – 4 p.m.
Location: Warren Swigart Golf Course – 3865 Parkview Dr.
Helicopter Day at SAC Museum – May 21 (10 a.m. – 2 p.m.; Helicopters will start to arrive at 9:30 a.m.)
Guests will have the opportunity to get up close to see helicopters arrive, land, and then visit with the pilots.
Viewing the helicopters is free to the public. Regular admission applies to visit inside the Museum.
Parade, entertainment, games, car show, and fireworks display!
Featuring an evening of entertainment that includes magic from the Amazing Lindy at 6:00 pm, music by The String Beans from 7:00 pm to 8:30 pm and the Pixar movie Soul at dusk.
Location: SumTur Amphitheater, 11691 S. 108th St., Papillion, NE.
Dinosaur Revolution – May 28 – Sept. 4, 2022, Included with regular admission
Uncover dinosaur facts and fossils in Dinosaur Revolution as you live large in reptilian role-play activities, undertake three Mesozoic Missions spanning 150 million years, and mimic dinosaur behavior.
Location: The Durham Museum, 801 S. 10th St., Omaha, NE.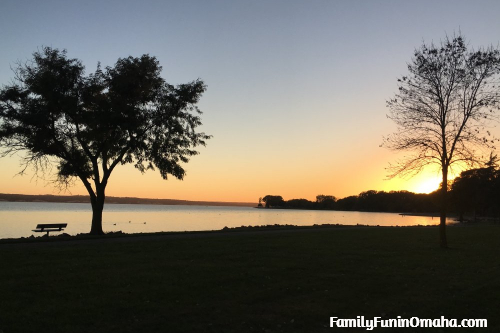 Choose from a variety of locations that are not too far from Omaha. Explore a new destination, go on an adventure, and create new memories!
Day Trips, Road Trips, Cabins to Rent, and more!
Members of certain libraries can check out a pass to visit one of the following locations:
Durham Museum – Members of all 12 Omaha Public Library branches, Bellevue Public Library, Bennington Public Library, Council Bluffs Public Library, Fremont Public Library.
Fontenelle Forest – Members of the Omaha Public Library, Bellevue Public Library, or Council Bluffs Public Library.
Lauritzen Gardens – Members of the Omaha Public Library, Bellevue Public Library, or Council Bluffs Public Library.
Browse our 2022 Summer Camp Guide available now! From Art Camps to Specialty Camps and themes for every age and interest, you are sure to find one for your kids.
Exciting News! Now you can SEARCH SUMMER CAMPS by:

Type of Camp (Theme, All-Day, Half-Day, Extended Care, + more!)
Age Group
Week of Camp
Looking to buy or sell gently-used children's clothing and equipment? Choose from seasonal Consignment Sales and local Kids Resale Shops in the Omaha Area!
Find more Helpful Resources: