Enjoy the best family-friendly events this May in Omaha!
Join our growing community and keep updated on Family-Friendly EVENTS EACH WEEKEND plus more Omaha Fun and Sign up for our Free Email Newsletter!
Giant sculptures of sea life, made from marine debris collected on Oregon's beaches, graphically illustrate the tragedy of plastic pollution in our ocean and waterways. The epic exhibit includes a titanic triggerfish, a pair of grand penguins, and an 11-foot-long shark named Chompers! More than a set of eye-catching sculptures, these thought-provoking pieces are designed to inspire conversations about conservation and generate positive changes and behaviors towards the environment.
Location: Lauritzen Gardens, 100 Bancroft St., Omaha, NE.
City Nature Challenge Storytime – May 2 (10:30 – 11 a.m.), FREE
Read books about nature, sing songs, and learn how to identify plants and animals found in the wild.
Location: Saddlebrook Branch, 14850 Laurel Ave., Omaha, NE.
May the fourth be with you! Gather your crew of Star Wars experts to battle it out in this intergallactic game of Star Wars Trivia. Register your team to secure your spot. Themed costumes and t-shirts are encouraged! Cash bar provided that opens at 5:30PM.
Registration is required and can be done below. Teams can be 1-6 adults but only the Team Captain needs to register. Please provide a team name.
Dress in blue and green and bring the whole family for a night of fun celebrating National Blue & Green Day and the gift of organ and tissue donation.
Enjoy free music, games, and prizes, the lighting of the Bob Kerrey Pedestrian Bridge, and a fireworks show!
You'll see some of the world's largest and most creative kites! Bring your own kite, and kids can bring a bag for the candy drop.
Location: LaVista Soccer Complex, 7346 S. 66th St., La Vista, NE.
Celebrate Mother's Day with special events and freebies!
This annual event is a way for the community to get together. Activities include a Scavenger Hunt, carnival, parade, a Farmer's Market, kid's activities, and more!
Location: Bayliss Park, 100 Pearl St., Council Bluffs, IA.
Join us for an introduction to Dungeons and Dragons that will guide participants through a campaign with premade characters. Registration required below; participants do not need to come to every session but do need to register for each session they will attend.
Florence celebrates its heritage each year with a parade and many other activities.
Join us in celebrating the new and improved Cochran Park (100 S 21st Street)
Event activities include a home run derby on the new baseball field, pickleball lessons on the new courts, 3×3 soccer on the new mini-pitch, live music with Andre Vander Velde, face painting, prizes, and an interactive outdoor screening of THE BAD GUYS complete with a prop kit for kids at the movie, while supplies last.
Plus, FREE hotdogs, chips, and sodas while supplies last. Additional food vendors will be on-site.
Enjoy a day of fishing or state park activities during the park system centennial year without the need to purchase a fishing or park entry permit for the day.
Location: Any Nebraska state park, state recreation area, or state historical park.
The event will kick off with a ribbon-cutting ceremony to celebrate the newly renovated clubhouse. After the ceremony, enjoy free lunch and instruction from one of their four Golf Professionals from 12 – 2 p.m. Free golf will be available from 12 – 4 p.m.
Location: Warren Swigart Golf Course – 3865 Parkview Dr.
Towers of Tomorrow with LEGO® Bricks partners some of the world's most dazzling and innovative skyscrapers with the world's most popular building brick. The exhibit features 20 astonishing skyscrapers from North America, Asia and Australia constructed in breathtaking architectural detail by Ryan McNaught, one of only 12 LEGO®-certified professionals in the world.Visitors will be inspired to create their own towers of tomorrow with over 200,000 loose LEGO® bricks available in hands-on construction areas. Young and old will be limited only by their imaginations as they add their creations to a steadily rising futuristic LEGO® metropolis inside the exhibition. McNaught and his award-winning team of builders have used more than half a million LEGO® bricks and devoted over 2,000 hours to build the structures featured in the exhibition.
Location: The Durham Museum, 801 S. 10th St., Omaha, NE.
Looking for things to do in Omaha? We can help you see the city in a different way with our city scavenger hunts. Using your smartphone, you'll be given a list of challenges to complete and riddles to solve on our scavenger hunt app. You'll have a remote "Host" that will help you along the way. Your goal is to find all the items in Omaha to beat the game.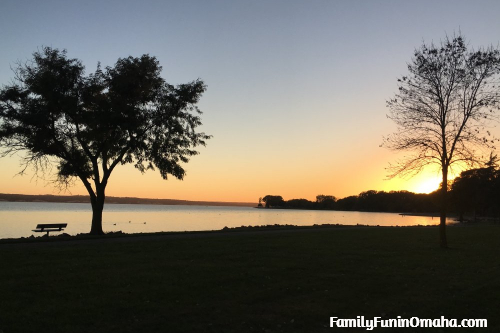 Choose from a variety of locations that are not too far from Omaha. Explore a new destination, go on an adventure, and create new memories!
Day Trips, Road Trips, Cabins to Rent, and more!
Members of certain libraries can check out a pass to visit one of the following locations:
Durham Museum – Members of all 12 Omaha Public Library branches, Bellevue Public Library, Bennington Public Library, Council Bluffs Public Library, Fremont Public Library.
Fontenelle Forest – Members of the Omaha Public Library, Bellevue Public Library, or Council Bluffs Public Library.
Lauritzen Gardens – Members of the Omaha Public Library, Bellevue Public Library, or Council Bluffs Public Library.
Browse our 2022 Summer Camp Guide available now! From Art Camps to Specialty Camps and themes for every age and interest, you are sure to find one for your kids.
Exciting News! Now you can SEARCH SUMMER CAMPS by:

Type of Camp (Theme, All-Day, Half-Day, Extended Care, + more!)
Age Group
Week of Camp
Looking to buy or sell gently-used children's clothing and equipment? Choose from seasonal Consignment Sales and local Kids Resale Shops in the Omaha Area!
Find more Helpful Resources: