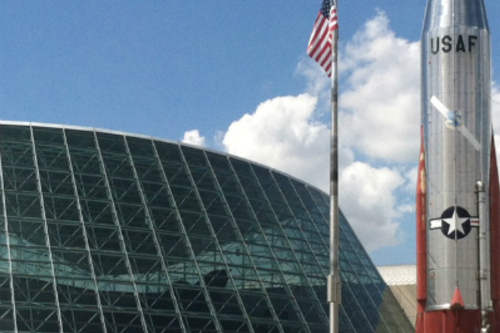 Enjoy the best family-friendly events this May in Omaha!
Exciting events include FREE Admission to SAC Museum on May 1st, Hot Shops Art Center's Spring Open House, Wildlife Encounters, Learn to Archery, Salute to Summer Festival, and so much more!
Join our growing community and keep updated on Family-Friendly EVENTS EACH WEEKEND plus more Omaha Fun and Sign up for our Free Email Newsletter!
The Strategic Air Command & Aerospace Museum is opening the doors on "May Day" for a FREE Day at the Museum. Admission is free Saturday, May 1st from 9 a.m. to 3 p.m.
Story Walks – April 24 – May 8 (all day), FREE
Seek out OPL's StoryWalks in area parks. Stories and locations include:

Hummel Park (3033 Hummel Park Rd.): Dragons Love Tacos
Hitchcock Park (4220 Q St.): If You Give a Mouse a Cookie
Standing Bear Lake (6404 N. 132nd St.): Mother Bruce
Elmwood Park (802 S. 60th St.): The Very Hungry Caterpillar
Blossom & WoodStock is an outdoor community gathering with activities stations for kids to participate in nature-based arts and crafts as well as guided meditation. Plus, there will be opportunities to learn about food forestry, composting and edible flowers, a silent auction, a cooking demonstration, and more.
Location: Benson Food Forest, 6715 Corby St., Omaha, NE. (The event is held at Fork N Farm's land for the future Benson Food Forest.)
Hot Shops Art Center's Spring Open House – May 1-2 (Saturday – 11 a.m. – 8 p.m. | Sunday – 11 a.m. – 5 p.m.) [Timed Tickets Required], FREE
Enjoy an in-person event along with a virtual component for our Spring Open House! Enjoy the demonstrations, get to know the current artists, learn more about their tools and processes, and view their latest works!
Timed tickets and masks are required for entry.
Location: 1301 Nicholas St., Omaha, NE (one block north of TD Ameritrade Park's home plate).
Celebrate Mother's Day with special events and freebies!
Bring out the whole family for a fun night of swimming this Mother's Day weekend!
Location: 100 Pearl St., Council Bluffs, IA.
Wildlife Encounters introduces your young explorers to a fun variety of real wildlife animals.
Location: 16909 Burke St., Ste. 131, Omaha, NE.
Celebrate reading around the world with OPL librarians. Listen to books in many languages, create a spinning toy, and show how books are made in other countries!
Location: Online via OPL's Facebook page and Zoom
Children can make a cool basket planter for mom this Mother's Day.
Kits can be picked up in-store at the Customer Service Desk May 8-9.
This enchanting exhibit, set in the garden's plant kingdom, brings to life the legends and lore from around the globe and celebrates the links between the natural and mythical worlds.
Location: Lauritzen Gardens, 100 Bancroft St., Omaha, NE.
The 2021 event may look a little different than past years but there's still a lot of fun planned for the community to enjoy.
Location: Bayliss Park, 100 Pearl St., Council Bluffs, IA.
Learn the basics of archery to help build self-esteem, improve focus, and patience during this beginner's archery lesson.
Online pre-registration is required as space is limited. Visit www.pottconservation.com to register online. For questions not answered online please call 712-545-3283.
Location: Narrows River Park, 2500 N. 25th St., Council Bluffs, IA.
Enjoy a day of fishing or state park activities during the park system centennial year without the need to purchase a fishing or park entry permit for the day.
Location: Any Nebraska state park, state recreation area, or state historical park.
May 22nd, May 23rd (Bellevue), or May 29th. Register by age group for a free 35-minute session, for ages 2-8.
Enjoy free golf and fun activities for the whole family at Family Golf Day! Free golf and activities will be available from 12 p.m. to 4 p.m. Free instruction with golf professionals and lunch will be available from 12 p.m. to 2 p.m.
Location: Westwood Golf Course, 12929 W. Center Rd., Omaha, NE.
Incoming kindergartners are invited for a free, fun day including an outdoor mini field day, cool prizes, exciting games, and the opportunity to register for Girl Scouts!
Location: Girl Scouts Omaha Service Center, 2121 S. 44th St., Omaha, NE.
Hometown Heroes event, fireworks display, the Salute to Summer Express (mini parade), and more!
Family activities include the opportunity to meet Cruella de Vil, free Dalmatian face painting, and a showing of 101 Dalmatians, the 1961 Disney animation classic.
Location: Tom Hanafan River's Edge Park, 4200 Avenue B, Council Bluffs, IA.
Celebrate with your family this Memorial Day Weekend in Omaha!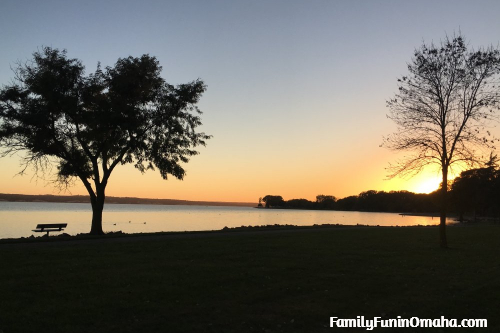 Choose from a variety of locations that are not too far from Omaha. Explore a new destination, go on an adventure, and create new memories!
Day Trips, Road Trips, Cabins to Rent, and more!
Members of certain libraries can check out a pass to visit one of the following locations:
Durham Museum – Members of all 12 Omaha Public Library branches, Bellevue Public Library, Bennington Public Library, Council Bluffs Public Library, Fremont Public Library.
Fontenelle Forest – Members of the Omaha Public Library, Bellevue Public Library, or Council Bluffs Public Library.
Lauritzen Gardens – Members of the Omaha Public Library, Bellevue Public Library, or Council Bluffs Public Library.
Browse our 2021 Summer Camp Guide available now! From Art Camps to Specialty Camps and themes for every age and interest, you are sure to find one for your kids.
Exciting News! Now you can SEARCH SUMMER CAMPS by:

Type of Camp (Theme, All-Day, Half-Day, Extended Care, + more!)
Age Group
Week of Camp
Looking to buy or sell gently-used children's clothing and equipment? Choose from seasonal Consignment Sales and local Kids Resale Shops in the Omaha Area!
Find more Helpful Resources: