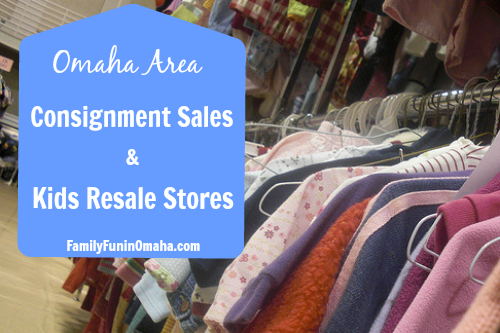 Looking to buy or sell gently used children's clothing and equipment? Choose from a variety of Seasonal Consignment Sales and Local Kids Resale Shops in the Omaha Area!
Consignment Sales
July 25-31, 2017
Bethany Lutheran Church, 4200 N. 204th St., Elkhorn, NE 68022
Shop your maternity and children's needs in one spot. Volunteer your time and shop before the public.
August 10-12, 2017
[August 10 & 11, 9 a.m. – 7 p.m.; August 12th, 9 a.m. – 3 p.m. (half off most items)]
Valley Veterans Hall, 111 E. Front St., Valley, NE 68064
Kiddy Swap is a seasonal consignment sale of gently used kids clothes, shoes, toys, baby gear, ect.
August 13-19, 2017
Southwest Church of Christ, 2600 S. 124th St., Omaha, NE 68144
They strive to bring gently-worn kid's and junior's clothing to Omaha-area moms who appreciate quality merchandise at great prices.
September 6 – 9, 2017
Bellevue Volunteer Firefighter Hall, 2108 Franklin St. Bellevue, NE 68005
Dates: September 6-9, Wednesday through Friday hours are 9 a.m. to 9 p.m., Saturday (Half-price day) hours are 8 a.m. to 1 p.m. Interested consignors can register on their website.
September 7-16, 2017
Crossroads Mall (Northwest Entrance), 7400 Dodge St., Omaha, NE 68114
Take2 is a seasonal consignment sale of gently used and new children's clothing, shoes and toys. They also have many of the new baby necessities: pack'n'play, strollers, and furniture.
September 8-9, 2017
Location: Kennard Auditorium, 305 W. 2nd St., Kennard, NE 68034
September 13-16, 2017
Omaha Sports Complex, 14706 Giles Rd., Omaha, NE 68138
Kidz Shoppe is the original kids consignment sale in West Omaha, and has been serving Omaha since 1999.
October 6-14, 2017
ReRuns Event Center, 8501 Granville Pkwy., La Vista, NE 68128
ReRuns R Fun is a semi-annual, volunteer-run, not-for-profit kid's consignment sale. Profits are donated to local & international charities.
Kids Resale Stores
10915 Prairie Brook Rd., Omaha, NE 68144
Family-owned and serving the Omaha area since 2011. All gently used clothing items are professionally laundered before being placed on the floor. Selection includes baby gear, professionally cleaned cloth diapers, baby carriers, and diaper bags.
2580 S 90th Street. Omaha NE 68124
High-end boutique featuring new and nearly new brand name apparel. Shop~Donate~Volunteer
Several locations in Omaha and Papillion
B2B Kids Resale is a family owned business that buys and sells brand name kids clothes, toys, equipment, maternity fashion, swings, highchairs, strollers, bassinets, furniture and more.
1215 S. 180th St., Omaha, NE 68310
Purchase gently used kids' and maternity items, and get excellent deals on new and gently used items.
14528 W. Center Rd., Omaha, NE 68144
At Plato's Closet, they buy and sell gently used clothes, shoes and accessories for teens and twenty somethings.
Would you like to add or feature your Consignment Sale or Kids Resale Store? Please contact us here!
Other Helpful Resources: