Imagine tasting an authentic French croissant, visiting a German bakery, and meeting the entrepreneur behind the chocolate covered cordial cherries that made the list of Oprah's Favorite Things… Imagine a 3-hour tour that feels like you are on a mini-vacation, tasting sweets while visiting adorable little shops, and being entertained and pampered the entire time… And all this, in Omaha!
Omaha Culinary Tours is a brand new company offering food tasting tours of Omaha's culinary scene. Sample unique and delicious food, meet the owners and hear the stories behind their passions turned businesses, and visit locally-owned restaurants with a long history in Omaha, as well as those new to the city.
Chocolate and Pastries Tour
Their newest tour brings visitors to the most delicious and delightful locally-owned pastry shops, bakeries and chocolatiers in the Omaha area.
The Cordial Cherry
Our first stop, The Cordial Cherry, was a wonderful shop filled with masterfully hand-decorated chocolate-covered cherry cordials, each with a sweet liquid cordial center. The unique décor included salvaged wooden doors as tables and rows of beautiful cherries ready to be hand-picked. The highlight of our visit was hearing from Melissa, the owner, as she shared how she turned her passion into this shop using a recipe passed down from her Grandmother, and whose beautiful Nativity Set was recently included in Oprah's 2013 List of Favorite Things!
Le Petit Paris French Bakery
From delectable chocolate to melt-in-your-mouth pastries, we then headed to Le Petit Paris French Bakery, located next to Le Voltaire French Restaurant in Pepperwood Village. The bakery shop offers authentic French breads and pastries, all baked according to the exact recipes from France in their imported French deck oven.  The croissants and pastries were very flaky and delicious, so good that we returned a couple days later to try them fresh in the morning!
The Market Basket
We traveled on to Countryside Village to The Market Basket, where we were greeted by a table full of sweet desserts. Since opening in 1986, this restaurant, bakery, deli, and gourmet market uses only fresh ingredients to treat local diners. The sweets from our tour were very rich and tasty as evidenced by our clean plates.
Gerda's German Restaurant and Bakery
The next stop took us to midtown on Leavenworth. Established in 1976, Gerda's German Restaurant and Bakery, is a favorite among locals for all of their wonderful German foods including Schnitzel and Spaetzle to wonderful German pastries and desserts. We were lucky to visit on the very popular pan-fried chicken night, and tasted the amazing chicken (a small break from the wonderful sugar high!).
Stories Coffeehouse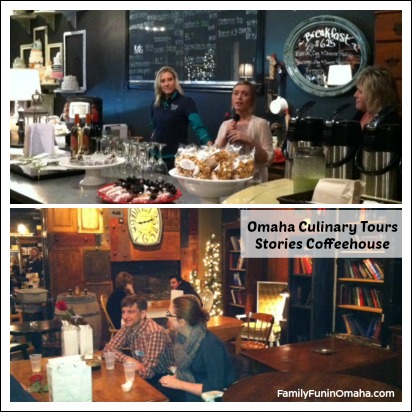 A perfect spot for our final stop, Stories Coffeehouse filled whatever room we had left with tastes of wine, chocolate, popcorn, coffee, and soup. This wonderful place offers women-owned start-up culinary companies the opportunity to serve a variety of goodies in a relaxing and comfortable setting. Stories Coffeehouse is a place where you can sit for hours enjoying the company of family and friends or by yourself just relaxing with food, dessert, or drink.
In between stops, we were entertained by our fantastic tour guides with an introduction and history behind each restaurant/bakery, and were served delicious homemade hot chocolate and marshmallows from The Grey Plume, and pecan and lemon bars from Sweet Magnolia's Bake Shop.    
Omaha Culinary Tours
In addition to the Chocolate and Pastries Tour, Omaha Culinary Tours also offers a Midtown Walking Food Tour. Exciting plans are in the works to add more tours including an Old Market Walking Tour, Omaha Steakhouse Tour, Pizza Tour, plus more! Gift certificates are available, as well as private group tours for special occasions or business outings.
Visit Omaha Culinary Tours for more information on scheduling a perfect date night, ladies night, or a fun and unique night on the town!
Disclosure: Many thanks to Omaha Culinary Tours for offering this fantastic new option in the Omaha area, and for providing tickets to my husband and I for the Chocolate and Pastry Tour.  All opinions are my own. See disclosure and privacy policy here.