Enjoy many family-friendly events coming up in the Omaha area, including these 10+ FREE Events in August!
Join our growing community and keep updated on Omaha family-friendly events and activities and Sign up for our Free Email Newsletter!
Please Note: It is always a good idea to verify before visiting as details may change.
Jump Directly to the Specific Week:
August 1 – 5
FREE Ongoing Activities:
Get Ready for Back to School with these FREE Events:
Kindergarten Traffic Training with the Omaha Police Department – TBA
Community Wellness Bash – August 4 ((10 a.m. – 1 p.m.)
Healthy Family Field Day at Boys Town Medical Campus – August 4 (10 a.m. – 2 p.m.)
Find more information about these events and other Back to School Events and School Supply Drives here!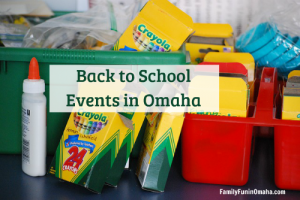 Follow the tracks of dinosaurs, animals, and the upcoming solar eclipse at Family Night.
Location: Union Pacific Museum, 200 Pearl St, Council Bluffs, Iowa.
Hands-on workshop and you and your child can build.
Kids enjoy the bounty of the garden! Harvest fresh produce and use it for a fun snack. Ages 3 – 7.
City Sprouts is located at 4002 Steward St., Omaha, NE 68111
August 6 – 12
FREE Ongoing Activities:
Get Ready for Back to School with these FREE Events:
Back to School Programs with the Omaha Public Library – August 8 – 12
Back to School Bash at Papillion Farmers Market – August 8 (5:30 – 5:70 p.m.)
OneWorld Back to School Bash – August 10 (10 a.m. – 1 p.m.)
Find more information about these events and other Back to School Events and School Supply Drives here!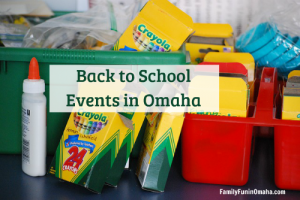 Bring the little ones out and blow their minds with the Amazing Bubble Show, presented by the Omaha Children's Museum!
Bring chairs and blankets and watch an outdoor movie showing of The Secret Life of Pets, including popcorn. Grab some amazing food from the on-site food trucks.
A special activity is planned for the first 50 children who are registered to attend the event, which opens at 7 pm. Movie begins at dusk.
Location: 14510 F St., Omaha, NE 68137
Take in the beauty of the annual Perseid Meteor Shower. This spectacular display of lights and falling meteors is an event you don't want to miss. Meet at the park entrance at 8:30 p.m. & bring your lawn chairs, blankets, binoculars & telescopes to view natures fireworks.
There is no fee for this event, free will donations are accepted. Daily ($2) or Annual Pottawattamie County Park annual permit required.
August 13 – 19
FREE Ongoing Activities:
Bounce houses, food trucks, jumbo yard games, live music, and a professional fireworks display. Admission is free for the activities, food truck fees apply.
Location: 15801 Butler Ave, Omaha
Fun educational, hands-on classes for pre-school age children and parents brought to you by ParentSavvy and Fontenelle Forest.
Free 3x a year. Registration opens the 1st of the month. Please note that space is limited and sessions do fill quickly! Register here!
Check out this showcase of vintage automobiles. Children and parents will have the chance to take free rides around the fort in select vintage vehicles and enjoy live entertainment. Location: Historic Fort Omaha, 5730 N. 30th St., Omaha.
August 20 – 26
FREE Ongoing Activities:
Touch-a-Truck – August 25, (11 a.m. – 3 p.m.)
Don't miss Child Saving Institute's annual Touch-A-Truck event. The Child Saving Institute's exciting "friend-raiser" is a free event for the entire family where children can see and climb on "real life" vehicles. Kids, accompanied by their parents or guardian, can explore emergency and military vehicles, semi-trucks, bobcats, race cars and other commercial vehicles and talk to the people who operate them. Other activities will include face-painting, prizes, bouncy tents, food, clowns and more.
Location: First Data parking lot, 69th St. and Pacific St., West Omaha
August 27 – 31
FREE Ongoing Activities:
More Fun this August
Interpretive hours from 10 a.m. to 5 p.m. On these days, volunteers portray life at an 1820's military fort. A Park Entry Permit is required.
Find many Free or Cheap movies in theaters, Kids Film Series, and more all Summer in the Omaha Area at:

Summer Kids Camp at Alamo Drafthouse Cinema
Marcus Theaters
Find more Helpful Resources: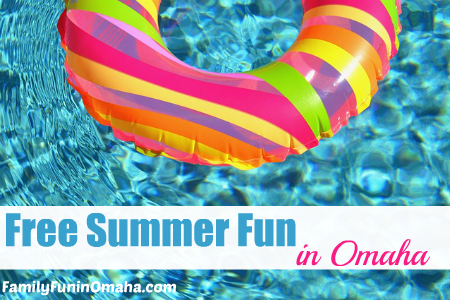 More Fun to Come …
Fun and free day of ice skating lessons, giveaways, and refreshments. (Skate rental is extra and is available at both locations.)

Sunday, August TBA: 1:30 – 3:30 p.m., Motto McLean Ice Arena, 5015 S. 45 St. (Hitchcock Park, 45th & P)
Sunday, August TBA: 12 – 2 p.m., Baxter Arena, 2425 S. 67th St (67th & Center)