Enjoy so much FUN this FALL with this helpful guide of all of the best Fall events in Omaha!
Join our growing community and keep updated on Omaha family-friendly events and activities and Sign up for our Free Email Newsletter!
We do our best to share current information in Family Fun in Omaha, but event details may change. It is always a good idea to verify the information before visiting.
30+ Things to Do in Omaha this Fall with Kids
Martin's is the place to pick your own apples each fall. Lots of fun kid's activities with wagon rides on the weekends. Caramel apples, cider slush, and a pumpkin patch, too. Simply, the best little orchard around!
See hours, admission, outdoor activities, safety and health guidelines, and more here.
Location: Martin's Hillside Orchard, 2024 Ashland Rd, Ceresco, NE.
Friday Family Movie Nights at the Orchard will continue all fall!

Friday, Sept. 4 (7:50 p.m.): UP
Friday, Sept. 18 (7:25 p.m.): The Goonies
Friday, Sept. 25 (7:15 p.m.): The Wizard of Oz
Friday, Oct. 2 (7 p.m.): Casper
Friday, Oct. 9 (6:50 p.m.): Hocus Pocus
Friday, Oct. 16 (6:40 p.m.): The Nightmare Before Christmas
Friday, Oct. 23 (6:30 p.m.): Goosebumps
Friday, Oct. 30 (6:20 p.m.): Ghostbusters

Location: 19475 225th St., Council Bluffs, IA.
Experience where volunteers portray life at an 1820's military fort.
A Park Entry Permit is required.
Location: Fort Atkinson State Historical Park, 201 S. 7th St., Fort Calhoun, NE.
Learn to Canoe – Sept. 11 (6:30 p.m.), $5/person (age 8+) [REGISTER]
On-shore introduction to canoe techniques and safety followed by on the water practice as you enjoy sunset from the water.
Youth age 8 to 13 must be accompanied by an adult while in a canoe.
Registration is required for this event & space is limited. To register please call Amy Campagna, Environmental Education Coordinator at 712-242-1189. Registrations will be taken on a first come first served basis, if there is no answer please leave your name, phone number, & the number of people you wish to register & staff will return your call as soon as they are able to.
Location: Arrowhead Park, 29357 310th St., Neola, IA.
Celebrating Native American cultures, the powwow honors the traditional dance, music, artistry, oral history, and foods of various tribes across Nebraska and the surrounding region including Omaha, Ponca, Santee Sioux, and Winnebago.
Location: Online (Connect to Facebook Virtual Powwow on Sept. 12th)
Explore outdoor opportunities at any Nebraska state park, state recreation area, or state historical park without the need to purchase a park entry permit for the day. It also allows anyone to fish for the day without a fishing permit.
Location: Any Nebraska state park, state recreation area, or state historical park. Find places to go.
Aladdin (2019) starts at dusk. Movies start at dusk. Bring blankets or chairs to sit on. Food, drinks, and ice cream for sale at Dairy Chef.
Location: Dairy Chef, 3223 N. 204th St., Elkhorn, NE
Visit Arbor Day Farm in Nebraska City where you can enjoy the outdoors! Play among the trees, explore history, walk the trails, and more.
All tickets for the Tree Adventure should be reserved in advance.
Location: 2611 Arbor Avenue, Nebraska City, NE.
Fun, free and family-friendly movie event featuring Ferris Bueller's Day Off. Plus, free access to the Centris Family Fun Zone Carousel from 6 to 7:30 p.m. Seating will be in stadium seats this year.
Location: 12356 Ballpark Way, Papillion, NE.
This year, they have reworked the event into a drive-through, where they will be serving up some of your favorite German meals, pretzels, tortes, and Bier to-go. To bring the festive atmosphere, there will be music by The Barry Boyce Band and the Ken Janak Orchestra. For the safety of their volunteers, they request that you cover your mouth and nose, and remain in your vehicle.
Location: 3717 S. 120th St., Omaha, NE. (Enter the north parking lot via Prairie View Dr.)
Apple pie, apple cider, apple cider donuts, candy apples, caramel apples, apple fritters, apple salad…pretty much anything you can imagine made from apples is available at the AppleJack Festival.
This year, the celebration will be spread out over the entire harvest season, not just on one three-day stretch. It's the same great fun, but smaller crowds. Come anytime this autumn for the 2020 AppleJack Harvest Festival, kicking off Saturday, September 19, 2020, and lasting until the final apple is eaten.
Location: Various locations in Nebraska City
The 712 Initiative is hosting a community movie night in Kirn Park.
Location: 102 5th Ave., Council Bluffs, IA.
Stroll through the corn maze, visit the Petting Barn, try out the new Roller Racers and giant slide, take a ride on the zipline, and get a tour of the camp with a hayrack ride.
Oct. 25: Search for Treats (Child admission is FREE with donation of a toy for Toys For Tots.)
Location: 9677 County Road 3, Fontanelle, NE.
Learn more about monarch butterflies, their unusual lifestyle and life cycle, and miraculous migration to Mexico as staff teach you how to catch and handle monarchs for research. Following the presentation, participants are invited to hit the trails in search of monarch butterflies.
Location: Hitchcock Nature Center, 27792 Ski Hill Loop, Honey Creek, IA
Hayrack rides, farm & exotic animal visits, games, STARLAB, raptor presentations, farmers market, raffles, food vendors, and more. Plus, Mini Horse rides offered by LaRue's Little Pony Rides ($5 per ride; Saturday only).
Admission: $5/person (ages 2 and up; cash/check only).
Location: ESU#3 – Gifford Farm Education Center, 700 Camp Gifford Rd., Bellevue, NE.
Pop-up performances from Omaha Circus Arts, activities provided by the Omaha Children's Museum, interactive performances by past Musical Explorers Artists, and more!
This event is first-come first-served, rain or shine and has limited capacity of 95 lawn squares with up to 8 per group, suggested minimum of 4.
Location: Green Lawn next to Holland Center, 13th St. & Douglas St., Omaha, NE.
Farnam Fest – Fridays, Oct. 2 – 3, FREE
Friday night, 5 – 9 p.m., kicks off with a Food Truck Rally with dueling DJs.
The fun continues on Saturday, from 2 – 9 p.m., with live music, a Makers Market, pet parade, and more, all in a socially-distanced, outdoor setting!
Location: Blackstone District, from 36th St. to 42nd St. along Farnam St., Omaha, NE.

It is always a good idea to verify the information with the business before visiting.
ONGOING FALL FUN
Apple picking in Omaha is a favorite Fall tradition. Choose from a variety of apple orchards in the Omaha area to find the best apple picking near you!
Discover 18 of the Best Pumpkin Patches near Omaha, and find where you can pick pumpkins, explore corn mazes, and go on hayrides near you.
Visit an Alpaca Farm – Reservations required
Alpacas of the Heartland – October Dates TBA, Reservations required, $8/person

Come out to the beautiful hills of Fort Calhoun, NE, and roam the pastures with the alpacas. See the crias (baby alpacas) playing with one another, take pictures, relax and enjoy the picturesque views, and shop for alpaca products.
October Dates TBA on their FB page. Find out more here.
Location: 7016 County Road 39, Fort Calhoun, NE.

JP Acres Alpaca Farm – Lincoln, NE

Call to reserve a time to visit. Free will donation.
Go on a scavenger hunt across Nebraska (including several stops in the Omaha Area) and discover hidden gems. Free to participate. The program runs from June 1 to October 31, 2020.
Climb over obstacles and soar through the trees on Ziplines at the exciting TreeRush Adventure Park!
Summertime is perfect for sharing Ice Cream with friends – including the Tower of Ice Cream, $2 Tuesdays at eCreamery, an old-fashioned Soda Fountain, and more!
The Omaha Area is full of neighborhood parks with walking trails, playgrounds, swings, picnic areas, and more!
Several Farmers Markets continue through Labor Day weekend.
Rent a Kayak or Stand Up Paddleboard for a fun day out on the water.
Enjoy the outdoors with tips for 8 of the best places to go camping near Omaha.
Are you looking for the perfect cabin to rent within 3 hours of Omaha? Choose from many cabin rentals near Omaha that offer a variety of activities, family-friendly amenities, and a chance to enjoy the great outdoors!
This adventure was designed to take participants to all four parks — Eugene T. Mahoney and Platte River state parks and Louisville and Schramm Park state recreation areas — to discover six of their unique gems and find the answers to clues revealed in the app.
Throughout the Summer, see the beautiful "Wings Over Papillion" Butterfly Bench Public Art Project with uniquely painted butterfly benches throughout Papillion!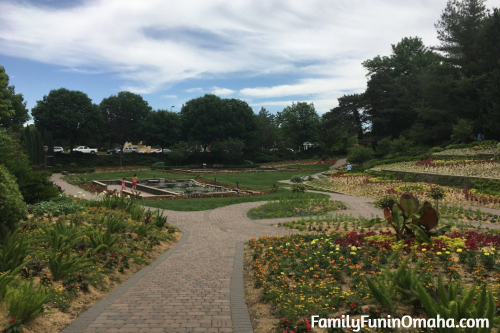 Looking for a great Day Trip near Omaha? Check out these fun ideas for nearby adventures!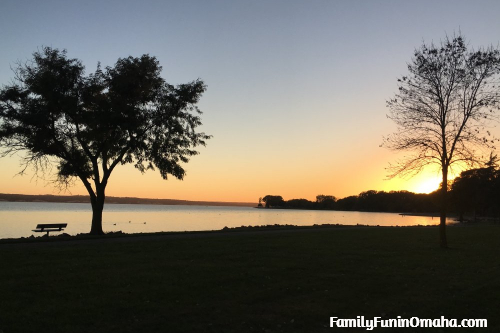 Looking for a little getaway with your family? Choose from a variety of Road Trip ideas that are not too far from Omaha. Explore a new destination, go on an adventure, and create new memories with your family!
We do our best to share current information in Family Fun in Omaha, but event details may change. It is always a good idea to verify the information before visiting.
Have a wonderful fun-filled fall season!
More Fall Fun: