Enjoy the best family-friendly things to do this September in Omaha!
Join our growing community and keep updated on Omaha family-friendly events and activities and Sign up for our Free Email Newsletter!

PLEASE NOTE: As things continue to change during this time, it is always a good idea to verify details before visiting.
BEST THINGS TO DO IN SEPTEMBER IN OMAHA
Location: Martin's Hillside Orchard, 2024 Ashland Rd, Ceresco, NE.
Greater Omaha Aviation STEM Day brings youth and young adults together in a venue of offered opportunities in a variety of different aspects of Aviation.
Featured activities include Young Eagles Flights and a Pancake Breakfast.
Location: Millard Airport, 4501 Abbott Dr., Ste. 2300, Omaha, NE.
Visitors will be able to glimpse the activities that would have taken place at this 1820's era outpost.
A valid Nebraska Park Entry Permit is required for all vehicles to enter the park and can be purchased at the site. A per person fee is required at the Harold W. Andersen Visitor Center of $2 per adult and $1 per child.
Location: Fort Atkinson State Historical Park, 201 S. 7th St., Fort Calhoun, NE.
NOTE: U-pick Apples (begins Sept. 18) and Pumpkins (begins early- to mid-October)
With 260 acres, Arbor Day Farm is a top spot for fall fun. Experience the one-of-a-kind Treetop Village, explore the farm, and enjoy fall treats including caramel apples, fresh-pressed cider, apple pie & more. Purchase tickets in advance at arbordayfarm.org.
Location: Arbor Day Farm, 2611 Arbor Ave., Nebraska City, NE.
See More Fun Things to Do over Labor Day Weekend Here!
Skinny Bones Pumpkin Patch is a place to have fun with attractions for all ages. Family owned and operated for 13 years, it is their goal to help your family make a memory together that you'll share for years. You are going to want to stock up on their famous kettle corn, caramel apples, and homemade fudge as well.
Bring picnic items, lawn chairs, or blankets and join the free family fun – live music, food for purchase, fireworks, and free Kroc guest passes to take and share.
Location: Omaha Kroc Center, Amphitheater and lawn, 2825 Y St., Omaha.
Based on the runaway hit Disney Channel Original Movie musical, this spectacular new stage production features many of your favorite showstoppers and some of The Rose's (and Omaha's) most talented teens showcasing their song and dance skills live on stage!
Location: The Rose Theater, 2001 Farnam St., Omaha, NE.
World O! Water is a free, annual event designed to enlighten the public about water conservation, quality, and recreation. World O! Water helps individuals and families learn about simple, everyday actions that help prevent water pollution and ensure clean water from our streams to our sinks.
The 2021 virtual event will happen at WorldOWater.org September 10th through September 27th! The WO!W online event offers 12 unique adventures you can explore at your own pace.
Visit WorldOWater.org to complete fun challenges & enter to win prizes!
Abominable starts at dusk. Bring blankets or chairs to sit on. Food, drinks, and ice cream for sale at Dairy Chef.
Location: Dairy Chef, 3223 N. 204th St., Elkhorn, NE
Create your own sundae and meet Girl Scout staff members who can answer all your questions about Girl Scouts.
Registering for Girl Scouts at this event will qualify you for a FREE Girl Scout membership to share with your bestie, sister, or caregiver.
Location: Shadow Lake Towne Center, 7775 Olson Dr., Papillion, NE.
Location: 19475 225th St., Council Bluffs, IA.
Three AppleJack Festival Weekends — All About Orchards with U-pick Apples and seasonal tastes.
The Tree Adventure and Arbor Lodge Mansion will require tickets for admission. It is strongly recommend you purchase tickets in advance online. Space will be limited. They cannot guarantee entrance to these attractions/activities without a pre-purchased ticket. Arbor Day Farm attractions are open Tuesday through Sunday only. Purchase tickets here.
Location: Arbor Day Farm, 2611 Arbor Ave., Nebraska City, NE.
Explore their slides, hayrack ride, pumpkin patch, stuff a scarecrow, tricycles, bale jumping, tire pile, mud kitchen, giant hay stack, pony rides, barrel train, barnyard and u-pick vegetables. Stop at Pam's kitchen with fresh apple cider donuts and slushees, Mac n Cheese, hot beef sundae, pumpkin treats, and more! Fill a wheelbarrow full of pumpkins and gourds.
NOTE: Farm is closed for the week to setup for Fall on the Farm – Sun, Sept. 12 – Friday, Sept. 17, 2021.
Hayrack rides through acres of Aronia Berry Bushes, outdoor yard games, pumpkin decorating stations, petting zoo, corn play pit, face painting, and more.
Location: 7538 County Road 15, Arlington, NE. (about a 30 minute drive northwest of West Omaha, or 15 minutes east of Fremont.)
Museum Day – Sept. 18, FREE tickets are required
Each Museum Day ticket provides free admission to the ticket holder and one guest.
Participating Omaha Area museums: El Museo Latino and The Durham Museum.
Participating Nebraska museums: University of Nebraska State Museum – Morrill Hall and Stuhr Museum of the Prairie Pioneer.
Kindgom Quest Corn Maze at Camp Fontanelle – Saturdays & Sundays, Sept. 19 – Oct. 31 (Sat. 1 – 7 pm., Sun. 1 – 6 p.m.), Admission Fee
Pick a pumpkin from the pumpkin patch and conquer the Kingdom Quest corn maze.
New this year: Play unlimited games of laser tag with wristband purchase. All activities except the zipline are included in your entrance fee.
Special Event Dates:
Oct. 3: Search for Treats for Pets
Oct. 22 & 23: Scary Maze Nights
Oct. 24: Search for Treats (Trick-or-Treat)
Location: Camp Fontanelle, 9677 County Road 3, Fontanelle, NE.
See the original Jurassic Park after the Omaha Storm Chasers baseball game.
Location: 12356 Ballpark Way, Papillion, NE.
Join in the 30th anniversary Fort Omaha Virtual Intertribal Powwow. The powwow will be held virtually on Saturday, Sept. 25 from 1-5 p.m.
Celebrating Native American cultures, the powwow honors the traditional dance, music, artistry, oral history and foods of various tribes across Nebraska and the surrounding region including Omaha, Ponca, Santee Sioux and Winnebago.
Watch for website updates on the virtual event.
Enjoy free live music, food, carnival games, a pie-eating contest, family fun, and fireworks. Get up close to first responder vehicles, and see a team of world-class Percheron horses. Parking is $10 per car.
Reserve your free tickets here. Don't forget to PRINT your tickets for admittance to the event.
Location: TD Ameritrade Park Omaha, 1200 Mike Fahey St., Omaha, NE.
Go on a scavenger hunt across Nebraska (including several stops in the Omaha Area) and discover hidden gems. Free to participate.
Fall is perfect for sharing Ice Cream with friends – including the Tower, an old-fashioned Soda Fountain, and more!
Choose from a variety of locations that are not too far from Omaha. Explore a new destination, go on an adventure, and create new memories!
Day Trips, Road Trips, Cabins to Rent, and more!
Members of certain libraries can check out a pass to visit one of the following locations:
Durham Museum – Members of all 12 Omaha Public Library branches, Bellevue Public Library, Bennington Public Library, Council Bluffs Public Library, Fremont Public Library.
Fontenelle Forest – Members of the Omaha Public Library, Bellevue Public Library, or Council Bluffs Public Library.
Lauritzen Gardens – Members of the Omaha Public Library, Bellevue Public Library, or Council Bluffs Public Library.
The Omaha Area is full of neighborhood parks with walking trails, playgrounds, swings, picnic areas, and more!
Enjoy the outdoors with tips for 8 of the best places to go camping near Omaha.
Looking for a great Day Trip near Omaha? Check out these fun ideas for nearby adventures!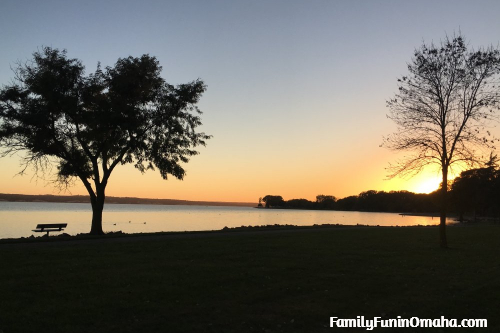 Looking for a little getaway with your family? Choose from a variety of Road Trip ideas that are not too far from Omaha. Explore a new destination, go on an adventure, and create new memories with your family!
FIND MORE HELPFUL RESOURCES:
We do our best to share current information in Family Fun in Omaha, but event details may change. It is always a good idea to verify the information before visiting.
Have a wonderful fun-filled September!