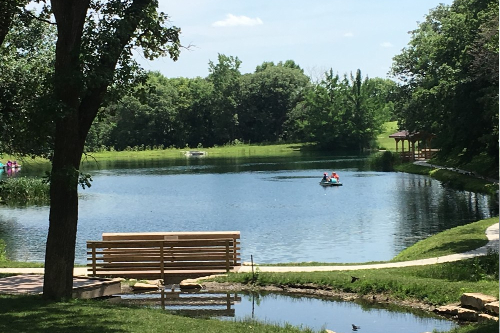 Looking for Things to Do this Labor Day Weekend?
Enjoy Labor Day Weekend Events in Omaha including Labor Day Parade, Living History Weekend, Omahawks Labor Day Air Show, La Festa Italiana, and more!
It is always a good idea to verify before visiting, as event details may change.
Join our growing community and keep updated on Omaha family-friendly events and activities and Sign up for our Free Email Newsletter!
Omaha Labor Day Weekend 2022 Events
Enjoy autumn-inspired activities at the Tree Adventure, Apple House Market, and Arbor Lodge Mansion, including:
U-pick Apples and Pumpkins (beginning mid-Sept.) at the Tree Adventure.
Living History Weekends at Arbor Lodge.
Two Weekends of the AppleJack Festival, including Food Trucks (Sept. 17 – 18 & 24 – 25)
Pre-picked Apples, Apple Pie, Apple Donuts, Apple Cider, Caramel Apples, and more at the Apple House Market.
NOTE: Activities take place at various times throughout the season. Check here for specific details.
Location: Arbor Day Farm, 2611 Arbor Ave., Nebraska City, NE.
Visitors will be able to glimpse the activities that would have taken place at this 1820's era outpost.
A valid Nebraska Park Entry Permit is required for all vehicles to enter the park and can be purchased at the site. A per person fee is required at the Harold W. Andersen Visitor Center of $2 per adult and $1 per child.
Location: Fort Atkinson State Historical Park, 201 S. 7th St., Fort Calhoun, NE.
Watch flag-carrying honor guards, marching bands, labor unions, businesses, floats, animals, horses, clowns, and roaming artists in Downtown Omaha.
Enjoy watching radio-controlled planes & their operators show off their skills benefiting Make-A-Wish. Food, drinks, and raffle tickets available for purchase.
Location: Hawk Field located at Standing Bear Lake Park right around 138th and Fort St., Omaha, NE.
The 2022 State Fair will include 4-H and FFA livestock competitions, contests, presentations, and much more!
Splash in one of the many area spraygrounds with several open through Labor Day.
Climb over obstacles and soar through the trees on Ziplines at the exciting TreeRush Adventure Park!
Summertime is perfect for sharing Ice Cream with friends – including the Tower of Ice Cream, $2 Tuesdays at eCreamery, an old-fashioned Soda Fountain, and more!
Visit Pam Nelson Farm for animals, activities, U-Pick, Market, and more!
The Omaha Area is full of neighborhood parks with walking trails, playgrounds, swings, picnic areas, and more!
Go on a scavenger hunt across Nebraska (including several stops in the Omaha Area) and discover hidden gems. Free to participate.
Several Farmers Markets continue through Labor Day weekend.
Rent a Kayak or Stand Up Paddleboard for a fun day out on the water.
Enjoy the outdoors with tips for 8 of the best places to go camping near Omaha.
Find More Fun:
We do our best to share current information in Family Fun in Omaha, but event details may change. It is always a good idea to verify the information before visiting.
Have a wonderful fun-filled weekend!