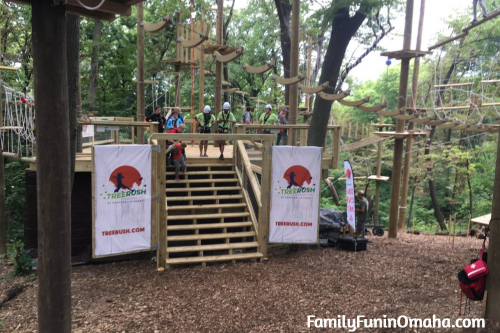 Looking for an exciting and challenging adventure with your family?
Experience zip lines, rope obstacles, moving walkways, and other exciting challenges through the beautiful treetops at TreeRush Adventures at Fontenelle Forest!
Please Note: The health and safety of the community is their top priority. Updates includes Advanced Reservations highly recommended, guests requested to wear masks, and community gloves are no longer provided. You are welcome to bring protective gloves from home that fully cover your hands or they offer them for sale. Find out about these guidelines and more here including new procedures in response to the current situation.
Join our growing community and keep updated on Omaha family-friendly events and activities and Sign up for our Free Email Newsletter!
See what all the excitement is about!
Exciting Challenges at TreeRush Adventures
All of the courses begin on one main platform where a staff member will double check your equipment before you begin your adventure.
Choose from a variety of difficulty levels with 2 Yellow Courses, 2 Green Courses, 2 Blue Courses, and 2 Black Courses!
Each course involves a variety of challenges plus a Zipline or 2 that allows you to fly through the trees!
We started with the 2 Yellow Courses, which we loved! They were a perfect start to learn how to use the equipment and practice with the trolley for the Ziplines!
Then we tried the harder of the Green courses. It was definitely more difficult, with 2 challenges that really tested your strength and balance.
We then did the second Green Course, with fun obstacles, swinging challenges, and exciting ziplines!
TreeRush Adventures is now offering a Night Climbing Experience! For tickets and information about night climbing go to TreeRush.com. (image courtesy of TreeRush Adventures)
Safety and Preparation
Upon arriving at TreeRush Adventures, guest begin on the platform where all of the gear is put on.
Then the staff led step-by-step directions on how to use the equipment, with safety as their #1 priority. Each participant was able to practice using their equipment on 2 'courses' that were very near to the ground, with a staff member watching and able to answer any questions.
We felt completely safe throughout the entire experience. Several children needed to be assisted when they slipped from obstacles and were not able to get back on them (including my own), and it was very impressive how the staff was very encouraging and patient as they helped them get back onto the obstacle.
KidRush Adventure Park
For the younger participants, KidRush Park is perfect for ages 4 – 6 but is also fun for ages 7 and 8.
Young climbers can climb, crawl, and zipline while close to the ground!
Adventure Awaits!
We loved our experience at TreeRush Adventures at Fontenelle Forest and are excited about another exciting family attraction in Omaha!
Find out more and book your reservation online here (walk-ins also welcome as space is available.)
Find More Fun Here: