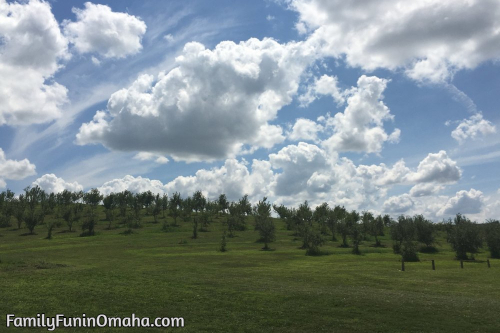 Enjoy the best family-friendly things to do this August in Omaha!
Join our growing community and keep updated on Omaha family-friendly events and activities and Sign up for our Free Email Newsletter!
Summer Fun Guides:
BEST THINGS TO DO IN AUGUST IN OMAHA
Stroll along the spring flowering walk and follow along with a story. Families can take part in some healthy, fun activities that fit the theme of the story:
July 1 – Aug. 15: Honeybees by Colleen Sexton
Aug. 16 – Sept. 30: Acorn to Oak Tree by Elizabeth Neuenfeldt
Location: Lauritzen Gardens, 100 Bancroft St., Omaha, NE.
Fat Brain Toys offers families a mix of Tuesday morning and Saturday morning events! See the schedule of events here.
Location: Fat Brain Toys, 16909 Burke St., Ste. 131, Omaha, NE.
Halleck Park is located just a quarter-mile to the east of the intersection of Washington and Lincoln Streets in downtown Papillion, NE.
Look for the Family Fishing Trailer, where loaner rods and reels, bait, and fishing instruction are available free to participants. All participants ages 16 and older need a fishing license (OutdoorNebraska.org for permits).
Kids FunFare at Regency – Thursdays, Aug. 4 – 25 (10 – 11 a.m.), FREE [REGISTER]
Enjoy an exciting Kids FunFare lineup featuring popular kid's entertainers and musicians:
Aug. 4: The String Beans
Aug. 11: Omaha Street Percussion
Aug. 18: Out of This World by the Omaha Children's Museum
Aug. 25: Joe the Magician
Location: Regency, 120 Regency Pkwy., Omaha, NE.
Join Joslyn artist-instructors at The RiverFront (under the canopies at 13th and Farnam St.), for art-making fun every Thursday morning in July and August. Art JAM in the Park is free and all ages are welcome.
Enjoy a variety of family-friendly events.
Location: Sarpy County Fairgrounds, 100 Main St., Springfield, NE.
Home Depot hosts workshops for kids on the first Saturday of each month. In August, your child to build a summer camper.
Explore a variety of vehicles, including a state patrol car, sheriffs, a helicopter, tractors, UTVs, plow truck, and motor grader! Plus, free hard hats for the first 50 kids, live music, tractor rides, a bounce house, an expansive playground, outdoor games, and goats!
No Admission Fee. **Some vendors may only accept cash, and there is no ATM on site
The American Red Cross has a great need for blood donations. They will be on-site with a mobile bus from 8 am – 3 pm. All blood donors will receive a FREE 6-pack of Ditmar's apple cider doughnuts! Sign up today! Limited spots available.
Location: Ditmars Orchard & Vineyard, 19475 225th St., Council Bluffs, IA.
Enjoy a FREE 8 oz. Root Beer Float (while supplies last) at the old-fashioned Soda Fountain. Dr. Oxygen will be on hand for some sweet science demonstrations from 1-2 p.m.
Regular museum admission applies.
Location: The Durham Museum, 801 S. 10th St., Omaha, NE.
Calling all young anglers! Sign up for the third annual Youth Fishing Derby at Big Lake!
Location: Big Lake Park, 2600 N. 8th St., Council Bluffs, IA.
The Pinnacle Bank Championship – Aug 8 – 14
The Pinnacle Bank Championship is a stop on the PGA TOUR's Korn Ferry Tour in Omaha. This is held over several days every August in Omaha.
Location: The Club at Indian Creek, 3825 N. 202nd St.,

Elkhorn

,

NE.
This is a free blues concert series held one weekend in July and one weekend in August.
Location: Turner Park Stage at Midtown Crossing
Encanto starts at dusk. Bring blankets or chairs to sit on. Food, drinks, and ice cream are for sale at Dairy Chef.
Location: Dairy Chef, 3223 N. 204th St., Elkhorn, NE
A two-day event in August featuring both hot air balloons and Nebraska wines.
Location: Ta-Ha-Zouka Park, Elkhorn, NE
Aug 19 (Friday) – 5 – 11 p.m.
Aug 20 (Saturday) – 3 – 11 p.m.
Omaha's Original Greek Festival – August 19 – 21
Enjoy great food, and experience music, culture, and traditions at Omaha's Original Greek Festival.
Location: 602 Park Ave., Midtown Omaha, NE.
Ticket price: $5

Children under 12 years old – FREE
Join OPL in wishing W. Dale Clark Main Library a fond farewell. Enjoy historic exhibits and photos, share your memories, and enjoy refreshments, crafts, and more.
Location: 215 S. 15th St., Omaha, NE.
Lowe's DIY for Kids – Saturday, Aug. 20 (9 a.m. – Noon), FREE [REGISTER]
Build a muscle car with your mini-mechanic at your local Lowe's store.
Midlands Renaissance Revel – Saturday, Aug. 20 – 21 (10 a.m. – 6 p.m.), tickets are $8 and up
Enjoy all your favorite Renaissance things – merchants, artisans, games of skill, comedy, sword fighting, jousting, and more!
Location: Ditmars Orchard & Vineyard, 19475 225th St., Council Bluffs, IA.
Dundee Day – Saturday, Aug. 20, FREE
This family-friendly street festival celebrates and highlights the Dundee neighborhood with a parade, sidewalk sales, and many more.
Location: Dundee Memorial Park
Find more information about events and other Back to School Events and School Supply Drives and Distribution here!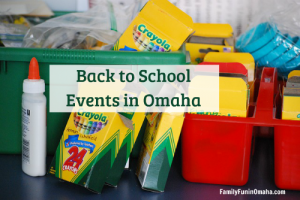 Millard Days – Aug. 23 – 28
Millard Days is excited to bring you all your favorite summer events and activities including the carnival, the parade, and the beer garden.
Location: Andersen Park, 13625 Cottner St., Omaha, NE.
Join the Omaha Fashion Week as they showcase the latest collections of both Emerging and Featured Designers as they compete for their respective Golden Shears Awards.
Join the free family fun – live music, FREE hot dogs, food trucks (menu prices), games, and fireworks.
Location: Omaha Kroc Center, 2825 Y St., Omaha, NE.
Join SpongeBob, Patrick, Sandy and the rest of your favorite Krusty Krew through this journey of friendship, overcoming our differences, and, of course, the End of the World. With Mount Humongous about to erupt, can a simple sponge save the day? When the going gets tough, this sponge gets going!
Location: The Rose Theater, 2001 Farnam St., Omaha, NE.
This event features a free kid's concert by 123 Andrés as well as food trucks, face painting, balloon art, games, and more!
Location: Bayliss Park, 100 Pearl St., Council Bluffs, IA.
Midwest Pirate Fest – Aug. 27 – 28 (10 a.m. – 6 p.m. daily), $8/child, $10/adult [REGISTER]
Midwest Pirate Fest will set sail on August 28th & 29th and be hosted at Bellevue Berry Farm! This year's festival is sure to amaze landlubbers far and wide with everything from bird shows to buccaneers! This year's theme, Fowl Adventures, hints at the featured act for 2021: Raptor's Keep, a swooping, high-flying raptor review, and a bird show. There will be dozens of great vendors as well!
Enjoy movies under the stars!
Enjoy a variety of FREE Summer Concerts in the Omaha Area, perfect for relaxing on a warm summer evening!
Valley Days, Arrows to Aerospace (Bellevue, NE), Dundee Day, and Millard Days are all in August!
Little ones love running through spraygrounds! Try a new one this summer!
Get a couple of stamps this month by visiting passport stops in Nebraska!
On Tuesdays this Summer, visit The Durham Museum after 5 p.m. for $5! From June 1-August 31, admission for all ages will be just $5 after 5 p.m. on Tuesdays. On Tuesday nights, the museum stays open until 8 p.m., giving guests the opportunity to visit late during the work week.
Enjoy special events all month long at select City of Omaha pools.
Summertime is perfect for sharing Ice Cream with friends – including the Tower, an old-fashioned Soda Fountain, and more!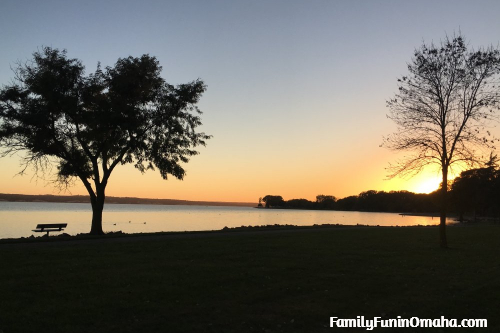 Choose from a variety of locations that are not too far from Omaha. Explore a new destination, go on an adventure, and create new memories!
Day Trips, Road Trips, Cabins to Rent, and more!
Members of certain libraries can check out a pass to visit one of the following locations:
Durham Museum – Members of all 12 Omaha Public Library branches, Bellevue Public Library, Bennington Public Library, Council Bluffs Public Library, Fremont Public Library.
Fontenelle Forest – Members of the Omaha Public Library, Bellevue Public Library, or Council Bluffs Public Library.
Lauritzen Gardens – Members of the Omaha Public Library, Bellevue Public Library, or Council Bluffs Public Library.
Find more Helpful Resources: