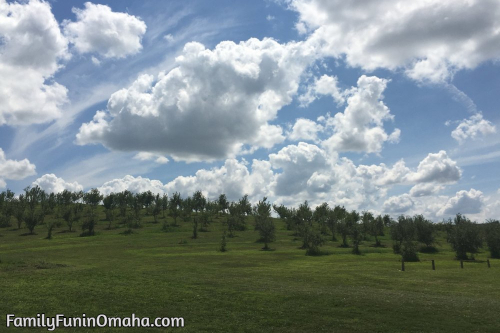 Enjoy the best family-friendly things to do this August in Omaha!
Join our growing community and keep updated on Omaha family-friendly events and activities and Sign up for our Free Email Newsletter!
2021 Summer Fun Guides:
PLEASE NOTE: As things continue to change during this time, it is always a good idea to verify details before visiting.
BEST THINGS TO DO IN AUGUST IN OMAHA
Halleck Park is located just a quarter-mile to the east of the intersection of Washington and Lincoln Streets in downtown Papillion, NE.
Look for the Family Fishing Trailer, where loaner rods and reels, bait and fishing instruction are available free to participants. All participants ages 16 and older need a fishing license (OutdoorNebraska.org for permits).
Stop by for "Recreation on the Move Olympic Pentathlon" an Olympic-themed pop-up event! Five events that kids can drop in at any time to participate with prizes awarded to top performers. Running, throwing, jumping, agility, and accuracy will all be put to the test.
Location: Sunset Park, 1050 16th Ave, Council Bluffs.
Enjoy a variety of family-friendly events.
Gather your crew for a free movie screening of Coco!
Location: 2200 Dodge St., Omaha, NE.
Explore a variety of vehicles plus more activities!
No Admission Fee. **Some vendors may only accept cash, and there is no ATM on site
The American Red Cross has a great need for blood donations. They will be on site with a mobile bus from 8am – 3pm. All blood donors will receive a FREE 6 pack of our apple cider doughnuts! Sign up today! Limited spots available.
Location: 19475 225th St., Council Bluffs, IA.
Stop by The Durham Museum to enjoy a free 8 oz. Root Beer Float (while supplies last) at the old-fashioned Soda Fountain.
Regular museum admission applies.
Location: The Durham Museum, 801 S. 10th St., Omaha, NE.
Find more information about events and other Back to School Events and School Supply Drives and Distribution here!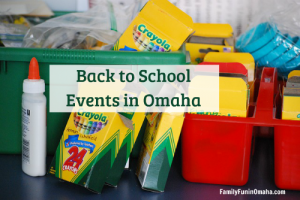 Register your child to build a Bird Bungalow Kit in September (Reserved kits can be picked up on September 11th or 12th.)
Arts Block Party – August 14 (11 a.m. – 2 p.m.), FREE
Live music and performances, interactive games, food, and raffle prizes galore!
Location: Cass St. between 72nd & 69th, Omaha, NE.
Clowns, fire truck, petting zoo, free pony rides, and more.
In Celebration of 100 Years of Parks, Schramm Park SRA is hosting a free evening of food, music and outdoor fun.
Free outdoor concert with the Steve Raybine Band and fantastic fireworks to follow.
Location: 2800 S. 110th Ct., Omaha, NE.
Midwest Pirate Fest will set sail on August 28th & 29th and be hosted at Bellevue Berry Farm! This year's festival is sure to amaze landlubbers far and wide with everything from bird shows to buccaneers! This year's theme, Fowl Adventures, hints at the featured act for 2021: Raptor's Keep, a swooping, high-flying raptor review, and bird show. There will be dozens of great vendors as well!
New Ninja Warrior obstacle training facility opening in Omaha!
Grand opening the weekend of Aug 28 & 29 with special guest Pro Ninjas: Ryan Stratis, Maggi Thorne, Cameron Baumgartner (ANW 13 Finalist), Donovan Metoyer (ANW 13 Finalist) and Jason Steinberg.
Normally held the weekend before the Fourth of July, this year the event will be August 28th. Enjoy this annual celebration with a Fireworks Grand Finale at 10:00 p.m.
Location: Memorial Park, 6005 Underwood Ave., Omaha, NE.
Enjoy movies under the stars!
Enjoy a variety of FREE Summer Concerts in the Omaha Area, perfect for relaxing on a warm summer evening!
Valley Days, Arrows to Aerospace (Bellevue, NE), Dundee Day, and Millard Days are all in August!
Little ones love running through spraygrounds! Try a new one this summer!
Get a couple of stamps this month by visiting passport stops in Nebraska!
On Tuesdays this Summer, visit The Durham Museum after 5 p.m. for $5! From June 1-August 31, admission for all ages will be just $5 after 5 p.m. on Tuesdays. On Tuesday nights, the museum stays open until 8 p.m., giving guests the opportunity to visit late during the work week.
Enjoy special events all month long at select City of Omaha pools.
Summertime is perfect for sharing Ice Cream with friends – including the Tower, an old-fashioned Soda Fountain, and more!
Fat Brain Toys offers families a mix of Tuesday morning, Saturday morning, and Thursday afternoon events! See schedule of events here.
Location: Fat Brain Toys, 16909 Burke St., Ste. 131, Omaha, NE.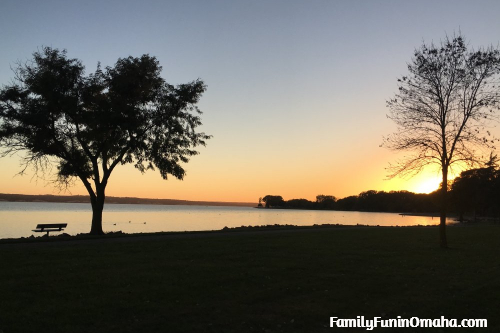 Choose from a variety of locations that are not too far from Omaha. Explore a new destination, go on an adventure, and create new memories!
Day Trips, Road Trips, Cabins to Rent, and more!
Members of certain libraries can check out a pass to visit one of the following locations:
Durham Museum – Members of all 12 Omaha Public Library branches, Bellevue Public Library, Bennington Public Library, Council Bluffs Public Library, Fremont Public Library.
Fontenelle Forest – Members of the Omaha Public Library, Bellevue Public Library, or Council Bluffs Public Library.
Lauritzen Gardens – Members of the Omaha Public Library, Bellevue Public Library, or Council Bluffs Public Library.
Find more Helpful Resources: