Enjoy the best family-friendly things to do this October in Omaha!
Bookmark this page as many more events, including exciting Halloween activities, will be added as they are announced!
Join our growing community and keep updated on Omaha family-friendly events and activities and Sign up for our Free Email Newsletter!
PLEASE NOTE: Many events require pre-registration, have limited capacity, or offer timed slots. As things continue to change during this time, it is highly recommended to verify details, closures, cancelations, hours of operation, and any requirements or procedures for guests before visiting. Thank You!
2021 HALLOWEEN FUN GUIDES
BEST THINGS TO DO IN OCTOBER IN OMAHA
Location: Martin's Hillside Orchard, 2024 Ashland Rd, Ceresco, NE.
Three AppleJack Festival Weekends — All About Orchards with U-pick Apples and seasonal tastes.
The Tree Adventure and Arbor Lodge Mansion will require tickets for admission. It is strongly recommend you purchase tickets in advance online. Space will be limited. They cannot guarantee entrance to these attractions/activities without a pre-purchased ticket. Arbor Day Farm attractions are open Tuesday through Sunday only. Purchase tickets here.
Location: Arbor Day Farm, 2611 Arbor Ave., Nebraska City, NE.
Each week features a family-friendly movie with a Halloween theme.
Location: 19475 225th St., Council Bluffs, IA.
Visit Nelson Produce Farm – Thursday – Sunday (9 a.m. – 5 p.m.), $7/person (Age 2 and under are FREE!)
Explore their slides, hayrack ride, pumpkin patch, stuff a scarecrow, tricycles, bale jumping, tire pile, mud kitchen, giant hay stack, pony rides, barrel train, barnyard and u-pick vegetables. Stop at Pam's kitchen with fresh apple cider donuts and slushees, Mac n Cheese, hot beef sundae, pumpkin treats, and more! Fill a wheelbarrow full of pumpkins and gourds.
Location: 10505 N. 234th St. Valley, NE.
With 260 acres, Arbor Day Farm is a top spot for fall fun. Experience the one-of-a-kind Treetop Village, explore the farm, and enjoy fall treats including caramel apples, fresh-pressed cider, apple pie & more. Purchase tickets in advance at arbordayfarm.org.
Location: Arbor Day Farm, 2611 Arbor Ave., Nebraska City, NE.
Visitors will be able to glimpse the activities that would have taken place at this 1820's era outpost.
A valid Nebraska Park Entry Permit is required for all vehicles to enter the park and can be purchased at the site. A per person fee is required at the Harold W. Andersen Visitor Center of $2 per adult and $1 per child.
Location: Fort Atkinson State Historical Park, 201 S. 7th St., Fort Calhoun, NE.
Based on the runaway hit Disney Channel Original Movie musical, this spectacular new stage production features many of your favorite showstoppers and some of The Rose's (and Omaha's) most talented teens showcasing their song and dance skills live on stage!
Location: The Rose Theater, 2001 Farnam St., Omaha, NE.
Skinny Bones Pumpkin Patch is a place to have fun with attractions for all ages. Family owned and operated for 13 years, it is their goal to help your family make a memory together that you'll share for years. You are going to want to stock up on their famous kettle corn, caramel apples, and homemade fudge as well.
Something for everyone and well worth the drive! It is a place like no other! Zipline, corn maze, pumpkin patch, Petting Barn, Barrel Train, Pedal Karts, Laser tag, special events and more!
Location: Camp Fontanelle, 9677 County Road 3, Fontanelle, NE.
Come and meet a real-life superhero! From 11 to noon, a firefighter from the Omaha Fire Department will be visiting their store – and they're bringing a firetruck! Plus, Rainbow Trout will be making balloon animals
Location: 16909 Burke St, Omaha.
Calling all tweens and teens! Grab your friends and head to Tom Hanafan River's Edge Park for an afternoon of outdoor fun.
Location: River's Edge Council Bluffs, 4250 River's Edge Parkway, Council Bluffs.
Reserved kits can be picked up in-store at their customer service desk on Saturday, October 9th or Sunday, October 10th. If your kit is not picked up by 8 p.m. on Sunday, October 10th, it may be given to a non-registered customer.
Learn about trout fishing and all there is to know about catching this popular fish. All necessary equipment will be provided.
Location: Fontenelle Park, 4405 Fontenelle Blvd., Omaha, NE.
Contests for campsite decorating, pumpkin carving, bonfires and a scavenger hunt. All events take place at Owen Marina. See schedule here. A Nebraska State Park Entry Permit is required.
Location: Mahoney State Park, 28500 W. Park Hwy., Ashland, NE.
The Fall Finale encompasses several community events and activities with something for all ages to enjoy.
Halloween meets Chemistry! There will be comic book science activities and presentations throughout the Museum for kids and families to enjoy. Activity bags for the first 300 kids.
Kids (12 and under) admission is free Saturday 10/23 and Sunday 10/24, but note the SciPop event is only for Saturday, October 23.
This event is free for kids and brought to you by the Nebraska Local Section of the American Chemical Society and UNL.
Location: 28210 W. Park Hwy., Ashland, NE.
For only $5, you will get to pick your own pumpkin out of the Great American Pumpkin Palooza Patch, bounce in all of the bounce houses and enjoy the other activities.
Location: Master's Hand, 3599 County Road F, Tekamah, NE. (about 50 minutes North of Omaha)
Enjoy the live music, crafts, games, special guests, and food trucks.
Location: Council Bluffs Library, 400 Willow Ave., Council Bluffs, IA.
Activities planned during the Day of the Dead include crafts for children to make tissue paper marigolds, as well as skull and skeleton activities. There will also be a Day of the Dead storytime each day.
Location: 500 S. 20th St., Omaha, NE.
Visit a variety of local donut shops this Fall including the popular Apple Cider Doughnuts!
Fall is perfect for sharing Ice Cream with friends – including the Tower, an old-fashioned Soda Fountain, and more!
Choose from a variety of locations that are not too far from Omaha. Explore a new destination, go on an adventure, and create new memories!
Day Trips, Road Trips, Cabins to Rent, and more!
Members of certain libraries can check out a pass to visit one of the following locations:
Durham Museum – Members of all 12 Omaha Public Library branches, Bellevue Public Library, Bennington Public Library, Council Bluffs Public Library, Fremont Public Library.
Fontenelle Forest – Members of the Omaha Public Library, Bellevue Public Library, or Council Bluffs Public Library.
Lauritzen Gardens – Members of the Omaha Public Library, Bellevue Public Library, or Council Bluffs Public Library.
The Omaha Area is full of neighborhood parks with walking trails, playgrounds, swings, picnic areas, and more!
Enjoy the outdoors with tips for 8 of the best places to go camping near Omaha.
Looking for a great Day Trip near Omaha? Check out these fun ideas for nearby adventures!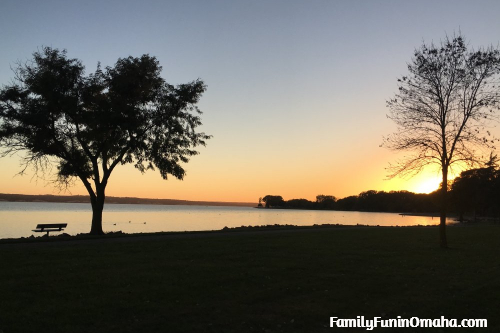 Looking for a little getaway with your family? Choose from a variety of Road Trip ideas that are not too far from Omaha. Explore a new destination, go on an adventure, and create new memories with your family!
FIND MORE HELPFUL RESOURCES:
We do our best to share current information in Family Fun in Omaha, but event details may change. It is always a good idea to verify the information before visiting.
Have a wonderful fun-filled October!