Celebrate Halloween in Omaha with fun events including parades, storytimes, costume contests, pumpkin carving, trick-or-treating, and more!
Check back as more Halloween events in Omaha will be added throughout the season as details become available. It is always a good idea to verify the information with the business before visiting. 
Special thanks to Nobbies, the Halloween Superstore, for sponsoring this Halloween Guide! Find a variety of costumes, party goods, accessories, and more to help you celebrate Halloween!
The giveaway has ended. Many thanks to all who entered! Congratulations to Michelle H.!
Keep updated on the latest Omaha fun and Sign up for our Free Email Newsletter!
Looking for FREE Halloween Fun? Find many FREE Halloween Events in Omaha here: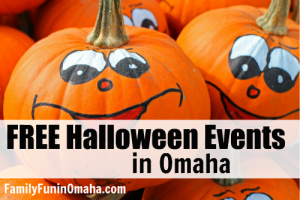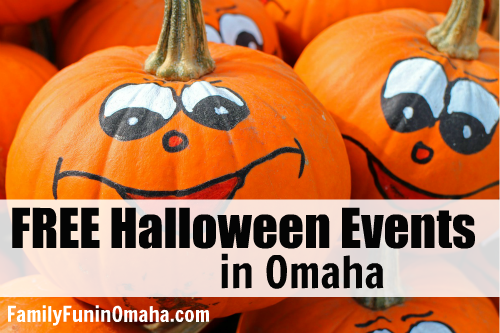 Jump Directly to the Current Week:
Find these and many more events in our Omaha Kids Calendar!
Ongoing Events
Find many options for Fall fun at 20+ area pumpkins patches, corn mazes, orchards, and more ongoing Fall events.
Fun activities like Owl prowl, Trunk-or-treat, Halloween skate, and more.
Many events, including parties, storytimes, crafts and more at Omaha Public Libraries.
Celebrate Halloween at many Nebraska State Parks.
The Not-So-Scary haunted house gives young visitors a chance to experience a taste of the Halloween creepies without fear. Included with regular museum admission
October 2 – 8
Participating local Marcus Theaters are Twin Creek Cinema Bellevue, and Village Pointe Cinema.

October 5 – 7: The Shining
October 12 – 14: A Nightmare on Elm Street
October 19 – 21: The Exorcist
October 26 – 28: Halloween
Go on a haunted hike, enjoy a hot dog supper, roast marshmallows and play ghostly games for candies in the great outdoors. Reservations are required. Children 2 and under are free. Event cost does not include general Wildlife Safari Park admission during the operating hours of 9 a.m. to 5 p.m.
The 2-day event features superhero aircraft, unique muscle cars along with rare autos, and there are several model train displays throughout the Museum.
Oct. 7 is Superhero Day (10 a.m. – 2 p.m.) – Meet, take pictures with, and collect autographs from Wonderful Woman and Spider Guy. Plus, kids can create their own super hero cape. Come in costume, bring a bag, and trick-or-treat around various stations at the Museum.
Planes, Trains, and Autos and Super Hero Day are included in the cost of general admission and are free for Museum members.
All the regular fall fun, plus face painting and bounce house.
Carnival games, with princesses, balloon artists, stilt walkers, kids crafts, bounce house, and more! Dog-friendly event – bring your pup in costume and get a tasty treat. Get 20% off Halloween decor!
Locations: Omaha Store – Bel Air Plaza at 120th & Center, Bellevue Store – Twin Creek Plaza at 42nd & Hwy 370.
October 9 – 15
Participating local Marcus Theaters are Twin Creek Cinema Bellevue, and Village Pointe Cinema.

October 5 – 7: The Shining
October 12 – 14: A Nightmare on Elm Street
October 19 – 21: The Exorcist
October 26 – 28: Halloween
Participating local Marcus Theaters are Twin Creek Cinema Bellevue, and Village Pointe Cinema.

October 13 – 15: Monsters vs. Aliens
October 20 – 22: Shrek (Trick-or-Treat Costume Party at 9 a.m. before Shrek with crafts, games, snacks and more.)
October 27 – 29: The Book of Life

Many events, including parties, storytimes, crafts and more at Omaha Public Libraries.

Join in a Monster Mash, concoct witches brew, munch on ghoulish goodies, and decorate a Halloween bag! $12 per crafter, suitable for ages 18 mos. to 5 yrs.

$1 off admission if in costume with a costume contest at 3:30 p.m. with prizes.

Take a hay rack ride to the pumpkin patch, make crafts, and other fun activities. Hay rack rides will be offered from 10 a.m. – 12 p.m. (Pumpkins are $2 each.) Location: 3033 Hummel Park Road.

Spooktacular at Omaha Zoo and Aquarium – 10/14, 10/15, 10/20, 10/21, 10/22, 10/27, 10/28 & 10/29; (5:30 – 8:30 p.m.)

See free-flying bats or nocturnal animals during their daylight cycle. The evening includes admission to Omaha's Henry Doorly Zoo and Aquarium after-hours, trick-or-treating and fun interactive activities.
Purchase tickets in advance for $8.95 per person for Omaha's Henry Doorly Zoo and Aquarium members or $9.95 per person for non-members online or at Guest Services. Children 2 and under are free. Spooktacular event tickets do not include general Zoo admission.

October 16 – 22

Participating local Marcus Theaters are Twin Creek Cinema Bellevue, and Village Pointe Cinema.

October 5 – 7: The Shining
October 12 – 14: A Nightmare on Elm Street
October 19 – 21: The Exorcist
October 26 – 28: Halloween

Participating local Marcus Theaters are Twin Creek Cinema Bellevue, and Village Pointe Cinema.

October 13 – 15: Monsters vs. Aliens
October 20 – 22: Shrek (Trick-or-Treat Costume Party at 9 a.m. before Shrek with crafts, games, snacks and more.)
October 27 – 29: The Book of Life

Many events, including parties, storytimes, crafts and more at Omaha Public Libraries.

Spooktacular at Omaha Zoo and Aquarium – 10/14, 10/15, 10/20, 10/21, 10/22, 10/27, 10/28 & 10/29; (5:30 – 8:30 p.m.)

See free-flying bats or nocturnal animals during their daylight cycle. The evening includes admission to Omaha's Henry Doorly Zoo and Aquarium after-hours, trick-or-treating and fun interactive activities.
Purchase tickets in advance for $8.95 per person for Omaha's Henry Doorly Zoo and Aquarium members or $9.95 per person for non-members online or at Guest Services. Children 2 and under are free. Spooktacular event tickets do not include general Zoo admission.

Collect healthy treats at various stations throughout the Museum, get your picture taken with characters, and enjoy a safe and fun night of play.
Included with regular museum admission and Free to members.

Fun farm games, songs, and a hayride as you trick-or-treat in each of the barns and pens. Costumes are encouraged. Lunch concessions and picnic tables are available.
$5 per trick-or-treater and no charge for accompanying adults. Cash or check only please.

Crafts, games, and an all-ages costume contest. Location: 3457 South 84th Street.

Take a hay rack ride to the pumpkin patch, make crafts, and other fun activities. Hay rack rides will be offered from 10 a.m. – 12 p.m. (Pumpkins are $2 each.) Location: 3033 Hummel Park Road.

Youth and adults are all welcome to wear their favorite costumes to the party. Enjoy a shadow storytime, make-and-take crafts, and make some delicious treats. After the party, go trick-or-treating in the library. Location: 215 S. 15th St.

The Sons of the American Legion at Post 1 Omaha is hosting a free family Halloween event. Kids are encouraged to come in costume. Games, costume contest, prizes, and a kid friendly meal/drink will be provided. Free will donations are welcome. Contest will be judged at 12:30 p.m.

Kids, wear your costumes, and parade around to trunks for goodies. Location: 9270 Cady Ave.

Proceeds will benefit childhood obesity prevention programs at Children's Hospital & Medical Center. The 1-mile walk and 5K run courses begin and end at Rockbrook Village at 108th Street and West Center Road. The Kids Dash is open to children ages 5 to 10. Enjoy vendors and interactive activities on site, including tours of Children's ambulance, face painting, balloon art, music and more. Treat bags for kids will be provided.

October 23-31

Participating local Marcus Theaters are Twin Creek Cinema Bellevue, and Village Pointe Cinema.

October 5 – 7: The Shining
October 12 – 14: A Nightmare on Elm Street
October 19 – 21: The Exorcist
October 26 – 28: Halloween

Participating local Marcus Theaters are Twin Creek Cinema Bellevue, and Village Pointe Cinema.

October 13 – 15: Monsters vs. Aliens
October 20 – 22: Shrek (Trick-or-Treat Costume Party at 9 a.m. before Shrek with crafts, games, snacks and more.)
October 27 – 29: The Book of Life

Many events, including parties, storytimes, crafts and more at Omaha Public Libraries.

Listen to slightly scary stories at 6 p.m. in the Library Meeting Room. Then visit the Senior Center for a game of Bingo. Trek over to the Community Center Gym for crafts, games, snacks, and treats. Costumes are encouraged, but not required. Registration Recommended. Location: 2920 Bondesson Street.

Come for slightly scary stories at 6 p.m. in the Library Meeting Room. Then visit the Senior Center for a game of Halloween Bingo. Trek over to the Community Center Gym for crafts, games, snacks, and treats. Event ends at 7:30 p.m. Costumes are encouraged, but not required. Registration recommended. Location: 2920 Bondesson Street.

Collect healthy treats at various stations throughout the Museum, get your picture taken with characters, and enjoy a safe and fun night of play.
Included with regular museum admission and Free to members.

This unique trick-or-treat experience takes guests throughout the museum to find historical characters handing out yummy treats. Come in costume, make a craft, tour the Haunted Train and the Cobweb Caboose, play games, join in spooky experiments with Dr. Oxygen, and more. End the night with a performance by UNO's The Moving Company and a costume conga line! Included with regular admission.

Kids wear your costumes and come for story time, crafts, games and bounce house fun. For ages 5 and under. Location: 4808 Cass Street.

This is a free event open to families of children with special needs and their siblings.
Children can participate in an obstacle course, scavenger hunt, and Halloween-themed activities to promote gross motor skills, fine motor skills, and language-building skills in a fun and safe environment.Parents will receive information on nutrition, physical activity, sensory processing, and activities to make Halloween fun for the entire family. To RSVP, call (402) 280-2200 or email pediatrictherapy@creighton.edu.

Costume contest with prizes, haunted maze, and more.

Costume contest, games, prizes, bounce houses, and activities for all ages. Canned food donations will be accepted at the door to benefit the Sarpy County Food Pantry. Wear your Halloween costume.

Spooktacular at Omaha Zoo and Aquarium – 10/14, 10/15, 10/20, 10/21, 10/22, 10/27, 10/28 & 10/29; (5:30 – 8:30 p.m.)

See free-flying bats or nocturnal animals during their daylight cycle. The evening includes admission to Omaha's Henry Doorly Zoo and Aquarium after-hours, trick-or-treating and fun interactive activities.
Purchase tickets in advance for $8.95 per person for Omaha's Henry Doorly Zoo and Aquarium members or $9.95 per person for non-members online or at Guest Services. Children 2 and under are free. Spooktacular event tickets do not include general Zoo admission.

Come have some Halloween fun in the pool. Location: 10242 Mockingbird Drive.

Trick or Treating, a feature film presentation, Live Action Character Meet & Greets, and Fireworks.

Create a haunted gingerbread house. All supplies included. Registration required. Location: 4808 Cass Street.

Jump, swing, play, explore, make and take trick-or-treat bag, healthy snacks, and more. Children are welcome to wear costumes (but not required). Free for Go! Kids' Gym Members. $9 per child (2 and under FREE with paying sibling).

Westroads Mall will give away Free Trick-or-Treat bags (while supplies last) filled with goodies and coupons from Westroads Mall retailers. NEW LINE UP LOCATION THIS YEAR – The line for the bags will form at the Flagship Commons entrance on the North West side, second level. Children will then be allowed to trick-or-treat inside the mall at the various participating retailers.

Enjoy a not-so-spooky story time, obstacle course and bounce house in the gym, make a spooky craft, and play fun Halloween-themed games. Location: 14850 Laurel Avenue.

Trick-or-Treat Down Main Street, Benson Community Center will have games and treats inside.

An indoor option to trick-or-treat and skate. $3 admission includes skating, rentals, and more.

Come to the garden in costume and explore the visitor and education center and the garden, and enjoy trick or treating at twelve different activity stations throughout the garden. Learn about pumpkins, spiders and other creepy crawlies, and make a few ghoulish crafts to take home.
This event is Free with paid garden admission or membership. Admission is $10 for adults, $5 for children 6-12, and free for members and children under six.

Enjoy trick or treating, free hay rack rides, and more!

Kids can wear their costume, make a craft, and trick-or-treat at non-scary stations. $7 per trick-or-treater, suitable for ages 1-12. This is an allergy-free event.

Trick-or-treating on Main Street and games and activities in Center Court.

Halloween Carnival for all kids 5th grade and younger. Enjoy carnival games, an inspirational craft, and yummy snacks. Please keep costumes from being scary, witchy, or ghoulish.

Hay rack rides, trick-or-treating, spook tent (merry, not scary!), and free hot dogs. Location: La Vista Community Center (8116 Park View Blvd.)

More Fun to Come …

Come for pumpkin carving, costume contest, tram ride, and s'mores.

Get scared silly in the haunted pasture, ride the kids mini train, and keep warm around the campfire. Proceeds are for the benefit of the Tangier Keystone Kops and Mobile Nobles activities. Adults $12, kids $5, 2 and under free.

Halloween Benefit Party – TBA, (7 – 11 p.m.)

Job's Daughters Bethel #1 of Papillion will host a Halloween party to raise money for the HIKE Fund at the Papillion Masonic Center (8411 Centennial Road). From 7 – 8:30 p.m., children ages 9 and under can enjoy activities and games. At 8:30 pm, youth ages 10 and up are welcome to attend a Halloween dance. Costumes and encouraged for all attendees. The cost to attend is $10. Portions of the proceeds from the event will go to the HIKE Fund, the Job's Daughters official philanthropy which helps children who are deaf or hard of hearing purchase assistive hearing devices.

Come in costume for trunk-or-treat in the parking lot.

Kids can trick-or-treat throughout the store. Check-in table at the Event Center in Omaha.

Free trick-or-treat bags, pumpkins, and more. Guest appearances by Elsa, Cinderella, Spiderman, and Superman. Check-in at 12315 West Center Road (Right next to Great Clips.)

Come dressed in your Halloween costume to enjoy an evening of fun. Your child will get the opportunity to enjoy Games, the Haunted Bounce House, Crafts and much more.
Members: Free. Non Members: $8/Family. Please register your family for this event. Adults must be in attendance with their children. There is no charge for adults.

Day of fun raising awareness about Nebraska's children waiting for foster and adoptive homes. Includes Free family-friendly activities, teen-sponsored contests, and over 1,000 pumpkins all cleaned and ready to be carved by you and your family. The tree will remain lit through Halloween.

Stop by your local Hy-Vee for cookie decorating, coloring and mini pumpkin decorating. The first 100 kids in costume through the door will receive a free glow-in-the-dark trick-or-treat bag.

A hint of wizardry and a spirit of good fun await at this Harry Potter-themed Halloween concert. Celebrate in character with colorful costumes, trick-or-treating, and magical surprises.

Adults/Caregivers will read "There was an Old Mummy who Swallowed a Spider" by Jennifer Ward as children collect small prizes (while supplies last) at each stop along the way. Put on your costumes, pack a flashlight and join in this exciting outdoor activity. Prize bags will be provided.
All ages welcome. Registration is not required. Location: 8120 S. 92nd Avenue, La Vista.

Monday – Friday, October 24-28 (6 – 8 p.m.), Saturday & Sunday, October 29-30 (Noon – 5 p.m.), Halloween Night Only, October 31 (4 – 8 p.m.).
Free 4×6 photo and crafts, and Halloween fun. See website for schedule of events.

Indoor, all ages event with trick-or-treating, games, and other fun activities. Location: Montclair Community Center, 2304 S. 135th Ave.

All ages welcome. Come and create your own spooky house. Supplies provided.

Chili feed (gym): 5:30-6:30. Trunk or Treating (outside): 6:30-7:30.

Bring the kids to RHS to get treats.

This party, designed for children ages 5 and younger who are not in kindergarten, will feature Halloween books, songs, a costume parade, and more. Wear your costume and bring a bag for treats. Location: 9110 Giles Road.

Enjoy trick-or-treating at participating stores marked with a pumpkin.

Face Painting, Games, Balloon twisting , story time, chances to win movie passes and other goodies on the prize wheel, and trick-or-treating throughout the mall.

 Event is designed for children 3rd grade and younger accompanied by an adult (or a Bryan High student) who donates canned or boxed food per person entering.

Wear Your Costume and Trick or Treat at participating retailers throughout the Mall from 6-9 p.m.  Treats, Dance Contest, Costume Contest, Mini-Movie Theater.

No tricks, all treats for a safe Halloween the whole family can enjoy. Dress up the little ones for their Halloween adventure of treats at each vendor table while you shop. Free admission.
Location: Great Plains Veterans Building, 7612 Maple Street.

Costumed guests are invited to explore the museum and receive non-food "treats" along the way.

Children ages 8 and younger and their families are welcome at this annual Halloween event. Pick out your favorite costume and enjoy free candy, games, activities, and more. Mav Kids will be collecting non-perishable food items for the Omaha Food Bank as well as towels and blankets for the Town and Country Humane Society. Donations will be collected upon your arrival.

Free treats for the kids, plus sample stations set up throughout the store to give parents some tasty snack ideas for Halloween parties.

Enjoy trick-or-treating at Regency Court.

Fun family evening with candy and games. Location: Messiah Lutheran Church, 5015 S. 80th St, Ralston.

Wear your costumes and bring little ones for a special themed trail at Hitchcock. Program will include pumpkin painting and carving, modern day apple bobbing, and refreshments. Please meet at the Fox Run Ridge Trailhead. Pre-registration is required by Wednesday, October 26. All attendees will need a valid annual park permit or will need to purchase a $2 per vehicle daily entrance pass to enter the park. Weather permitting.

Kids can dress in costume and trick-or-treat at candy stations, free children's books, and more.

Trick or treating up and down main streets of Old Town Bellevue, Costume Contest, and more.

Enjoy a Free Pancake, Kids Eat Free, and more!

Come in your costume to the Marquis Place Nursing Home (20800 W. Maple Road, Elkhorn) for a Halloween storytime followed by trick or treating with their patrons. Recommended for ages 15 months to 3 years, though children of all ages are welcome. Childcare groups, please call in advance.

Enjoy a story or two and then trick-or-treat at the library and through downtown businesses. Costumes welcome.

Come for a Halloween celebration with games and refreshments for everyone. Wear your costume. Location: 5701 N. 16th Street.

Come trick-or-treat inside. Many tables will be set up handing out goodies and free cider and hot chocolate. Location: Holy Cross Lutheran Church, 4117 Terrace Drive.

Check back as more Halloween events in Omaha will be added throughout the season as details become available! It is always a good idea to verify the information with the business before visiting. 

Other helpful resources: