Enjoy many family-friendly events coming up in the Omaha area, including these 10+ FREE Events in October!
Join our growing community and keep updated on Omaha family-friendly events and activities and Sign up for our Free Email Newsletter!
Find more events in the Omaha Halloween Guide and FREE Halloween Events Guide!
PLEASE NOTE: Many events require pre-registration, have limited capacity, or offer timed slots. As things continue to change during this time, it is highly recommended to verify details, closures, cancelations, hours of operation, and any requirements or procedures for guests before visiting. Thank You!
FREE Ongoing Activities:
Each week, stop by the Youth Desk and pick up your kit to take home. Kits are designed for children kindergarten through 6th grade. One kit per child. New kits available Monday through Sunday.
Sept. 28 – Oct. 4: Wild Smiles
Oct. 5 – 11: Mystery Bags
Oct. 12 – 18: Spider Web Door Hanger
Oct. 19 – 25: DIY Chameleon
Oct. 26 – 31: Pumpkin Faces
Location: 400 Willow Ave., Council Bluffs, IA.
Each week, stop by the Youth Desk and pick up your kit to take home. Designed for children 5 years old and younger.
Sept. 28 – Oct. 4: Bears
Oct. 5 – 11: Fire Safety
Oct. 12 – 18: Pumpkins
Oct. 19 – 25: Night Animals
Oct. 26 – 31: Halloween
Location: 400 Willow Ave., Council Bluffs, IA.
Farnam Fest – Fridays, Oct. 2 – 3, FREE
Friday night, 5 – 9 p.m., kicks off with a Food Truck Rally with dueling DJs.
The fun continues on Saturday, from 2 – 9 p.m., with live music, a Makers Market, pet parade, and more, all in a socially-distanced, outdoor setting!
Location: Blackstone District, from 36th St. to 42nd St. along Farnam St., Omaha, NE.
Walkers will hike on the trails from Santa's Workshop to the tennis courts in Central Park and back again.
The City will provide glow items for the journey!
Location: Civic Center Park, La Vista, NE (meet near Santa's Workshop).
Friday Family Movie Nights at the Orchard will continue all fall!

Friday, Oct. 2 (7 p.m.): Casper
Friday, Oct. 9 (6:50 p.m.): Hocus Pocus
Friday, Oct. 16 (6:40 p.m.): The Nightmare Before Christmas
Friday, Oct. 23 (6:30 p.m.): Goosebumps
Friday, Oct. 30 (6:20 p.m.): Ghostbusters

Location: 19475 225th St., Council Bluffs, IA.
Take a walk on the trail and pages of a picture book discussing topics about acceptance and friendship. By the time you finish your walk you will have read the book in entirety.
Location: Walnut Grove Park, 15050 Q St., Omaha, NE & Crosskey Villages Park
2222 Papillion Pkwy.
Kids can listen to a new story each week.
Location: Online.
Listen to the classics from the movies, Broadway shows, and operas. Bring blankets and chairs. Seating is limited due to safety procedures for physical distancing.
Location: Holland Center's East Lawn, 1200 Douglas St., Omaha, NE.
Pick-up a free Halloween mask craft activity in store. Plus, get an extra-savings coupon.
Location: All JCPenney store locations.
Alpacas, bunnies, goats, and donkeys, then, before you leave, grab a free Hey Clay craft activity to go. Masks and social distancing will be encouraged.
Location: 16909 Burke St, Omaha.
Trunk-or-Treat – Oct. 22 (5 – 8 p.m.), FREE
Collect treats from decorated cars.
Location: Quaker Steak and Lube, 3320 Mid America Dr., Council Bluffs, IA.
2020 Baseballoween – Friday, October 23, (3 – 8 p.m.), FREE [Must sign up for time slot.] SOLD OUT
Dress up and join in the 9th Annual Baseballoween event at Werner Park. This FREE and family-friendly event will include plenty of trick-or-treating and several Halloween activities including Arts & Crafts, the Witch Ring Toss and Pass a Pumpkin.
Timeslots from 3-8 p.m. must be reserved ahead of time here. There a maximum of 100 people per time slot.
Location: Werner Park, 12356 Ballpark Way, Papillion, NE.
Boo Drive Thru at Oak View Mall – Oct. 23 (6 – 8:30 p.m.), FREE [Reserve Craft Bag, Limited Supply]
Decorate your car, wear your costume, drive-thru and see fun (not scary) Halloween decorations. Receive a treat bag with a take-home craft, offers and discounts to various Oak View Mall restaurants and stores (reserve via link below). No need to ever leave your car.
Reserve your treat bag here. Please note the bag with craft and other offers are available while supplies last (500 available – must have registered with Eventbrite per bag needed). One per child. Pick up must be made during the designated time reserved on eventbrite. There will be no holds. Once supplies are gone families are still welcome to drive thru the event to see the decorations.
Location: The entrance for the event is located at Oak View Mall – West Center Road and Oak View Drive entrance.
Meet and greet with Elsa from Frozen and Captain America in the pavilion and trick-or-treat at your favorite Rockbrook Village stores.
Location: Rockbrook Village, 2800 S. 110th Ct., Omaha, NE.
Come in costume and even feel free to decorate your car as you adventure through the parking lot visiting themed stations and collecting treats and trinkets along the way. Plus, watch a Halloween laser light show from the comfort and safety of your car.
Vehicles must enter the Drive-Thru event from the museum's lower parking deck at 9th & Leavenworth Streets (and exit on the upper level).
Location: 801 S. 10th St., Omaha, NE.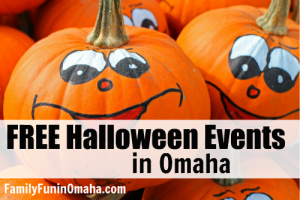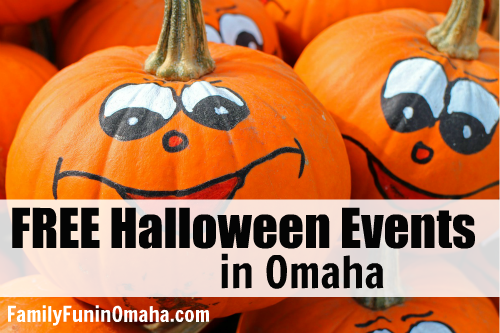 MORE FUN –
Special events that are not free, but value-priced!
Experience where volunteers portray life at an 1820's military fort.
A Park Entry Permit is required.
Location: Fort Atkinson State Historical Park, 201 S. 7th St., Fort Calhoun, NE.
Bring your whole family out to a fun night of swimming. The capacity will be at 75 people.
Location: Mockingbird Hills Community Center, 10242 Mockingbird Dr., Omaha, NE.
More Fun this October