Enjoy many family-friendly events coming up in the Omaha area, including these 10+ FREE Events in October!
Join our growing community and keep updated on Omaha family-friendly events and activities and Sign up for our Free Email Newsletter!
Find more events in the Omaha Halloween Guide and FREE Halloween Events Guide!
Please Note: It is always a good idea to verify before visiting as dates and times may change.
FREE Ongoing Activities:
Each week, stop by the Youth Desk and pick up your kit to take home.
Sept. 28 – Oct. 4: Bears
Oct. 5 – 11: Fire Safety
Oct. 12 – 18: Pumpkins
Oct. 19 – 25: Night Animals
Oct. 26 – 31: Halloween
Location: 400 Willow Ave., Council Bluffs, IA.
Sept. 29: Kids Club Online: Monster Pumpkin
Oct. 1: Kids Club Online: Lion Pumpkin
Location: Online.
Farnam Fest – Fridays, Oct. 2 – 3, FREE
Friday night, 5 – 9 p.m., kicks off with a Food Truck Rally with dueling DJs.
The fun continues on Saturday, from 2 – 9 p.m., with live music, a Makers Market, pet parade, and more, all in a socially-distanced, outdoor setting!
Location: Blackstone District, from 36th St. to 42nd St. along Farnam St., Omaha, NE.
Walkers will hike on the trails from Santa's Workshop to the tennis courts in Central Park and back again.
The City will provide glow items for the journey!
Location: Civic Center Park, La Vista, NE (meet near Santa's Workshop).
Friday Family Movie Nights at the Orchard will continue all fall!

Friday, Oct. 2 (7 p.m.): Casper
Friday, Oct. 9 (6:50 p.m.): Hocus Pocus
Friday, Oct. 16 (6:40 p.m.): The Nightmare Before Christmas
Friday, Oct. 23 (6:30 p.m.): Goosebumps
Friday, Oct. 30 (6:20 p.m.): Ghostbusters

Location: 19475 225th St., Council Bluffs, IA.
Take a walk on the trail and pages of a picture book discussing topics about acceptance and friendship. By the time you finish your walk you will have read the book in entirety.
Story Walk in the Park runs Sept. 22 – Oct. 1.
Location: Walnut Grove Park, 15050 Q St., Omaha, NE & Crosskey Villages Park, Omaha, NE.
Kids can listen to a new story each week.
Location: Online.
Stroll through the corn maze, visit the Petting Barn, try out the new Roller Racers and giant slide, take a ride on the zipline, and get a tour of the camp with a hayrack ride.
Oct. 25: Search for Treats – Child admission is FREE with the donation of a toy for Toys For Tots.
Location: 9677 County Road 3, Fontanelle, NE.
Listen to the classics from the movies, Broadway shows, and operas you know and love. Bring blankets and chairs.
Location: Holland Center's East Lawn, 1200 Douglas St., Omaha, NE.
Pick-up a free Halloween mask craft activity in store. Plus, get an extra-savings coupon.
Location: All JCPenney store locations.
Wear your Halloween costume to this fun holiday storytime.
Location: Main Library, 736 South St., Gretna, NE.
Collect treats from decorated cars.
Location: Quaker Steak and Lube, 3320 Mid America Dr., Council Bluffs, IA.
All weekend long, children 12 and under get in FREE…costumes encouraged!
Wander through the Haunted Great Hall, participate in a scavenger hunt with historic characters, an take home a goody bag and craft.
Location: 801 S. 10th St., Omaha, NE.
Meet and greet with Elsa from Frozen and Captain America in the pavilion and trick-or-treat at your favorite Rockbrook Village stores.
Location: Rockbrook Village, 2800 S. 110th Ct., Omaha, NE.
Safe, fun and family-friendly Halloween trick-or-treat event.
Location: 5051 F St., Omaha, NE.
Come in costume and even feel free to decorate your car as you adventure through the parking lot visiting themed stations and collecting treats and trinkets along the way. Plus, watch a Halloween laser light show from the comfort and safety of your car.
Location: 801 S. 10th St., Omaha, NE.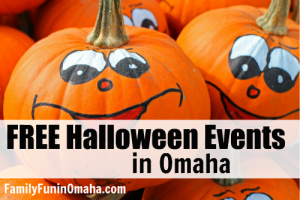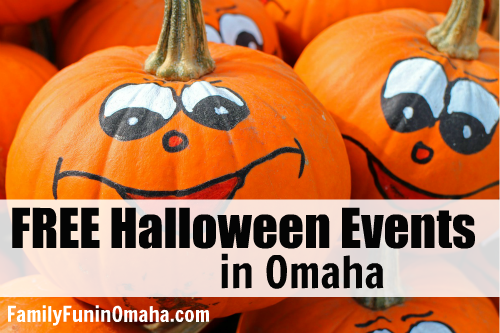 MORE FUN –
Special events that are not free, but value-priced! Find more events here!
Bring your whole family out to a fun night of swimming.
Location: Mockingbird Hills Community Center, 10242 Mockingbird Dr., Omaha, NE.
Families can come in and show off their Halloween costumes, enjoy Halloween-themed activities, and trick-or-treat for prepackaged goodies and treats. The museum's session times are later on both days: 12:30-3 p.m. and 4:30-7 p.m.
Capacity will be limited at each session, so it's recommended that families purchase admission tickets ahead of time at ocm.org. Event is included with museum admission. Reservations open one week in advance.
Location: 500 S. 20th St., Omaha, NE.
Safe and fun trick-or-treating. Plus, visit with the animals as you travel around the farm, take a hayride, and play some fun farm games.
Food and other vendors will be present as well.
Location: Gifford Farm Education Center, 700 Camp Gifford Rd., Bellevue, NE.
Walk and talk about the plant, animal, and mineral communities of the forest and prairies and their significance in the seasonal folklore and folk magic associated with Halloween.
Pre-registration is required for this event by October 16th as space is limited.
Location: Hitchcock Nature Center, 27792 Ski Hill Loop, Honey Creek, IA.
Safe, fun and family-friendly Halloween trick-or-treat event.
Location: 5051 F St., Omaha, NE.
Spooktacular hot rod car show indoor event! Wear your costume and come trick-or-treat! Plus, dance party, costume parade, photos with your favorite superheroes and princesses, not-so-scary stories, pumpkin painting (while supplies last), mad scientist experiments, and games and activities throughout the Museum!
Location: 28210 W. Park Hwy., Ashland, NE.
See MANY FREE Halloween Events here for this week!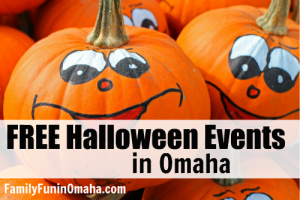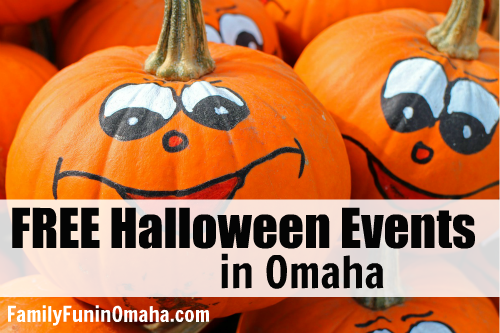 More Fun to Come…
Storytime, inflatables and games in the gym, and a not-so-spooky stage.
Location: Saddlebrook Community Center & Library, 14850 Laurel Ave., Omaha, NE.
Listen to some fun fall-themed stories from your friends at The Wonder Nook. There will be a surprise for each of the kiddos!
Location: Chick-fil-A, 76th & Dodge, Omaha, NE.
Celebrate the harvest and the changing of seasons with lots of fall fun and games for all ages.
Location: 200 Pearl St., Council Bluffs, IA.
In addition to the regular market, enjoy face painting and a bounce house for the kids, live music, craft vendors, specialty items, mini pumpkin decorating, and free hayrack rides!
Location: Village Pointe, 17305 Davenport St., Omaha, NE.
Meet a real firefighter from the Omaha Fire Department, who will be in the store to teach kids all about fire safety and fire prevention before they get to climb inside a real fire truck.
Location: 16909 Burke St. Omaha, NE.
Join the Omaha Public Library in the garden each month for stories that celebrate gardens, plants, insects and more, and discover the joys of nature, movement, music and literature. Programs are presented one Friday per month and are geared for preschool-aged children, but all ages are welcome. This is a FREE program. Register Here.
Location: Lauritzen Gardens, 100 Bancroft St., Omaha, NE.
Evenings include hiking, campfires, s'mores, crafts, games and other activities for the whole family to enjoy. Please RSVP online.
Location: 3033 Hummel Park Rd., Omaha, NE.
Participating tenants will provide treats to children, plus some surprise visitors. The first 1500 children will receive a trick-or-treat bag and foam glow stick. (Child must be present to receive bag and toy. One bag and foam toy per child.)
Special appearances by some favorite superheroes and princesses.
Location: Westwood Plaza, 120th & W. Center Rd., Omaha, NE.
Fat Brain Toys is turning 17 years old and they're throwing a big birthday bash with Donna Trout the clown, a magic show, balloon animal sculpting, free cookies, and 17% off your ENTIRE purchase!
Location: 16909 Burke St., Ste. 131, Omaha, NE.
Heritage Days – TBA [NE State Park Entry Permit required for events at Fort Atkinson State Historical Park]
Hands-on learning demonstrations, children's games, traditional foods, parade, and music. A Nebraska State Park Entry Permit is required.
Location: Fort Atkinson State Historical Park, 201 S. 7th St., Fort Calhoun, NE.
Halloween campsite decorating, kids' costume contest, pumpkin carving contest, kids' games and a bonfire. A Nebraska State Park Entry Permit is required.
Location: Mahoney State Park, 28500 W. Park Hwy., Ashland, NE.
Bring the whole family and spend the day enjoying: hatchet throwing, archery, marshmallow roasting, reptile shows, pellet guns and more. All activities are FREE!
Lunch will be available from 11 a.m. to 1 p.m. (Hot dog or Sloppy Joe w/ chips and drink for $3. Canned pop or water for $1.) A Nebraska State Park Entry Permit is required.
Location: Platte River State Park, 14421 346th St., Louisville, NE.