Disclosure: This post contains affiliate links, meaning I will receive a commission if you purchase through these links. 
The Total Solar Eclipse is happening on August 21, 2017, and many communities in Nebraska have fun activities planned!
To have a Total Solar Eclipse within driving distance is very exciting! The last one in the continental United States was in 1979.
 Keep updated on the latest Omaha fun and Sign up for our Free Email Newsletter!
Protect Your Eyes
Be sure to protect your eyes with special Eclipse Viewing glasses. Never look at the phases of the eclipse or directly at the sun without proper eye protection, including with binoculars, a telescope, or camera unless you have specialized equipment or proper filters.
The experts recommend to buy your eclipse glasses from trusted suppliers such as Rainbow Symphony, Thousand Oaks, or American Paper Optics.


Tip: It is recommended to get your glasses as soon as possible as these are in very high demand. Check your glasses carefully to make sure there are no scratches or holes. Find out more about Safe Solar Eclipse Viewing Glasses here and where to find them locally (in the comments).
Path of Totality in Nebraska
To see the total eclipse, you must be in the Path of Totality, which runs across the entire state. The path of totality is about 70 miles wide and will run the entire length of the country.
You can see the total eclipse any place in the path of totality. However, the closer you are to the center line the longer the eclipse will be for you.
To find out when the eclipse will happen, visit Xavier Jubier's 2017 Total Eclipse Interactive Google Map.
10 Nebraska Sites to Experience the Total Eclipse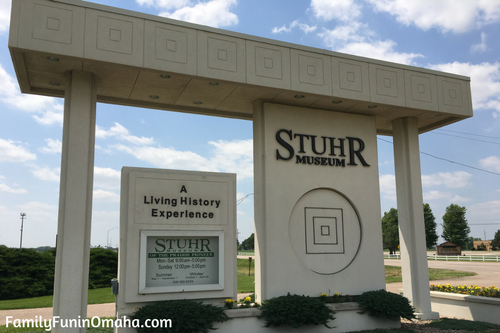 Grand Island
Eclipse Event – Monday, August 21, 2017, FREE Admission
The "Gem Over the Prairie" Eclipse Viewing event at the Stuhr Museum of the Prairie Pioneer will provide the perfect venue for viewing the Solar Eclipse. Viewing glasses will be provided free (while supplies last). This event is free and open to the public.
Visitors are welcome to stay after the eclipse and visit Railroad Town and the Stuhr Building. Read more about visiting Grand Island with Kids here.
Nebraska State Parks
Special events planned at Indian Cave State Park, Fort Kearny State Historical Park, Fort Robinson State Park, and other state parks and recreation areas. Eclipse glasses will be available at these parks while supplies last; bring your own to ensure you'll have a pair for safe viewing. Find out more here.
Kearney / Ravenna, NE
Kearney and Ravenna are collaborating on a weekend of events, with watch sites at the Arch Monument, various parks around the cities, and at the University of Nebraska at Kearney Cope Stadium, for a free, public Watch Party from 11 a.m.-2 p.m. The UNK Watch Party includes games, music and other live entertainment, and glasses are available for a small fee. Ravenna's Hometown Eclipse Festival will also host several viewing events with the main locations including entertainment, souvenir vendors, food vendors, activities and more! Find out more about Kearney and Ravenna Events here. 
Hastings, NE
SolFest 2017 is a weekend celebration located in Hastings, Nebraska. An incredible dinner, world-class guests, a day of live music, and Downtown Hastings transformed into an arts and crafts show. Find out more about Hastings SolFest 2017 here.
Fairmont, NE
Fairmont, NE, is located directly in the path of totality. Find out more here.
Beatrice, NE
Viewing site will be Homestead National Monument of America, Gage County Fairgrounds, Hidden Acres Golf Course in Beatrice, Blue Springs, Pickrell and Virginia. Find out more here.
Wessels Living History Farm – York, NE
They are accepting reservations for a great place on the farm to view the sky. Porta-potties will be available as well as breakfast and lunch concessions. Find out more here.
Pawnee County, NE
Reserve your place at several viewing locations in the county. Find out more here.
Lincoln, NE
Lincoln will enjoy over a minute of totality. Enjoy a Haymarket Park Science Fair and special Lincoln Saltdogs Baseball game. Find out more here.
Falls City
Observers there will see (approximately) 2m 37s of totality, one the longest in the US. Falls City will be hosting "Dine in the Dark", a luncheon on the downtown cobblestone streets. The ticket bundle will include the protective solar glasses you need to safely view the eclipse, a commemorative t-shirt and your meal ticket. Find out more here.
Crete and Wilbur, NE
Crete and Wilbur, NE, have partnered to bring Saline Solar Shadow – Eclipse Weekend Celebration. Find out more here.
Alliance, NE
Alliance, Nebraska is located in the center of the eclipse path. Find out more here.
Omaha and Surrounding Areas
That day, Omaha will experience 98 percent of totality at approximately 1 p.m.
Some events scheduled in Omaha include:
Fontenelle Forest – Bellevue, NE
Wildife Safari Park is right outside the path of totality. Enjoy a family-friendly viewing party of our own and other fun activities at 1 p.m. on the day of the eclipse.
The SAC Aerospace Museum is offering a Solar Eclipse event with a science education forum, free Planetarium shows, free eclipse viewing glasses, and outdoor viewing. Although the Museum is not in the path of totality, guests will see a partial eclipse from the museum.
The indoor festivities are part of general admission, and the outdoor viewing and glasses are free for all guests. General admission is $12/ adult, $11/ senior or military, $6/youth 4-12 years of age.
Experience the changing sky while floating around the lazy river. Arrive early and get a FREE pair of solar viewing glasses. Hours – 11 a.m. – 6 p.m. Cost – $12.95 per person.
Please note: Only the waterpark is open for the "Eclipse at the Plex" event. Rides & mini golf are not available. Solar glasses are available only while supplies last
Plan Your Visit
As Nebraska is one of the nearest locations for many neighboring states, many visitors are expected. Officials recommend arriving 1-2 days ahead of time. Most hotels within the Path of Totality have been booked for months, but some farms and other areas are opening their land for camping.
As of July 10, 2017 – Ravenna, NE (about 30 miles North of Kearney) – Just added 125 lakeside campsites. These will probably go quickly.
Helpful Eclipse Resources
Omaha Resources
We are excited to experience this Total Solar Eclipse in Nebraska!
View Helpful Viewing Guides in Other Cities
Greenville, SC – Kidding Around Greenville
Greenville, Columbia, and Charleston, SC – CSRAKids.com
Nashville, TN – Nashville Fun for Families
Northern Virginia and DC – Fairfax Family Fun
Southern Illinois – Chambanamoms.com
Disclosure: Contains Amazon affiliate links. See disclosure and privacy policy here.