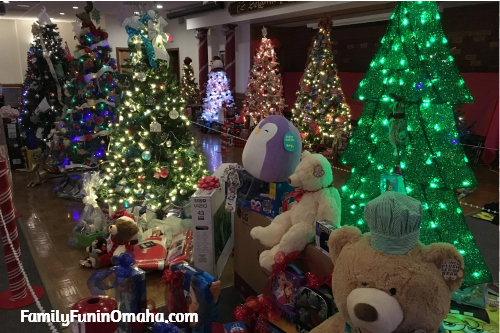 Enjoy many FUN things to do over Thanksgiving Weekend in Omaha including Tree Lightings, Festivals, and more! Have a fun-filled Thanksgiving Break with these ideas!
Join our growing community and keep updated on Omaha family-friendly events and activities and Sign up for our Free Email Newsletter!
It is always a good idea to verify the information with the business before visiting.
Find More Holiday Fun:
Things to Do Over Thanksgiving Weekend in Omaha
This year the race is virtual, so you get to complete your event whenever and wherever you want! Included with your registration fee is a long sleeve 2020 YMCA Turkey Trot shirt. Upon completion of your race and submission of your time you'll receive a virtual goody bag with coupons and deals!
Nov. 7 (5 p.m.): Santa's Arrival
Santa's Wonderland offers Contactless Claus visits, free Photo with Santa, and free take-home holiday craft activity kits.
Make your reservation in advance beginning Nov. 2nd.
Location: Cabela's, 12703 Westport Pkwy., La Vista, NE.
Santa's Wonderland offers Contactless Claus visits, free Photo with Santa, and free take-home holiday craft activity kits.
Make your reservation in advance beginning Nov. 2nd.
Location: Bass Pro Shops, 2901 Bass Pro Dr., Council Bluffs, IA.
Featuring live music from the era and a virtuosic cast playing multiple roles, this production is the perfect homage to the power of community.
Location: The Rose Theater, 2001 Farnam St., Omaha, NE.
Experience Omaha's favorite holiday tradition in a reimagined small cast version with eight cast members! Filled with stunning Victorian costumes, festive music and crisp, wintry sets, A Christmas Carol is a beautiful reminder that love and generosity are the heart of the Christmas holiday.
Location: Omaha Community Playhouse, 6915 Cass St., Omaha, NE.
6. Tangier Shrine Feztival of Trees – Nov. 21 – 28 (hours vary – see the website for details). Admission is $2 per person (kids 12 and under are free).
Come see the trees — and win the trees! Buy raffle tickets for $1 each and deposit your raffle ticket in the bucket for the tree — or trees — you want to win (one winner will be drawn for each tree, so there will be more than 60 winners).
Location: 2823 S. 84 St. (just south of 84th and Center), Omaha, NE.
Enjoy delicious homemade treats at the Snowflake Cafe, including breakfast items (try the yummy homemade pecan rolls), sandwiches, special drinks, and desserts, including homemade sugar cookies!
Closed Thanksgiving Day.
This holiday season, step into the floral display hall, transformed into a comfy, cozy space that is full of joy, cheer, and of course, plants. Adding a bit of nostalgia, guests can enjoy the whir and whistle of a model garden train as it goes around and around the majestic 20-foot-tall poinsettia tree. Plus, thousands of vibrant poinsettias, amaryllis, and other festive florals and foliage deck the hall.
Family Chill Zone gives families a place to relax, warm up, and to enjoy the winter weather. S'mores kits will be available for purchase.
Included with regular admission. Closed Thanksgiving, Christmas Day, and New Year's Day.
Location: Lauritzen Gardens, 100 Bancroft St., Omaha, NE.
8. Santa's Woods – Nov. 27 – Dec. 13 (9 a.m. – 4:30 p.m.)
Santa's Woods will be open with ALL activities (hayrack rides, face painting, s'mores station, Santa, Reindeer, Gift Shops) Nov. 27 – 29.
Limited activities available Nov. 30 – Dec. 13.
Dec. 5-6: First Responder & Military Members Weekend & Trees for Troops – First Responders and Military Members receive a 10% discount on Trees & Wreaths with valid ID this weekend only. (Not valid with any other offers.)
Location: Santa's Woods, 3764 State Highway 133, Blair, NE
visit Santa, meet his live reindeer, and enjoy a carriage ride around the village. Shop at your favorite stores while the kids enjoy sweets and treats with a holiday scavenger hunt.
Location: Rockbrook Village, 2800 S. 110th Ct., Omaha, NE.
Enjoy a variety of holiday activities.
We Hope These Events Return in 2021:
We count our blessings the day before Thanksgiving! Tie fleece blankets for The Humane Society, put together a meal for Youth Emergency Services, and decorate placemats for The Children's Hospital.
Location: The Wonder Nook Omaha, 10806 Prairie Hills Dr., Omaha, NE.
Kick-off the holiday season with a spectacular parade and the lighting of the holiday tree in the center of Main Street.
Location: Shadow Lake Towne Center, 7775 Olson Dr., Papillion, NE.
Tree lighting happens at approximately 7 p.m. Entertainment, cookie decorating, holiday crafts, live music, and more. Included with admission.
Location: The Durham Museum, 801 S. 10th St., Omaha, NE.
Join in for the Lights of Aksarben Tree Lighting at 6 p.m., and help The Godfather count it down. There will be a heated tent, free horse and carriage rides, free face painting, free food and drink, and the wonderful sounds of the Salem Baptist Church! Santa and Mrs. Claus will arrive after the tree is lit.
Location: Stinson Park, 2232 S. 64th St., Omaha, NE.
Annual Holiday Lighting Celebration includes The Peppermint Elves Family Holiday Concert, Santa Parade, and free carriage rides.
Location: Village Pointe, 17202 Davenport St., Omaha, NE.
Have fun making your own stocking ornament this holiday season, then paint your creation to make it truly unique.
Enjoy family activities and experience many of Omaha's leading downtown attractions for FREE including Omaha Children's Museum, The Durham Museum, Downtown YMCA, Omaha Police Mounted Patrol Barn, W. Dale Clark Library, and Joslyn Art Museum. A free trolley service will connect the participating venues.
Enjoy holiday activities at this fun, family outdoor event.
Location: Independence Square, 77th St. & Main St., Ralston, NE.