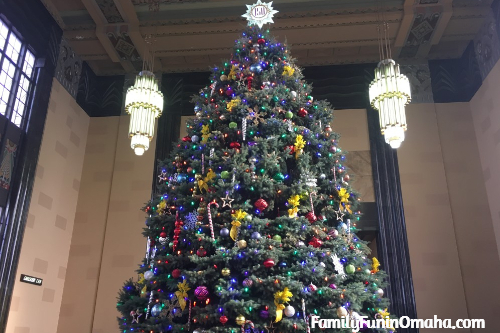 Enjoy many FUN things to do over Thanksgiving Weekend in Omaha including Tree Lightings, Santa Events, Festivals, and more! Have a fun-filled Thanksgiving Break with these ideas!
Looking for more Holiday Fun? Find 50+ Holiday Events here!
It is always a good idea to verify the information with the business before visiting.
Find More Holiday Fun: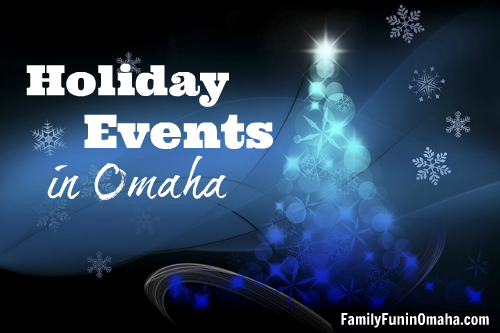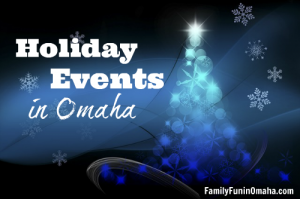 Things to Do Over Thanksgiving Weekend in Omaha
Find the best Christmas Lights in Omaha full of beautifully decorated houses with bright lights, inflatables, decorations, and some with thousands of lights choreographed to music!
Most open Thanksgiving Weekend.
Choose from a variety of Christmas Tree Farms near Omaha that offer Choose and Cut your own Christmas Tree.
3. Run in a 5K Turkey Trot – Nov 23rd
Santa's Wonderland offers Contactless Claus visits, free Photo with Santa, and free take-home holiday craft activity kits.
Advance reservations are required in all locations for Free Santa photo and can go quickly. Reserving is easy and free.
Location:

Cabela's – 12703 Westport Pkwy, La Vista, NE
Bass Pro Shops – 2901 Bass Pro Dr, Council Bluffs, IA
5. Tangier Shrine Feztival of Trees – Nov 18-22th, 24-25th – $2/person ages 13 and up (free for kids 12 & under)
See the trees — and win the trees! Buy raffle tickets for $1 each and deposit your raffle ticket in the bucket for the tree — or trees — you want to win! One winner will be drawn for each tree, so there will be 60 winners! You win the tree, the decorations, and all the prizes that go along with it (each tree valued at a minimum of $500!).
Location: Tangier Shrine Center – 2823 S. 84 St, Omaha, NE
Stroll through tens of thousands of white LED lights strung throughout Turner Park and along Farnam Street. Plus, visit the beautifully decorated tree in Farnam Court.
Location: Turner Park (31st Ave. and Farnam St.), Omaha, NE
7. Merry & Bright: Holiday Poinsettia Show – Nov 18th-Dec 30th – 9:00am-4:00pm daily (closed Thanksgiving, Christmas Day) – Included with regular admission
Thousands of poinsettias bursting with rich, vibrant color fill the floral display hall in a glowing tribute to the holidays during the spectacular holiday poinsettia show, Merry & Bright.
Holiday Harmony – During the holiday poinsettia show, local musicians share their talents and perform holiday classics that are sure to delight guests of all ages.
Location: Lauritzen Gardens – 100 Bancroft St., Omaha, NE
Come celebrate the beginning of the holidays with us and kick-off the 2023 Holiday Lights Festival season with the annual Lighting Ceremony!
9. Zoolightful – Nov 17-22nd, 24-Dec 6th,8-13th,15-23rd,26-30th – 6:00-10:00pm – Tickets Required
Something magical is coming soon! Be on the lookout for more details about Zoolightful: Omaha's Wildly Bright Holiday Tradition!
Location: Omaha Zoo & Aquarium – 3701 S 10th St, Omaha, NE 68107
Dasher and Dancer will arrive on Tuesday, November 21st and are available to visit anytime during store hours until they leave again on Sunday, December 17th. We hope you'll come say hello before they head back to the North Pole to get ready for their big flight on Christmas Eve.
Santa will be there as well for an extra cost Fridays 4-6pm, Sat & Sun 12-3pm
Location: Mulhalls – 3615 N. 120th St., Omaha, NE
Come in to DoSpace and pick up our November Take & Make to learn all about magnetic fields! You've heard of a snow globe, now get ready for a Magnet Globe! With included materials you will assemble and discover how a magnet affects iron fillings in an enclosed case. Take and Makes are first come, first serve!
Location: Do Space – 5111 N 90th St, Omaha, NE 68134
Check out how to color and craft your own Light-Up Turkey! Customize the light and attach a magnet to put it on a fridge, wall, or wherever else you decide!
Location: Do Space – 5111 N 90th St, Omaha, NE 68134
Join Shadow Lake Towne Center for our annual Tree Lighting and Holiday Parade on November 22nd at 6 p.m. in the center of the mall. Santa and his friends will be here along with horses and Cinderella in her carriage.
Location: Shadow Lake Towne Center – 7775 Olson Dr, Papillion, NE 68046
Join Village Pointe for the annual tree lighting to kick off the holiday season! Free carriage rides will be offered immediately following the lighting ceremony until 9 PM. Holiday characters will be available for pictures after the tree lighting. Santa will be inside Marcus Village Pointe Cinema lobby after the event.
Peppermint Elves Performance – 6:00 PM
Santa Parade – 7:00 PM | Davenport Street – Santa will arrive by carriage led by the Arlington High School marching band along with favorite storybook and holiday characters.
Location: Village Pointe – 17305 Davenport St, Omaha, NE 68118
Join in-person for the official kickoff to Christmas at Union Station, presented by FNBO. That's right, this year the ceremony is back to an in-person event after going virtual for the past three years! Mark your calendars now. More details to come.
Location: The Durham Museum – 801 S. 10th St., Omaha, NE.
Excited about the holidays and there are lots of things planned at the Lights of Aksarben! Come see the annual Tree Lighting in Stinson Park at Aksarben Village…where there is always something fun going on.
Location: Stinson Park – 2232 S. 64th St., Omaha, NE
First Saturday of each month between 9 am – 12 pm for free in-person Kids Workshops.
Location: Home Depot Stores
Celebrate Small Business Saturday Nov. 25th by shopping local and enjoying some holiday fun! Bring the whole family and visit Santa in the plaza and take a complimentary horse and carriage ride around the village. Don't forget to stop into Mary's Mountain Cookies and Great Harvest Bread Co. where kiddos will receive a free cookie and free hot cocoa. This event is from 12pm-3pm and is FREE to the public.
Location: Rockbrook Village – 2800 S. 110th Ct., Omaha, NE.
Experience all the holiday cheer you can handle! A variety of fun activities throughout the event.
Story Times: 4:30, 5:30, & 6:30pm inside of Sump Memorial Library
Location: Downtown Papillion, NE
Join Mayor Groesser as we light up downtown and get into the holiday spirit! Bring your family out to enjoy a Ralston tradition! Visit Santa and enjoy FREE carriage rides, children's activities, hot chocolate, and cookies.
Location: Independence Square – 77th St. & Main St., Ralston, NE
Join our growing community and keep updated on Omaha family-friendly events and activities and Sign up for our Free Email Newsletter!