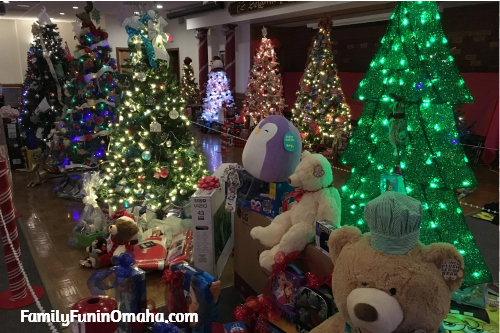 Enjoy many FUN things to do over Thanksgiving Weekend in Omaha including Tree Lightings, Festivals, Gingerbread Houses, and more!
Join our growing community and keep updated on Omaha family-friendly events and activities and Sign up for our Free Email Newsletter!
It is always a good idea to verify the information with the business before visiting.
Things to Do Over Thanksgiving Weekend in Omaha
Games, activities, crafts, and more.
Location: Bass Pro Shops, 2901 Bass Pro Dr, Council Bluffs, Iowa.
2. Gingerbread House Display – Nov. 17 – Dec. 31, 2018 (10 a.m. – 8 p.m.), FREE
Verify before visiting for early closings/closing for Holidays. The center closes at 3 p.m. on Thanksgiving Eve, Christmas Eve, and New Year's Eve. The center will be closed on Thanksgiving Day and Christmas Day.
Be sure to pick up a scavenger hunt and try to find all of the items!
2 Locations: Mormon Trail Center, 3215 State St., Omaha, and Kanesville Tabernacle, 222 E. Broadway, Council Bluffs, IA.
Enjoy a wonderful collection of 20 window displays created by local nonprofits, students and individual artists, and vote for your favorite.
Location: Midtown Crossing, 35th & Farnam, Omaha.
4. Tangier Shrine Feztival of Trees – Nov. 17-24 (hours vary – see the website for details. Closed Thanksgiving Day.) Admission is $2 per person (kids 12 and under are free).
Get in the holiday spirit by walking through a Christmas tree wonderland. Purchase raffle tickets for $1 each to win one of the almost 70 fully decorated trees and the prizes that go with each tree. (Each tree is valued at a minimum of $500!) The trees will be raffled off on Saturday, Nov. 24 for pickup on Sunday, Nov. 25 between 9 a.m. and 1 p.m.
Snowflake Cafe features sandwiches, salads, and desserts, including more than 10,000 homemade sugar cookies.
Location: 2823 S. 84 Street (just south of 84th and Center).
The day before Thanksgiving- and so much to be thankful for! Let's share our blessings for 3 organizations: The Nebraska Humane Society: tie fleece blankets; Youth Emergency Services: assemble sandwiches and prepare soup for the homeless and at risk youth of our city; Open Door Mission: decorate lunch sacks for the homeless men, women, and children of our city. Perfect for all ages. This is a free event ~ all supplies provided. Donations will be delivered immediately following the event.
Please feel free to bring any donations (food, clothing, etc) for these non-profits.
Location: The Wonder Nook Omaha, 10806 Prairie Hills Dr., Omaha.
Santa arrives to light the Christmas Tree, favorite storybook and holiday characters, free jingle bells, and more.
Location: Shadow Lake Towne Center, 72nd Street & Hwy 370, Papillion, NE.
Starting at 5:40 p.m., enjoy a special performance. At 6 p.m., Mayor Jean Stothert will lead the all-ages crowd in a countdown to the 2018 lighting display, with live fanfare by the Jingle Bell Brass Band. Holiday Lights can then be enjoyed every evening from 5 p.m. until 1 a.m. through January 1, 2019.
Followed by free, family-friendly Making Spirits Bright Holiday Concert at 7 p.m. at Holland Performing Arts Center, 12th & Douglas.
Location: Gene Leahy Mall, 14th & Farnam, Omaha.
8. Visit Santa's Woods – (Opening Weekend) November 23 – 25 (Fri – Sun): 9 a.m. – 4:30 p.m. with all of the activities
Choose & Cut Christmas Trees, Wreaths & Roping, Gift Shop. On the weekends, 9 – 4:30, fun activities (kids crafts, Winter Wonderland, hayrack rides, Santa & live reindeer.) Military & First Responders discount offered only Dec 1-2.
The Union Pacific Museum will be open from 10 a.m. to 4 p.m., November 24; the day after Thanksgiving, or Black Friday. Take this great opportunity to escape the holiday shopping crowds and enjoy the museum.
Location: Union Pacific Museum, 200 Pearl St, Council Bluffs, Iowa.
Meet and Greet the Gingerbread boy and girl in Center Court from 12 p.m. – 1 p.m. The Grinch and Cindy Lou Who meet and greet will be from 1 p.m. – 2 p.m.
Location: Regency, 120 Regency Pkwy, Omaha.
Tree lighting happens at approximately 7 p.m. Entertainment, cookie decorating, holiday crafts, live music, and more. Included with admission.
Location: The Durham Museum, 801 S 10th Street, Omaha.
The Peppermint Elves Family Holiday Concert at 6 p.m. followed by a Santa Parade and Tree Lighting at 7 p.m. Free carriage rides are also available.
Location: Village Pointe Shopping Center, 17305 Davenport St, Omaha.
13. Lights of Aksarben – Fridays, Nov. 23, 2018 (6 – 8 p.m.), FREE
Nov. 23 – Tree Lighting Ceremony
Assemble a gingerbread picture frame that doubles as a Christmas ornament. Once the picture frame is built, your child can decorate it with paint and holiday stickers.
Holiday shoppers can enjoy complimentary horse and carriage rides throughout the center. Weather permitting.
Location: Village Pointe Shopping Center, 17305 Davenport St, Omaha.
Enjoy a variety of activities including carriage rides, bonfire, visits with Santa, popcorn, hot chocolate, photos with live reindeer and more.
Santa makes his entrance on a fire truck and will make his way through the downtown area from 3:15 to 4 p.m. He will then visit with children until 6 p.m. in the Downtown Gazebo. Free carriage rides are also available.
Santa will begin his route around La Vista at 3 p.m., leaving from the Santa's Workshop parking lot. He will be west of 84th Street from 3-5 p.m. and east of 84th Street from 5-7 p.m. Click here to view the route.
Find More Holiday Fun: