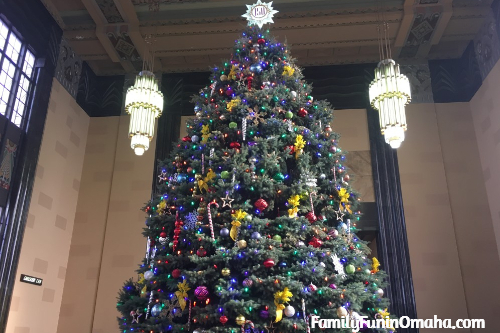 Enjoy many FUN things to do over Thanksgiving Weekend in Omaha including Tree Lightings, Santa Events, Festivals, and more! Have a fun-filled Thanksgiving Break with these ideas!
Looking for more Holiday Fun? Find 40+ Holiday Events here!
Join our growing community and keep updated on Omaha family-friendly events and activities and Sign up for our Free Email Newsletter!
It is always a good idea to verify the information with the business before visiting.
Find More Holiday Fun: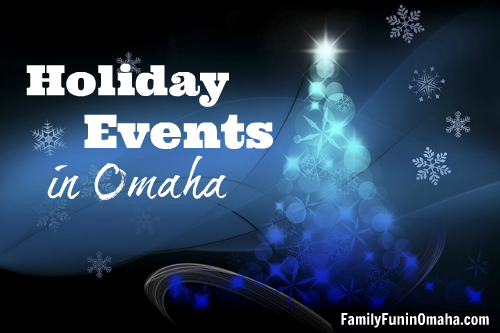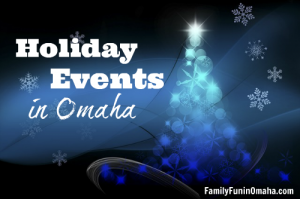 Things to Do Over Thanksgiving Weekend in Omaha
Find the best Christmas Lights in Omaha full of beautifully decorated houses with bright lights, inflatables, decorations, and some with thousands of lights choreographed to music!
Most open Thanksgiving Weekend.
Choose from a variety of Christmas Tree Farms near Omaha that offer Choose and Cut your own Christmas Tree.
Santa's Wonderland offers Contactless Claus visits, free Photo with Santa, and free take-home holiday craft activity kits.
Advance reservations are required in all locations for Free Santa photo and can go quickly. Reserving is easy and free.
Location: Cabela's, 12703 Westport Pkwy., La Vista, NE and Bass Pro Shops, 2901 Bass Pro Dr., Council Bluffs, IA.
Stroll through tens of thousands of white LED lights strung throughout Turner Park and along Farnam Street. Plus, visit the beautifully decorated tree in Farnam Court.
Location: Turner Park (31st Ave. and Farnam St.), Omaha, NE.
5. Tangier Shrine Feztival of Trees – Nov. 19 – 26 (closed on Thanksgiving), $2/person ages 13 and up (kids 12 & under are free)
See the trees — and win the trees! Buy raffle tickets for $1 each and deposit your raffle ticket in the bucket for the tree — or trees — you want to win! One winner will be drawn for each tree, so there will be 60 winners! You win the tree, the decorations, and all the prizes that go along with it.
Location: Tangier Shrine Center, 2823 S. 84 St., Omaha, NE.
6. Holiday Poinsettia Show at Lauritzen Gardens – Last entry will be at 3:45 p.m. on November 19-20, 23, 25-27 and December 2-4, 9-23, 26-30
Thousands of poinsettias bursting with rich, vibrant color fill the floral display hall in a glowing tribute to the holidays during the spectacular holiday poinsettia show, Merry & Bright. In the center of it all, a magnificent and majestic 20-foot-tall poinsettia tree stands tall. Surrounded by festive foliage, glittering ornaments and the whir and whistle of model garden trains, this show evokes the warmest greetings of goodwill and cheer.
Experience a multitude of festive delights during Bright Nights, as flowers and foliage combine with light to make the season Merry & Bright!
Location: Lauritzen Gardens, 100 Bancroft St., Omaha, NE.
Old Market and North and South Omaha Lighting Displays, plus many events throughout the season.
$4 per person and skate rental is included.
Location: 5015 S. 45th St., Omaha, NE.
9. Meet Santa's Reindeer at Mulhalls – November 23rd – December 18th
Monday – Saturday: 8am to 8pm
Sunday: 9am to 6pm
Thanksgiving Day: closed
Dasher and Dancer will arrive on November 23rd and are available to visit anytime during store hours until they leave again on Sunday, December 18th.
Location: Mulhalls, 3615 N. 120th St., Omaha, NE.
Kick off the holiday season with a spectacular holiday parade and the lighting of the Christmas tree in the center of Main Street with Santa, along with all of his friends.
Location: Shadow Lake Towne Center, 7775 Olson Dr., Papillion, NE.
Santa is returning to OCM, bringing a little holiday magic with him.
Location: 500 S. 20th St., Omaha, NE.
12. Christmas at Union Station – Nov. 24 – Jan. 8, Included with regular admission.
This long-standing tradition features Omaha's official Christmas tree, special events, and Santa himself (with visits 6 days a week. Visit Durham Museum for schedule.)
Tree Lighting Ceremony – TBA for 2022
Enjoy a horse and carriage ride and more.
Location: Stinson Park, 2232 S. 64th St., Omaha, NE.
Visit Santa, take a horse and carriage ride, enjoy a holiday hunt around the village, write a letter to Santa, and more.
Location: 2800 S. 110th Ct., Omaha, NE.
Experience all the holiday cheer you can handle! A variety of fun activities throughout the event.
Location: Downtown Papillion, NE.
Enjoy holiday activities including a Tree Lighting Ceremony at this fun, family outdoor event.
Location: Independence Square, 77th St. & Main St., Ralston, NE.