Looking for Amazing Christmas Light Displays in the Omaha Area? Find beautifully decorated houses with bright lights, inflatables, decorations, and some with thousands of lights choreographed to music!
Thank you to all who have put the time and effort into creating these displays for everyone to enjoy and to everyone who has helped us keep the list updated!
(Pictured above: Corner of Nelson's Creek Drive and Lake Street (Nelson's Creek – NW of 144th and Blondo))
IMPORTANT NOTE: Please help us keep this list as updated as possible. If you have updates for 2016 on any of the light displays listed, or if you know of other light displays that should be added, please email us.  When possible, the website or Facebook links are included for the displays, plus details that were sent to us by either the person who created the display or by a reader who visited the display.
√ 2016 signifies houses that have been verified for 2016.
Visit the Omaha Holiday Family Fun Guide here full of Holiday Events, Santa visits, Tree Farms, Local Gifts, & more!

Keep updated on the latest Omaha fun and Sign up for our Free Email Newsletter!
Find More Holiday Fun Here:
Interactive Map: Blue = Houses, Green = Neighborhoods.

View Omaha Area Christmas Lights in a larger map
Jump Directly to:

North of Dodge
North Omaha Holiday Lights – Near 24th & Lake Streets – √ 2016

Lighting: 5 p.m. on Saturday, December 3, to close out Christmas in the Village. Holiday lights will enhance the six-block surrounding area.
Abide "Lights of Hope" Light Display – √ 2016

Special Events December 6 (6 – 8:00 p.m.)and December 13 (6 – 8:30 p.m.)
Lights will be on display from December 6th through December 25th 6:00 p.m. to 8:00 p.m. each evening.
N 33rd St. between Davenport & Dodge

Has 40 blow mold lighted Santas in the front windows. Lit daily from 5 p.m. until midnight.
Phillips Family Display – 8406 N. 47th Street – √ 2016

Computerized light show – 94.7 FM. Runs Sunday – Thursday 5:00 – 10:30 p.m, Friday & Saturday 5:00 – 11:00 p.m.
49th and 51st & Cuming Street
Happy Hollow Blvd from Howard St. to Cuming

Drive from Elmwood Park, from the intersection of Howard & Happy Hollow, north on Happy Hollow to Cuming, then right on Cuming, to 49th Street, you will see a lot of great lights.
Underwood Ave. from 63rd to 69th
76th and Bedford in Keystone

Large display of lights and inflatables. 
11711 Raleigh Drive (one block South of Fort Street) – √ 2016
12621 Patrick Cir.

The lights are planned to be up the week after Thanksgiving. The lights are also choreographed to music. 
Lammers Family Christmas – 2524 North 133rd Street, 95.5 FM – √ 2016

Animated Christmas display with more features, songs, channels and lights added each year. Donations welcome for Make-A-Wish Foundation of NE with 100% of the donations going to them. 
134th Ave & Larimore Avenue – √ 2016

Entire corner is beautiful – many houses are decorated!
Linden Estates – East side of 144th between Dodge and Blondo
N 145th Ave & Ohio St. (Nelson's Creek)
Corner of Nelson's Creek Drive and Lake Street (Nelson's Creek – NW of 144th and Blondo) – √ 2016
N. 148th St. & Boyd, 95.7 FM
Vanek Christmas: 15055 Meredith Avenue, 91.9 FM – √ 2016

New in 2016: New this year we have many new blowmold decorations and quite a few more lights. This year we are up to around 40,000 lights. Our favorite new item this year is Santa and his flying reindeer!
Approximately 40,000 lights, most of which are L.E.D. lights. The display is controlled by eight Light-O-Rama controllers, with a total of 128 computer-controlled channels.
15329 Davidson Street, Bennington

The display is all choreographed to over 30 Christmas carols and features red and white lights running in rows horizontally across the entire siding of the house. Dancing wreaths, North Pole animals, and Santa himself make this a display that is definitely worth checking out. 
Pepperwood – NE of 156th & W Dodge
Barrington Park – North of West Dodge Road between 156th and 168th Street
17416 Erskine Cir. – √ 2016

Has Santa projection in a window.
N 189th St between Grant St. & Benton Blvd.

One block north of 189th and Blondo.
Silverleaf Estates – East of 192nd, North of Methodist Woman's Hospital
N. 211th St. & Ridgewood Rd., Elkhorn – Set to music and animated
21108 Appaloosa Dr., Elkhorn – √ 2016
Pictured: Bellino display on Cedardale Rd in Papillion between Washington and 72nd Street
South of Dodge
1006 W 31st Ave, Bellevue – √ 2016

Over 30,000 lights on display – approximately a 45 minute show awaits you. New effects have been added this year. Show times run Sunday – Thursday (6 – 10 p.m.), Friday – Saturday (6 – 11 p.m.) The show season starts Thursday, Nov. 24th at 6 p.m. and will end on Saturday, Jan. 7th at 11 p.m. Come out and enjoy the Lights and Sounds of Christmas.
1309 Childs Rd. East, Bellevue – 101.1 FM

Computerized light show – 101.1 FM. Runs Sunday – Thursday 5 – 10 p.m. Friday – Saturday 5 – 11 p.m. (unless it's raining). 15 Light-O-Rama controllers and 4 CCR's (total of 660 channels). Incorporating two houses in display. Playing 18 fully synchronized songs to lights, over an hours' worth of songs so come back several times if you do not want to sit through the entire show. See video of a previous year's shows, but always making new changes. https://vimeo.com/117454353
South 13th Street just South of the Zoo – √ 2016
South Omaha Holiday Lights – Along 24th Street between L and Q Streets

Lighting Ceremony will be held at 4911 S. 24th Street (24th & N St.) on Saturday. December 3 at 5:30 p.m. Lights will shine bright along 24th Street between L and Q Streets.
14205 Tregaron Drive, Bellevue (on Tregaron Dr. South of Fairview Rd.) – √ 2016

Computerized light display with a 25 minute show (101.3 FM). Scheduled every night from 5:30-10:30 p.m., except til 11 p.m. on Friday and Saturday night. 
S. 25th St. & Robin Drive, Bellevue
8905 Florence Dr, Bellevue – √ 2016
S 27th St. & Minot Drive, Bellevue

The house is a duplex and both sides are pretty much mirrored together with music and inflatables.
3402 Daniell Street, Bellevue – √ 2016
Fontenelle Hills Neighborhood in Bellevue
4401 Giles Road, Bellevue – √ 2016
51st Ave South of A Street
Wood River Drive Christmas Street, Bellevue (51st & Harrison, behind Bag N Save) – √ 2016

Many of the houses on this street have a ton of lights and figurines, even a flying Santa and his reindeer. If you enter the neighborhood from the Bag N Save parking lot off of 51st and Harrison, you will see a sign from the neighborhood and Merry Christmas strung across the street. Beginning December 10th from 6:30-8:30 Santa Claus will begin his yearly routine, greeting all the cars and handing out Candy Canes to the little ones.
3639 South 51st Ave

Walk-through display with approximately 500 blowmolds and lights.
S. 66th St. & 'A' St. – 103.3 FM
Huge lit tower in Aksarben Village at 67th & Center
8910 S 68th St, Papillion – √ 2016
Greenwood Ave & Cottonwood Cir, Papillion

They have been working on the lights/music for 6+ years.  The display changes a little each year.  They have several other songs from previous years.  See videos of display. 
Claudine Ave & Jacqueline Circle, Papillion
Bellino display on Cedardale Rd in Papillion between Washington and 72nd Street
5307 Miller Ave, Ralston – Ashley's Pet Spa – √ 2016
Wilshire Lane & Hickory Hill Road, Papillion
7778 Greenleaf Drive, La Vista – √ 2016
Corner of Nina and 82nd Street
On Gold St. between S. 80th Ave. & Ridgewood Ave.

Sometimes the owner is outside dressed as Santa. 
3614 Paddock Road – Petri Polarpalooza – √ 2016

Lights, LEDs, and dancing trees to music. Hours: 5 – 10 p.m. unless raining.
2102 S River Rock Drive, Papillion – √ 2016

Outside display with 100 blow molds. Support our troops theme.
Papillion Christmas Lights: 1012 Valleyview Dr., Papillion. 91.9 FM – √ 2016

Update for 2016: Christmas shows Nov 24th (Thanksgiving evening) through Jan 6th (weather dependent). Shows run from 5:30 to 11:00 p.m. 7 days a week, Friday – Techno Christmas, Saturday – Contemporary Christmas, Sunday – Traditional Carols, Mon- Thurs – Mash up of Fri, Sat, and Sun. Tons of new stuff added this year, 17 foot tall mega tree, 10 circles, and a 7×4 foot matrix. Friday and Saturday are busy times. Best times to come are on week day evenings as traffic is much lighter.
8619 S. 98th St, La Vista (S. 98th St between Val Verde Dr. & Centennial Rd. – Val Verde subdivision) – 99.3 FM

Computerized Christmas light show set to music, 6 songs for ~20 minutes.
8025 S. 103rd St., La Vista – √ 2016
8218 S 103rd St., La Vista – √ 2016
Twas the Light Before Christmas: 10407 Elm Hurst Drive, La Vista, 103.5 FM – √ 2016

A light show extravaganza boasting more than 60,000 lights! A large portion of the lights (40,000) are set to dance with the music, just tune your car radio to 103.5 FM and enjoy the show in the warmth of your car. The show is set to run 5 songs for about 20 minutes.
Lights show will begin Thanksgiving night.
4934 S 106th Cir – √ 2016

Over 70 Christmas inflatables and over 5000 lights
S 117th St & Crawford Rd.
S. 122 St & Signal Drive

Corner home on 122nd and Signal Drive, displays in front, side and back. Sequenced to music.  See 2014 pictures.
13005 Southdale Drive – √ 2016

Running 5:30 to 11:00 Monday- Thursday, and 5:30 to Midnight Friday Thru Sunday. Will run through New Years Day.
S 140th St between Josephine & Emiline

Amazing display with lots of movement. Daily 5:00 to 10:30.
14206 Drexel Circle – √ 2016
S 150th St between Drexel St. and Harrison St. – √ 2016
NW Corner of 152nd and Stony Brook Blvd
15203 Rock Creek Drive, Omaha – 95/1 FM – √ 2016

North of Giles on corner of 152nd and Rock Creek Drive. Computerized light show. Show will run weekdays 5:30-10:00 p.m., Weekends 5:30-11:00 p.m.  9 mini trees, 21ft mega tree, house fully covered, 6 Light-O-Rama controllers 96 channels (red,white, and green), power 100,000 lights playing 10 fully synchronized songs to lights. 2014 Video.
337 N 153 Ave Circle (N 153rd Ave Cir & Wycliffe Dr. – South of 156 & Dodge in Wycliff by Lifegate Church) – √ 2016
15628 Monroe Cir – √ 2016
159th Circle (

backs up to Q street in the Lakeview Heights Neighborhood) 
Rolling Ridge Rd. between S. 163rd & 165th St.
S. 164th Ave & Washington Street
Lillian Street between 178th & 179th St. – √ 2016
S. 187th St. & Drexel Street – 105.1 FM

Near 185 Street and Harrison Street – Harrison Park Subdivision. 32 channels of lights programmed to Christmas music.
Just north of 192nd and L

Big Display of lights both in front and back yard.
3757 South 197th Street (S 197th St. & Pasadena St.) – √ 2016

Update for 2016: Bigger each year! This year features new LED star chasing and colored lights on the house, meteor chasing LED lights on the trees, more inflatables and new lights around the yard perimeter.  
Thousands of lights sync'd to music via FM Transmitter. Dozens of inflatables, both sides of yard and house covered with decor.
South 199th Circle & G St. – 107.1 FM
Max's Lights: 2816 S. 217th Circle – 99.3 FM
The Sanctuary – Neighborhood South of 229th & Center
25011 Capitol Circle – SE of 252nd & Dodge.  West Shores neighborhood. – √ 2016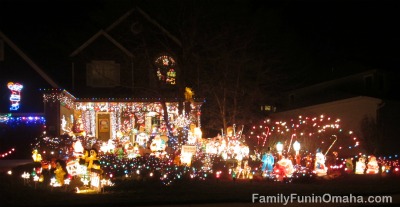 Council Bluffs
8th Ave & S. 36th St. in Council Bluffs has large inflatables and disco lights
3425 6th Avenue (6th Ave & S. 34th St.), Council Bluffs – 94.7 FM – √ 2016

Update for 2016: We have added some new display items this year. Candy canes are handed out on weekends for free!
Abbott family light show – A fully computerized light show with 114 channels of light-o-rama, 96 channels of dmx. Hours are Sun-Thurs 5 – 10 p.m., Fri-Sat 5 – 11 p.m.
700 block of North 22nd St.
Corner house on 17th & Avenue E
Harrison St & McGee Ave, Council Bluffs
Greenview Road & Kurtwood Dr.
Stoneybrook Subdivision, Council Bluffs
Corner of Richfield Loop and McPherson Ave, Council Bluffs – √ 2016
Greenview Rd and 255 Street, Council Bluffs

Large Inflatables, lights and music.
Surrounding Areas
Christmas with the Clappers: 610 W Dodge St., Arlington, NE, 107.7 FM

A computerized light show with 96 channels of computerized lighting and 20,000 Christmas light set to music. Tune in to 107.7 to listen to the lights.
Baird's Christmas Lights: 1233 E Ave, Red Oak, Iowa – √ 2016

To get to the lights from Red Oak: 9 miles north on highway 48. Then 3 miles west on 110th street. Then turn south onto E avenue. Once you're on E avenue you should see them. 1233 E Ave Red Oak, IA.
21020 Cougar Avenue and 21406 Cougar Ave – Honey Creek, IA –  "Animated Lights on Cougar Avenue" – √ 2016
Along Old Lincoln Highway, between Council Bluffs and Crescent Iowa, there are a lot of very nice light displays.
Find More Helpful Resources: