Looking for Amazing Christmas Light Displays in the Omaha Area?
Find the best Christmas Lights in Omaha full of beautifully decorated houses with bright lights, inflatables, decorations, and some with thousands of lights choreographed to music!
Thank you to all who have put the time and effort into creating these displays for everyone to enjoy and to everyone who has helped us keep the list updated!
(Pictured above: Corner of Nelson's Creek Drive and Lake Street (Nelson's Creek – NW of 144th and Blondo))
IMPORTANT NOTE: Please help us keep this list as updated as possible. If you have updates for 2018 on any of the light displays listed, or if you know of other light displays that should be added, please email us.  When possible, the website or Facebook links are included for the displays, plus details that were sent to us by either the person who created the display or by a reader who visited the display.
Join our growing community and keep updated on Omaha family-friendly events and activities and Sign up for our Free Email Newsletter!

Find More Holiday Fun Here: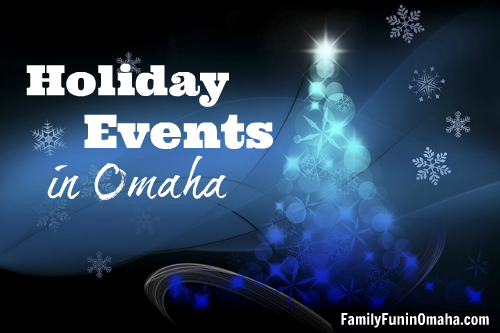 Interactive Map: Green = Houses, Red = Neighborhoods.


View Omaha Area Christmas Lights in a larger map
 =  Lights Synchronized to Music

 = Omaha Favorite Static Displays

 = NEW Addition in 2018

√ 2018 = Houses that have been verified for 2018.
Jump Directly to:
North of Dodge
North Omaha Holiday Lights – Near 24th & Lake Streets – √ 2018

Lighting Ceremony will be held near 24th & Lake Streets (in Dreamland Park) at 4:30 p.m. on Saturday, December 1, to close out Christmas in the Village. Holiday lights will enhance the six-block surrounding area.
113 N 54th Street – √ 2018

From the owner: One-of-a-kind light show with programmed lights that go to the beat of songs by hip-hop artists. An interactive keyboard will also be added so people can press keys to make parts of the display flash.
NOTE: Display is on every night from 5 – 11 p.m. (12 a.m. on Fridays and Saturdays). From 5:00 to 9:30 its only instrumental beats (still to hip-hop music) but after 9:30, the more popular songs are included that do contain some bad language here and there and he wants people to be aware of that.
N 82nd Ave & Iowa St. – √ 2018
 92nd & Fowler Circle, "Whoville" – √ 2018
Holiday Blinky Light Show, 11711 Raleigh Drive, Omaha – √ 2018

Su-Th 5 – 10 p.m., Fr-Sa 5 – 10:30 p.m. Frequency is 107.1 FM. We use incandescent and LED lights. If upper left window has a video playing, it's frequency is 106.7 FM. Due to the videos, there is some silence in some videos and one might need to turn up the volume, remember to turn your volume back down when done.
Doug's Lights, 11724 Raleigh Drive, Omaha – √ 2018

Sun-Th 5 – 10 p.m., Fr-Sa 5 – 10:30 p.m. Frequency of 107.5 FM.
  Jay Family Lights – 2741 N 129th Cir. Omaha – √ 2018

48 channels of Christmas lights with many figurines. Monday-Thursday: 5:30-9:00 p.m. Friday-Sunday: 5:30-10 p.m.
13337 Miami St – √ 2018

With more than 9000 lights, this year they are teaming up with St. Jude Children's Research Hospital and they need your support. Because the majority of St. Jude funding comes from individual contributors, St. Jude has the freedom to focus on what matters most—saving kids regardless of their financial situation. They want to help find cures and save children. If you would like to make a credit card donation, please visit their event page: http://fundraising.stjude.org/Asherin. Together, we can cure cancer.
They are accepting donations to help those families whose children have cancer.
 Lammers Family Christmas – 2524 N 133rd St, Omaha – √ 2018

Animated Christmas display with more features, songs, channels and lights added each year. Donations welcome for Make-A-Wish Foundation of NE with 100% of the donations going to them.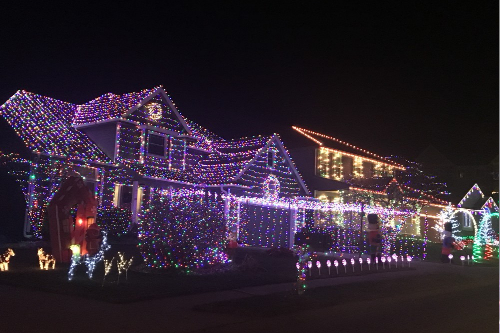 Steinauer Family Lights – 13468 Larimore Ave, Omaha – √ 2018

The Steinauer Family Christmas Lights will premiere Wednesday, November 28!
 Vanek Christmas: 15055 Meredith Ave – √ 2018

The lights are on everyday from 5:30 – 10:30 p.m. beginning Thanksgiving night. Tune your radio to 91.9 FM to hear the music that the lights are synchronized to.
 "The Charlie Brown Christmas House", 15329 Davidson St, Bennington – √ 2018

This year, this house has been completely overtaken by Charles Schulz's Peanuts Characters. 2018's Display features a 40′ x 20′ roof that has been beautifully designed with hundreds of yellow lights to look exactly like Charlie Brown's signature yellow shirt, complete with Charlie Brown's trademark giant black, squiggly line. The rest of the house has been outlined with sparkling yellow lights that run horizontally in many rows across much of the siding of the entire home. Red and green lights flash and shimmer around the windows, wreaths, and yard as they dance to over 30 choreographed Christmas carols, both old and new. Penguins, polar bears, elves, multiple Santa's, Woodstock, Charlie Brown, and Snoopy, on top of his newly inhabited igloo, make this a definite display that is truly unique, and unlike any other home that you will see, both color-wise, and design-wise, in the Omaha area.
Also, don't forget to check out the back of the home, which can be viewed on State Street, in between Military Road and 156th Street. The backyard has been draped in red and white lights that cascade across the roof and perimeter of the home, and entire backyard as well. With wreaths, trees, candy canes, and seven 75′ strands of lights that fan out towards the street.
The Christmas Lights will be on every night throughout New Year's Eve, unless it rains. We hope that you get a chance to visit "The Charlie Brown Christmas House," and wish you, and your family, a very Merry Christmas and Happy New Year!
15358 Burt St, Omaha – √ 2018
Barrington Park – North of West Dodge Road between 156th and 168th Street – √ 2018
Silverleaf Estates – East of 192nd, North of Methodist Woman's Hospital – √ 2018
21108 Appaloosa Dr., Elkhorn – √ 2018
 E 3rd St. & N. Spruce St, Valley – √ 2018
South of Dodge
 1309 Childs Rd. East, Bellevue – √ 2018

Computerized light show to 101.1 FM. Incorporating two houses in display. Playing 18 fully synchronized songs to lights, over an hours' worth of songs so come back several times if you do not want to sit through the entire show. See website for show times and song playlist at: https://www.christmasinbellevue.rocks/
Randall Dr. between Betz Rd. & Thomas Dr. – √ 2018
S 9th Cir & S. 9th Ave, Bellevue – √ 2018
South 13th Street just South of the Zoo – √ 2018
South Omaha Holiday Lights – Along 24th Street between L and Q Streets – √ 2018

Lighting Ceremony will be held at 4911 S. 24th Street (24th & N St.) on Saturday, December 1 at 5:30 p.m. Lights will shine brightly along 24th Street between L and Q Streets.
14205 Tregaron Dr. Bellevue
S. 25th St. & Robin Dr, Bellevue – √ 2018
S. 25th St. & Virginia St., Bellevue – √ 2018
2813 Sandra St, Bellevue – √ 2018

Lights and blowups and all set to music.
Daniell St & S. 34th Circle, Bellevue – √ 2018
S 48th St & Y St. – √ 2018
5840 S 48th Ave, Omaha – √ 2018
 Gold St. between 39th St. & 38th Ave – √ 2018
 Wood River Drive Christmas Street, Bellevue (51st & Harrison, behind Bag N Save) – √ 2018

Many of the houses on this street have a ton of lights and figurines, even a flying Santa and his reindeer. If you enter the neighborhood from the Bag N Save parking lot off of 51st and Harrison, you will see a sign from the neighborhood and Merry Christmas strung across the street. Santa Claus will be making his debut on Wood River Drive December 9th, 2018.
Huge lit tower in Aksarben Village at 67th & Center – √ 2018
Pictured: Bellino display on Cedardale Rd in Papillion between Washington and 72nd Street
Bellino display on Cedardale Rd in Papillion between Washington and 72nd Street
 Corn drive in Papillion off 84th Street in Glenwood Hills (Corn Dr. & Moore Dr.) – √ 2018
South 80th Street in Papillion's Shadow Lake – √ 2018
1009 Edgewater Dr, Papillion – √ 2018
S River Rock Drive between Port Royal Dr. & Flint Dr., Papillion – √ 2018
 Papillion Christmas Lights: 1012 Valleyview Drive, Papillion, NE – √ 2018

Lights run from Thanksgiving evening through first week of January. Lights will be on 6 – 10:30 p.m. on weeknights and 11 p.m. on weekends. Songs played over the radio on 91.9 FM.
 Leafplum Dr & Marisu Lane by La Vista Junior High – √ 2018
413 Remington Road, Papillion – √ 2018
4934 South 106th Circle – √ 2018

Over 70 inflatables and over 6000 lights laser show for people to enjoy.
13005 Southdale Drive (just North of Harrison) – √ 2018

2018: Running through New Year's Day. 5:30 to 11:00 Mon – Thurs and 5:30 – Midnight – Friday thru Sunday night.
Ohern St & Amy Circle – √ 2018
14206 Drexel Circle – √ 2018
337 N 153 Avenue Circle – (South of 156 & Dodge in Wycliff by Lifegate Church) – √ 2018
 S. 161st St. & Dewey Ave – √ 2018
15203 Rock Creek Dr – √ 2018
S. 152nd Ave & Y Street – √ 2018
 176th and J near Rohwer Elementary School – √ 2018
 181st St. & Harney St. – √ 2018
Hawthorne Neighborhood

Features streets and streets of curbside trees lit up with Green lights on top and white lights on the trunks. It's magical. Directions: Go north on 176th Avenue from Q Street; West on Orchard Avenue from 168th St; OR East on Orchard Avenue from 180th St.
Just north of 192nd and L – √ 2018

Big Display of lights both in front and back yard.
The Sanctuary – Neighborhood South of 229th & Center
25011 Capitol Circle. West Shores neighborhood. – √ 2018
Council Bluffs
8th Ave & S. 36th St., Council Bluffs

Display combines Halloween and Christmas, and large inflatables.
 Abbott's Christmas Lights – 3425 6th Ave, Council Bluffs – √ 2018

A fully animated display. Radio station is 94.7 FM. They also do a "Letters to Santa" box.
Surrounding Areas
Baird's Christmas Lights: 1233 E Ave, Red Oak, Iowa – √ 2018

2018: The lights will go on sometime in December. Stay tuned to their Facebook page for updates.
To get to the lights from Red Oak: 9 miles north on highway 48. Then 3 miles west on 110th street. Then turn south onto E avenue. Once you're on E avenue you should see them. 1233 E Ave Red Oak, IA.
21020 Cougar Avenue and 21406 Cougar Ave – Honey Creek, IA –  "Animated Lights on Cougar Avenue" – √ 2018
Find More Helpful Resources: