Enjoy many fun Thanksgiving Events in Omaha to help celebrate this special holiday!
Join our growing community and keep updated on Omaha family-friendly events and activities and Sign up for our Free Email Newsletter!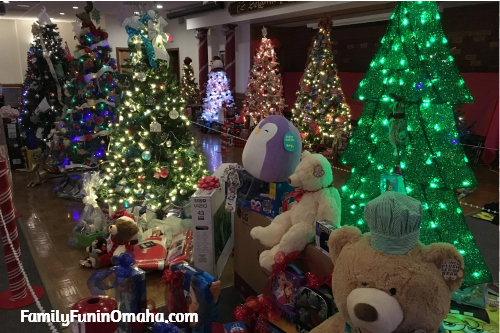 It is always a good idea to verify the information with the business before visiting.
Thanksgiving Events in Omaha
Learn all about turkeys and their bird friends, make a turkey caller, visit the chickens in their coop, go on a hike, and enjoy many other hands-on activities for the family! RSVP online at parks.cityofomaha.org under "Activity Registration" button.
Location: 3033 Hummel Park Rd., Omaha.
Kids will learn to create some tasty Thanksgiving themes treats. This class is geared towards kids ages 6-13. Parents/guardians are welcome to stay and help if desired. Cost is $8 per kid. Please pre-register by Thursday, November 8th at 4 p.m. by calling or emailing dietitian Leigh, 712-328-9792 or lhealey@hy-vee.com. Spots do fill up fast.
Location: Hy-Vee, 2323 W Broadway, Council Bluffs, IA.
Fall Family Craft – Nov. 11, 2018 (1:30 – 2:30 p.m.), Milton R. Abrahams Branch
Make fall holiday-themed decorations.
5111 N. 90th St., Omaha.
Enjoy a reading from a selected book and crafts for kids, teens & seniors. The special reading time is open to all ages. November's theme: Around the table – Family meals and celebrations. Bring a recipe to share.
Location: 1502 South 10th Street, Omaha.
Fun educational, hands-on classes for pre-school age children and parents brought to you by ParentSavvy and Fontenelle Forest.
Free 3x a year. Registration opens the 1st of the month. Please note that space is limited and sessions do fill quickly! Register here!
Children can make a Hide-and-Seek Turkey craft.
Location: 12005 W. Center Rd., Omaha.
Drop in for their special Monday Play Pals ~ for free!! Simply bring in those old coats, mittens, scarves, hats, blankets, bags – whatever you have outgrown or don't need anymore for homeless and at risk youth. They will donate all items to Youth Emergency Services to help prepare our youth for the approaching winter weather.
In exchange for your donation, you are invited to enjoy a thankful story time, create a count your blessings craft, and lots of play time. They will also have a special deal on Wonder Bucks and Punch Cards ~ great holiday gifts!
Location: The Wonder Nook Omaha, 10806 Prairie Hills Dr., Omaha.
What are you thankful for? The Wonder Nook Omaha will be giving a valuable and long-lasting lesson in thankfulness. Then, stick around for classic crafting fun – Kids will get to make their own hand-print turkeys.
Location: Fat Brain Toys – Omaha, NE, 16909 Burke Street, Omaha.
All ages welcome.
Location: Sump Memorial Library, 222 N Jefferson Street, Papillion, NE.
The day before Thanksgiving- and so much to be thankful for! Let's share our blessings for 3 organizations: The Nebraska Humane Society: tie fleece blankets; Youth Emergency Services: assemble sandwiches and prepare soup for the homeless and at risk youth of our city; Open Door Mission: decorate lunch sacks for the homeless men, women, and children of our city. Perfect for all ages. This is a free event ~ all supplies provided. Donations will be delivered immediately following the event.
Please feel free to bring any donations (food, clothing, etc) for these non-profits.
Location: The Wonder Nook Omaha, 10806 Prairie Hills Dr., Omaha.
All are welcome for a free Thanksgiving dinner with all the trimmings (as long as food lasts), and family activities. Volunteers welcome and donations appreciated. Organized and Sponsored by Spirit of Peace. Please RSVP through EventBrite link.
Location: Valley Veterans Club, 111 E. Front St., Valley, NE.
Starting at 5:40 p.m., enjoy a special performance. At 6 p.m., Mayor Jean Stothert will lead the all-ages crowd in a countdown to the 2018 lighting display, with live fanfare by the Jingle Bell Brass Band. Holiday Lights can then be enjoyed every evening from 5 p.m. until 1 a.m. through January 1, 2019.
Followed by free, family-friendly Making Spirits Bright Holiday Concert at 7 p.m. at Holland Performing Arts Center, 12th & Douglas.
Location: Gene Leahy Mall, 14th & Farnam, Omaha.
Join in for an adventure in giving, sharing, and thankfulness. Jim the Story Peddler will be reading three heartwarming favorites: The Giving Tree, The Most Beautiful Thing, and Stone Soup.
Location: Fat Brain Toys – Omaha, NE, 16909 Burke Street, Omaha.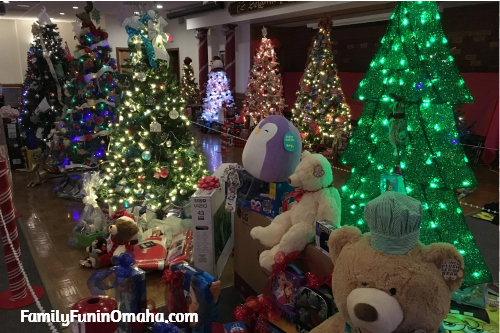 It is always a good idea to verify the information with the business before visiting.
Have a wonderful Thanksgiving holiday!
Find More Omaha Fun: