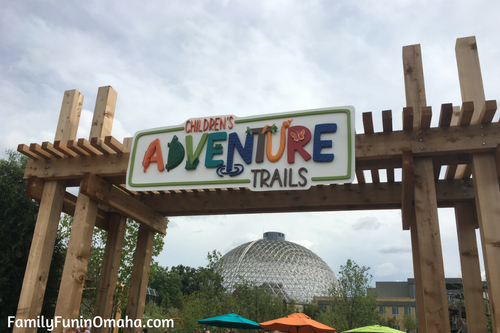 The newest attraction at the Omaha Henry Doorly Zoo is full of fun, adventure, and play for kids of all ages!
The Children's Adventure Trails, included with regular admission or membership, is an amazing new interactive space helping kids learn through play in nature!
We are so lucky to have such an amazing Zoo right here in Omaha!
Keep updated on the latest Omaha fun and Sign up for our Free Email Newsletter!
1. Three-Story Treehouse
The highlight of Children's Adventure Trails is a 3-story tall Treehouse! Kids of all ages can climb, slide, crawl through climbing nets, and run through swinging bridges.
This also offers a wonderful panoramic view of the entire Children's Adventure Trails area!
The swinging bridges and climb-throughs were a big hit with my kids!
2. Animals
Directly above all of the climbing nets and treehouse, monkeys play and crawl through their own tunnel that connects to their house. The Zoo has thought of everything, with protective barriers underneath so nothing will fall from the monkeys to the kids playing below.
Additionally, there are animal areas where kids can explore including goats, tunnels to the prairie dogs, and a Budgie Bird exhibit.
3. Splash in the Water and Play in the Sand
Children's Adventure Trails offers multiple areas to splash and play, including this fun waterfall that kids can run behind.
Kids will love running through the water stream, crossing the bridges and log crossings. Shovels and buckets are provided to encourage children to play, climb, and explore in the sand.
4. Multiple Play Areas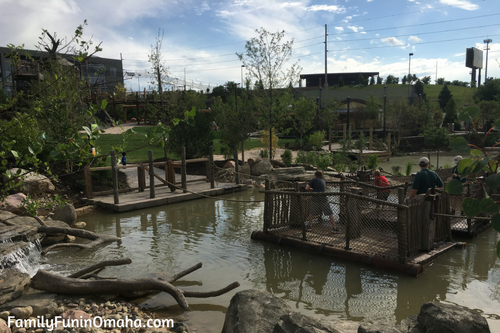 At Raft Crossing, families and friends can all work together on the same raft or compete with one another to pull themselves from one side to the other.
Children are invited to explore several play areas including a Web Climber, a Honeycomb Climber and an oversized eagle's nest. For kids in strollers, they have a Stroller Coaster – a paved area with various inclines and textures.
5. Green Space
This beautiful space with several berms provided a wonderful space for families to relax and enjoy the area around them. Several adult and kid-sized rocking chairs also provided an opportunity to rest tired feet. After a busy day at the zoo, this space offered a nice area for parents to relax (surrounded by oversized insects) and watch as their kids play.
Helpful Tips
The Children's Adventure Trails is open 9 a.m. – 5 p.m. daily. It is included with regular admission or membership.
It is located near the North Entrance, which is now open for the season from 9 a.m. – 5 p.m. daily. Guests can exit through the area until 5:30 p.m.
Find more Helpful Resources: