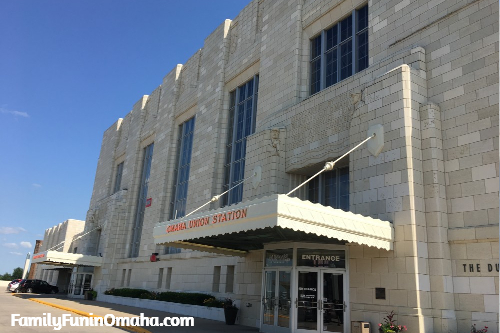 The Durham Museum will open its doors to the public for free from November 7-13, 2021, as they rekindle the community spirit that welcomed Union Station into service in 1931 (90 years ago).
Find many more Fun Things to Do this November here!
Join our growing community and keep updated on Omaha family-friendly events and activities and Sign up for our Free Email Newsletter!
Cheers to 90 Years! In celebration of the 90-year anniversary of their home, Union Station, The Durham Museum will be open free of charge November 7-13, 2021!
There will also be special activities throughout the week so make sure and check their website for all the details!
The museum will be open 10 a.m. – 4 p.m., Monday-Saturday and 12 – 4 p.m. on Sunday the week of November 7-13.
Additional promotion: Thursday, 11/11 – Veteran's Day:
Free Hot Dog Meal for Veterans at the Soda Fountain.
Thank you cards for Veterans presented at the Admission Desk.
It was in a dedication ceremony on January 15, 1931, that the new Union Station was officially unveiled. Afterwards, visitors streamed through the doors, greeted by rosy rays of light from stained-glass windows and Art Deco details galore. The new station included just about every amenity a passenger could want: a 24-hour restaurant, news and magazine stand, barbershop, taxi stand, telegraph office, hospital and a travelers' aid desk. In its heyday, eighty-three trains and 10,000 passengers passed through Union Station per day.
In the 1970s Union Station transitioned from train station to what it is today, the home of The Durham Museum. The station now recalls a bygone era of history and heritage that is as uniquely American as it is Omahan. It is this history that makes Union Station The Durham Museum's largest and most important artifact. In 2016, the station was named a National Historic Landmark.
Find More Fun: