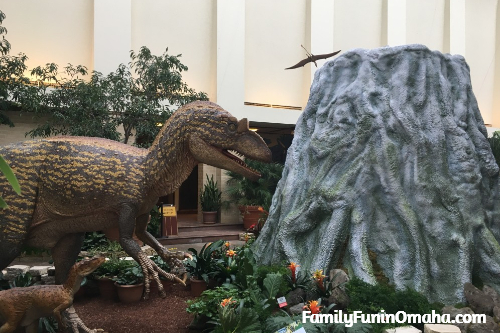 Enjoy exciting family-friendly events this March in Omaha!
Join our growing community and keep updated on Family-Friendly EVENTS EACH WEEKEND plus more Omaha Fun and Sign up for our Free Email Newsletter!
Exciting March Events in Omaha
FREE Soda Weekend (March 8-10) or Popcorn Weekend (March 15-17) with ticket purchase
$1 Retro Favorites (Majestic of Omaha and Twin Creek only)
Dumbo Kids Party
and $3 Family Movies this March!
These month-long specials are available at Marcus Majestic of Omaha (144th & Maple), Twin Creek (3909 Raynor Parkway, Bellevue) and Village Pointe Cinemas (174th & Dodge). Keep reading here for further details!
This new interactive exhibit features 3 robot animals and 7 hands-on activities. The larger-than-life-size animated robots include a chameleon and a platypus. Also featured is a house fly with a 3-foot wingspread. Included with regular admission or membership.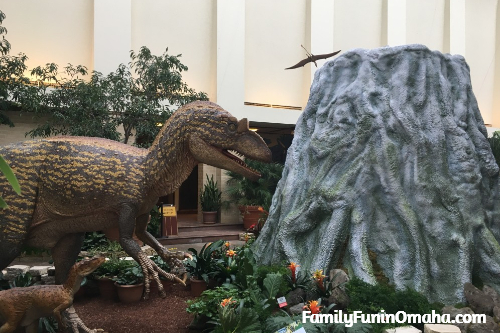 Experience Dinosaur UpROAR, full of life-sized dinosaurs, fossil displays, a scavenger hunt, and interactive family activities!
Kids Dream Winter Film Series at Marcus Theaters – Saturdays & Sundays, March 2 – April 14, 2019 (10 a.m.); Admission is $3, but you can also download or pick up FREE Tickets.
See family-friendly movies on Saturdays and Sundays at 10 a.m. Admission is $3.
You can also download FREE tickets! Find out more here.
Participating locations include Majestic Cinema (144th & Maple, Omaha, NE), Twin Creek Cinema (3909 Raynor Pkwy., Bellevue, NE), and Village Pointe Cinema (304 N. 174th St., Omaha, NE).
Grades 5th-8th. Enjoy a night of glow-in-the-dark fun, including dancing, inflatables, face paint, and more!
Location: 14850 Laurel Ave., Omaha, NE.
Come get a "bird's eye" view of fine-feathered friends as you join volunteers for a live songbird banding at Hitchcock Nature Center. All ages are welcome to attend this live demonstration.
Volunteers will be banding songbirds at the Loess Hills Lodge at Hitchcock Nature Center from 9:00 to 11:00 a.m. on the following dates:

Saturday, March 9th
Saturday, March 16th
Saturday, April 6th
Experience this unforgettable adventure, complete with John Williams' Academy Award-winning score, performed live by a full symphony orchestra in sync to the film projected on a huge HD screen!
Location: 1200 Douglas St., Omaha, NE.
Build a snowman and try other themed activities set up throughout the museum (while supplies last). Grab your cameras to meet the guests of honor: Anna, Olaf, Kristoff, and Elsa. Wonder at the marvels of chilly temperatures with the Freezing Cold Science Show.
Location: 500 S. 20th St., Omaha, NE.
Junktoberfest – March 22 – 24. $5 for weekend admission (Kids under age 12 are Free)
Junktoberfest is a Vintage and Artisan Craft Market. The indoor market place features more than 100 vendors of "junk" repurposed, collectibles, antiques, hand-made, memorabilia, crafts and food! Plus, find amazing refurbished and home decor options. Free parking.
Location: Old Southroads Mall, 1001 Fort Crook Rd. N, Bellevue, NE.
Nebraska Brick Days – LEGO Fan Expo – Saturday, Mar. 30 (10 a.m. – 6 p.m.) & Sun., Mar, 31 (10 a.m. – 5 p.m), General Admission: $5 – $8/ticket
A fun, family LEGO event for all ages, featuring displays of custom creations, LEGO-inspired events, Minifig Speed Build, Brick-Built Derby, and more throughout the weekend.
Location: Mid-America Center, 1 Arena Way, Council Bluffs, IA.
Dress up in your favorite enchanted costume and join us for crafts and activities to spark your children's imaginations, and bring out your inner child.
Location: Fontenelle Forest, 1111 Bellevue Blvd. N, Bellevue, NE.
Teddy Bear Weekend at the Zoo – Saturday, March 30 & Sunday, March 31 (10 a.m. – 3 p.m.)
Children, ages 3-11, who bring in a stuffed animal will receive FREE admission to the Zoo when accompanied by a paying adult during Teddy Bear Weekend on Saturday, March 30 and Sunday, March 31 from 10-3!
Lobbies open at 1:15 p.m. for pre-concert lobby activities including an instrument petting zoo and craft.
Ahoy, matey! All hands on deck to sail the Seven Seas in search of Blackbeard's treasure. Beware the notorious Captain Guerrero and his salty crew of scalawags who are also on the hunt and will stop at nothing to get to the treasure first.
Location: 1200 Douglas St., Omaha, NE.
FREE Omaha Fun
FIND MORE MARCH FUN: