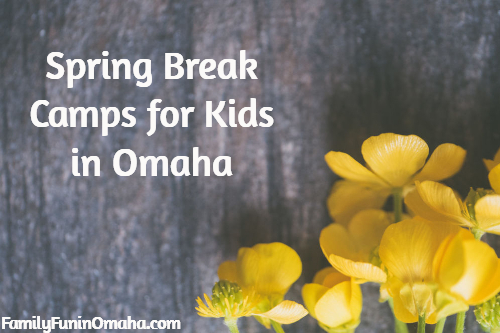 Explore, discover, and learn at a variety of Spring Break Camps in Omaha!
Join our growing community and keep updated on Omaha family-friendly events and activities and Sign up for our Free Email Newsletter!
Spring Break Camps in Omaha
Approach Spring Camp
4923 S. 72nd St., Omaha, NE
Kids indoor spring climbing camp includes bouldering and top roping, knot tying, slacklining, equipment education, crafts, and games.
DATES: March 11-15, 2019
View Website
Code Ninjas Spring Break Day Camps
SW Corner of 180th and Harrison, Omaha, NE
DATES: March 18- 22 (9 a.m. – 4 p.m.). Ages 7-14 welcome. $60 a day.
March 18th- Minecraft: Underwater Adventure
March 19th- Roblox: Amusement Park
March 20th- Minecraft:Space Exploration
March 21st-Roblox: Harry Potter
March 22nd: Minecraft: Medieval Battle Build
View Website to purchase tickets. 
For more information check out their Facebook Page.
Infinite Sports World's Spring Break Soccer Camp
Going Vertical or Tennis Club & Soccer Center (Indoors)
Six camps to choose from that focus on technical soccer training.
DATES:
March 4 – 8, 2019
March 11 – 15, 2019
March 18 – 22, 2019
March 25 – 29, 2019
April 15 – 19, 2019
April 18 – 24, 2019
View Website
Jewish Community Center School Break Specials
333 S. 132nd St., Omaha, NE 
School Break Specials are full-day programs for kids who are out of school for scheduled breaks or weather-related closings. There will be awesome projects, fun and games. Mornings will be filled with either a field trip or special activity.
View Website
Kroc Center Spring Break Camp
2825 Y St., Omaha, NE
Bring the kids to the Kroc center and fill their break with fun! Kids will be busy with fun activities, including swimming, gym time, crafts, and a movie.
DATES: March 11-15, 2019
View Website
Omaha Sports Academy Spring Break Basketball Camp
21015 Cumberland Dr., Omaha, NE
Campers will focus every day on proper footwork, shooting form, layups, jump shots, and more.
DATES: March 18-21, 2019
View Website
Omaha Zoo Spring Break Day Camps
3701 S. 10th St., Omaha, NE 
Explore wild animals and their natural habitats, interact with zookeepers, study animal behaviors, conduct fun experiments, and more. Various themes to choose from.
DATES: March 12-15, 2019
View Website
Romp n' Roll Spring Break Day Camps
6720 S 178th Street, Omaha, NE
This spring, give your little one the ultimate indoor-playground camp experience with fun, action-packed activities full of music, art, movement, and more. Kids ages 2 through 5 are welcome, and no potty-training is required.
DATES: March 19 & 21, 2019
View Website
Find More Fun: