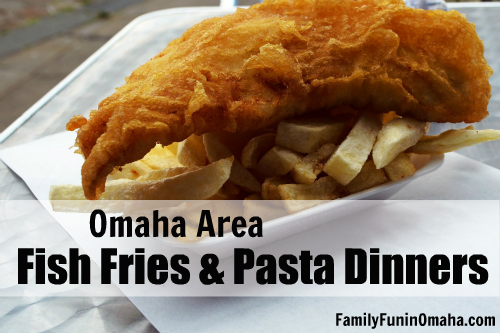 It is time for Omaha Fish Fries or Pasta Dinners again! Find your favorite or discover the best Fish Fries in Omaha!
It is a favorite tradition for many local families, with some groups "Fish Fry Hopping" to a different location each week. Many offer kids activities, a drive-thru/takeout option, and help support local churches and schools. Bit of advice: Arrive early as lines can get very long.
Many have made special accommodations for this year including drive-thru or pick up options. See below for details.
Do you have a 2023 update for your Church? Organizers: Please complete the form here with updates: http://bit.ly/omahafishfryinfo
Enjoy good food, great fellowship, and support your local community at the same time!
Join our growing community and keep updated on FUN EVENTS EACH WEEKEND plus more Omaha family-friendly activities and Sign up for our Free Email Newsletter!
February 24th through March 31, 2023 (4:30 PM to 7:00 PM)
Dine in or to go meals. Baked salmon, fried pollock or fried shrimp. Live entertainment and a steak raffle every 30 minutes. Beer and wine available.
February 24 – April 7, 2023 (5:00 – 7:00 p.m.)
Meal includes 2 pieces of hand-breaded fish, baked potato, and coleslaw. Full menu also available.
Dine-in/carry-out.
Food is in upstairs kitchen area, drinks are at the bar. Parking is available adjacent to the building, on the street, and in the parking lot across the street to the North.
There is also live music each week ($5.00 cover charge for the band) Open to the public!

Fridays, February 24 – April 7, 2023 (5:00 – 8:00 p.m.)
Choose from Pollock and Carp. Sides include Fries, Baked Beans, Coleslaw, Mac & Cheese, and Bread.
Dine-in is all you can eat. Carry-out is also available.
March 3 and March 10, 2023 (4:30 – 7:00 p.m.)
Louisiana-style golden brown corn meal coated fish (not your typical beer battered fish) cole slaw, BBQ beans, mac-n-cheese, drinks, and a dessert! Adults-$12, kids-$10, 5 & under are free
Dine-in/carry-out.
Feb 24, March 10 and March 24 (5 PM – 7:30 PM)
Adults: Fried Cod or Baked Pollock or Grilled Cheese with sides:for $13. Kids: Fried Cod or Grilled Cheese with sides for $6. Credit cards accept.
Drive-thru service will start in our parking lot. Enter at south entrance. For those who wish to dine in, please enter our Parish Center
Tri Community UMC

(
6001 Fontenelle Blvd. Omaha, NE 68111

)

February 24, March 3, March 10, and March 17 (4:30 – 7:30 PM)


Get it while you can!
Meals are priced at: $12 for adult and $9 for child
Drinks will be sold for $1.00.
We'll accept both cash and credit card.

Drive Through, Carry Out or Dine In Options are available

Dine-In, Carry Out and Drive Through