Even though many of the events we love are not happening this Summer, we can still enjoy many family-friendly events in Omaha, including these 10+ FREE Events in June!
Join our growing community and keep updated on Omaha family-friendly events and activities and Sign up for our Free Email Newsletter!
PLEASE NOTE: As things continue to rapidly change during this unusual time, it is always a good idea to verify details before visiting.
Free Things to Do in June!
Please Note: It is always a good idea to verify before visiting as dates and times may change.
FREE Ongoing Activities:
Kids ages 3 and up will learn a fun new craft in each Zoom session.
Location: online
Omaha Public Library is bringing some of your favorite entertainers and organizations to your home this summer with a series of exciting virtual events!
Please Note: It is always a good idea to verify as dates and times may change.
These virtual escape rooms are designed for students in grades 6-12.
Join in online for a day full of interesting histories, activities to do at home, and ideas to stave off cabin fever.
Location: Online
This modified event is expected to feature neighborhood kiddie parades, Chalk Walk, Kona-Ice, Classic Car Cruise, music, and fireworks!
Learn about art in Joslyn's collection, and make some of your own, all from the comfort of your kitchen table! Gather up a few simple materials and join in LIVE! on Facebook every Friday at 10:30 am for an art-making.
Materials needed for each week's activity are listed here (and will be broadcast at 10 am each Friday). Need supplies? Free kits will be available for pick-up outside of Joslyn each Thursday, beginning at 9 am, while supplies last.
A one-day virtual experience in place of the 2020 event on Saturday, June 6, 2020.
Viewers may expect an artists' gallery for shopping, live-streamed music, recipes from food vendors, and short videos of hands-on crafts.
Location: Online
In-person storytime events have been canceled for the health and wellbeing of customers, but that doesn't mean the fun has to stop! Each week, children can enjoy a storytime read-along.
June 6: The World Needs More Purple People
June 13: I Really Want the Cake
June 20: Hair Love & When Dads Dont Grow Up
June 27: The Snail and the Whale
Location: online
Test your Potter knowledge this summer for our Harry Potter Trivia Tuesdays.
July 9: Harry Potter and the Sorcerer's Stone
July 16: Harry Potter and the Chamber of Secrets
July 23: Harry Potter and the Prisoner of Azkaban
July 30: Harry Potter and the Goblet of Fire
Location: Online
Families are invited to enjoy a free movie at dusk.
Friday, June 12: E.T. the Extra-Terrestrial
Friday, June 19: Onward (POSTPONED

DUE TO WEATHER)
Friday, June 26: Despicable Me or Onward
Friday, July 10: Bee Movie
Friday, July 17: Moana
Friday, July 24: Finding Nemo
Friday, July 31: The Cat in the Hat
Location: 19475 225th St., Council Bluffs, IA.
Watch Disney's Moana in the Lakeside Plaza Parking Lot. (NOTE: This event was postponed from July 19 due to weather.)
Location: 17370 Lakeside Hills Plz., Omaha, NE.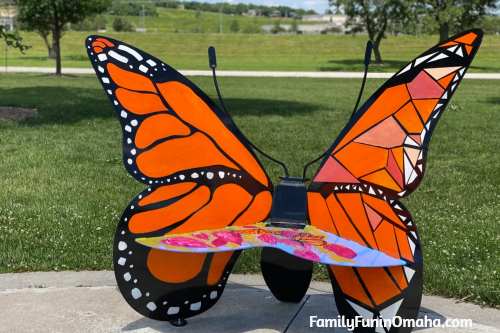 Throughout the Summer, see the beautiful "Wings Over Papillion" Butterfly Bench Public Art Project with uniquely painted butterfly benches throughout Papillion!
FREE Ongoing Activities:
2020 Summer Fun Guides:

Events We Hope to See Again in 2021:
Due to the current health situation, Community Fishing Nights have been canceled for 2020. We hope they will be back in Summer 2021!
Game and Parks staff and Certified Fishing Instructors teach people of all ages who have never been fishing, or haven't fished for years, the basics of this fun and relaxing activity.